San Pedro Police release end of year report
Friday, January 1st, 2016
The San Pedro Police Department has released the crime statistics for 2015. While the reports shows a spike in crime during the first few months of 2015, crime rates steadied as the year neared the end. Overall, 2015 saw eight murders and an increase in theft, robberies and burglaries.
The first five months of the year alone saw seven murders, with February, 2015 registering three murders. Another murder was recorded in October, 2015. Out of the eight, only two of the murders were solved and charges laid on the culprits. Those murders were that of Jose Rigoberto Beltran on April 28, 2015 for which Luis Campos, Mark Arzu and Santos Garcia were charged, and the murder of Dionicio Trujullo on May 3, 2015 for which Rafael Ramirez and Arvington Neal were charged. Unsolved murders include that of Silvia Carmen Benitez on January 17th, Sylvin Chi and Benjamin Molino on February 18th, Daniel Espat on February 24th, Pablo Barbosa on March 3rd, and Delbert Wayne Fenn on October 27th. There was neither an increase nor decrease in the murder rate when compared to 2014 as the previous year also saw eight murders.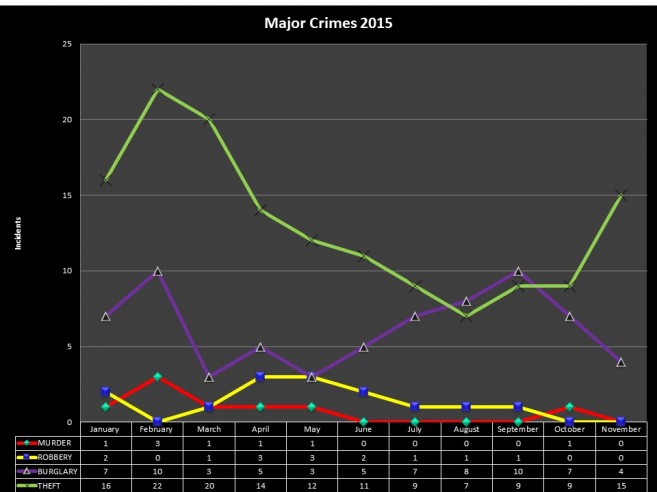 The most committed crime for 2014 was theft. Police reported 144 incidents of theft occurring in 2015. Even though the number of reported cases is still high, there was a 29% decrease in theft when compared to the year 2014. Most of the theft incidents were reported in the first four months of the year. As for robbery and burglary, there were 14 and 67 reported cases in 2015, respectively. "We try our best to control the numbers of robbery, burglary and theft related crimes. But we need the community to understand that they play a role in this. Residents should be more aware of their surroundings and secure their belonging in order to avoid an incident. These incidents are crimes of opportunity and as citizens, we need to work together to reduce them by taking extra steps to be safe," said Deputy Coastal Executive Officer, Assistant Superintended Henry Jemmott. San Pedro Police reported a single case of rape and five cases of unlawful sexual intercourse for 2015.
In hopes of reducing crime and building a strong community relationship, the San Pedro Police implemented the Meet and Greet initiative in late 2015. This initiative proved to be extremely helpful at establishing police presence and reassuring to the community that they care. "The meet and greets we have held yielded great results. The community is voicing its opinions and concerns to us. This has strengthened our relationship with the community and they are now working along with us to reduce crime. The Meet and Greet initiative will continue in 2016. We also ask all the residents of San Pedro to continue working with us to keep the island safe by reporting incidents," said Jemmott. Over a hundred homes and business have been visited as part of the Meet and Greet throughout the island.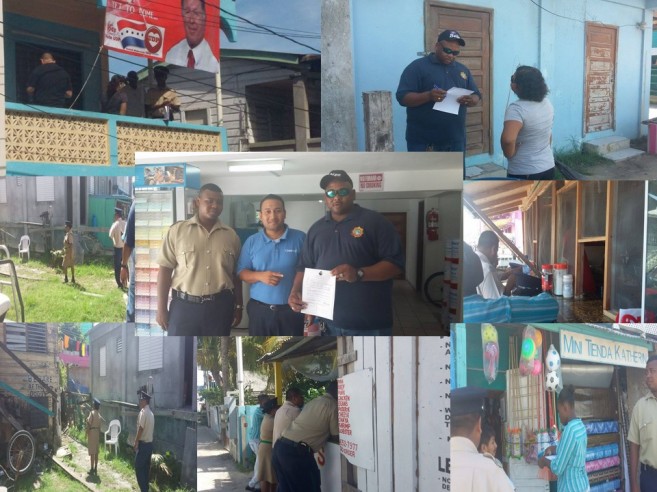 Heading into the New Year, the San Pedro Police still face certain challenges in regards to vehicular resources, communication equipment, a temporary morgue, additional personnel, office equipment and a boat.
To report criminal activity, immediately contact phone number 206-2022 or anonymously to Crime Stoppers at 0-800-922-8477.
Follow The San Pedro Sun News on Twitter, become a fan on Facebook. Stay updated via RSS