Rt. Hon. George Cadle Price laid to rest
Tuesday, September 27th, 2011
On a hot sunny Monday, September 26, 2011, Belize said its final farewell to her Father, her Hero, Right Honourable George Cadle Price. At the state funeral attended by thousands, Belize got to relive and rejoice in the great works of a man who humbly spent his life serving his country and her people. Below is a recount of our current Prime Minister, Dean Oliver Barrow's heartfelt speech during the ceremony.
May Rt. Hon. George Cadle Price rest in peace.

Address by Hon. Dean O. Barrow Prime Minister of Belize
HONORING Rt. Hon. George Cadle Price, Father of the Nation
State Funeral Service, Belmopan – September 26, 2011
I look out at this great crowd of mourners today. I think of all those that have filed past the casket, signed the tribute books, lined the streets, and thronged the Cathedral on Saturday. And I know this is exactly the way it should be. Thousands of grateful Belizeans saying goodbye to the avatar of the nation. It is destiny fulfilled. What Mr Price strove for all his life, he has been able to produce in his death. We are now a country totally united. United in homage to our National Hero, and his creed of one Belize.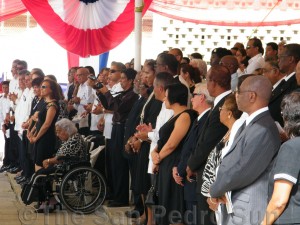 I see the members of Mr. Price's family. I see the sisters, and the nieces and the nephews, and the grand-nieces and the grand-nephews, and it is to them I speak first. I am reminded that this clan of which Mr Price was the foremost exemplar, is a very distinguished one. As political and national leader, no one could surpass Mr Price. But other members of this family, in their own right, are and have been fine contributors to our country, successes in their various professions and callings, similar to Mr Price in his. The point I am trying to make is that he must have been just as proud of you as you were of him. My heartfelt condolences to all of you.
Then I recognize the presence of the foreign dignitaries, the Ministers and Ambassadors come to pay their respects. I also contemplate the many messages of sympathy and solidarity sent by Heads of State, Heads of Government and Heads of International Institutions. These include President Alvaro Colom of Guatemala; President Daniel Ortega of Nicaragua; President Raul Castro of Cuba; President Bharrat Jagdeo of Guyana; Prime Minister Hubert Ingraham of the Bahamas; Prime Minister Roosevelt Skerrit of Dominica; ex-President Jimmy Carter of the US; former Prime Minister PJ Patterson of Jamaica; and IDB President Luis Alberto Moreno. And all of this causes me to recollect that Mr. Price was as much global as he was local. The leaders in Central America, in the Caribbean, in the Commonwealth, in the Non-Aligned, in the Group of 77-they all knew and respected and admired George Price. If the struggle for independence locally defined George Price for us, that same struggle internationally identified him for the world. At home and abroad, then, this was THE outstanding Belizean.
In trying to reflect on the man that he was, I had recourse to a sketch of British Honduras titled "The Ultimate Colony", and written in 1969 by Nobel Laureate VS Naipaul. Among Naipaul's barbs, inevitable from that acid pen, lie wonderful little nuggets- vignettes and insights into the style, personality and vision of then Premier Price. Naipaul accompanies Mr, Price on one of his weekly, early morning tours in his trademark Land Rover, and describes the Premier's interaction with the people: his lilting greetings to everyone, calling them by name. I certainly remember him on Kut Avenue when I was growing up: "hello, Mr. Jimmy; mawning, Miss Leonie". He walked my, and every, neighbourhood, had a phenomenal memory, fantastic powers of concentration. In Naipaul's recounting, we get a clear sense of his iron discipline, of Mr. Price's huge efforts of will at making himself one with his people. It was the intensest kind of leadership, personal in the extreme and designed to make each Belizean feel individually cared for and looked after by their Premier. He was determined to be the emerging nation's staff and guide and shepherd and comforter. That is what resulted in his legendary attention to the smallest of details, including the potholes in the road that needed to be filled and the broken down PWD trucks that needed to be fixed. That is what resulted in his descending upon households, enfolding all in his benediction, insisting on visiting the kitchen and partaking of whatever the family meal was, the humbler the better.
Also, there was the Spartan nature of his personal life and his remarkable unity of activism and contemplation. "He says his prayers before going to bed", Naipaul tells us. "He is up at five and goes to mass at 5.30. He does not worry through to political decisions; they come to him after a night of prayer and rest; and he is in his office punctually at eight".
Even his enemies, according to Naipaul, admitted that neither age nor power changed George Price. He was not interested in money; he was known to give away money. And, of course, he was ceaselessly touring the country in that Land Rover, always greeting, always checking.
Is it any wonder that he came to be called the Father of the Nation?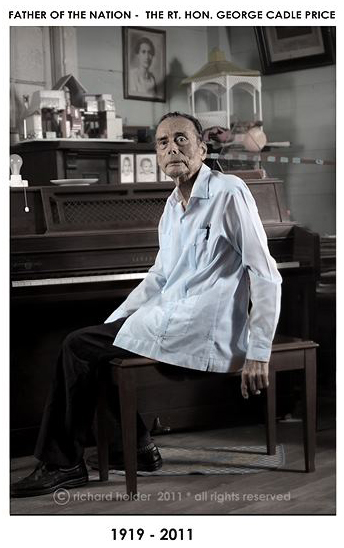 Visionary that he was, George Price himself tells us that he fixed his mind on independence from the time in 1949 when the Governor used his Reserve Power to devalue the British Honduras dollar. To understand just how much of a seer this made him, we have to recollect that this was well before decolonization came into vogue; well before the seminal 1960 UN Declaration on the Granting of Independence to Colonial Countries and Peoples. He was way ahead of his time and it was only the security obstacles thrown up by the Guatemalan claim that prevented him from early realizing his dream; and prevented Belize from becoming part of that first great wave that swept so many new nations into being in the 60s and 70s. But the arch-nationalist in George Price never let go of the struggle for freedom. When finally we won independence, it was after a hard-fought internationalization campaign and in circumstances that were peculiar in the post-colonial world. I speak, of course, of the defense guarantee that Mr. Price succeeded in wresting, against all odds, from the British.
For the record, I want to rehearse some of the historical high points of this unparalleled career. George Price was the country's only First Minister (1961-1963); the country's only Premier (1964-1981). He entered politics in 1944, and lost his first election. But he'd been bitten by the bug. And as he put it, at that point even if a Doctor had told him he needed to give up politics for his health, he wouldn't have done so. He won six terms to the Belize Town Council after that first defeat. Together with Johnny Smith, Leigh Richardson and our other National Hero Philip Goldson, he formed the People's United Party on 29th September, 1950. He was leader from 1956 to 1996. Of course, he was our first Prime Minister from 1981 to 1984, and again from 1989 to 1993. He built this Capital City of Belmopan, and he established Social Security in Belize. After Mr. Price retired from electoral politics, he became Vice-Chairman of the Council of Democratic Leaders of the Americas, headquartered at the Carter center in Atlanta, Georgia. In addition to the Order of the National Hero of Belize, Mr Price was awarded national honours of Mexico, Venezuela, and Honduras; and the Order of the Caribbean Community.
My closest encounter with George Price was when we were together on a bi-partisan delegation. We had travelled to Roatan to meet with Guatemala as part of the effort to negotiate an end to the territorial claim, and I remember being struck by two things. First, the trouble he took to engage the staff at the hotel we were staying. He would greet all the front desk people each morning, shake hands with the bell captains and waiters, and actually enquire after their families. Now he was running for no office in Honduras, and these people could mean nothing to him politically. That's when I realized that George Price was, above all, the most compassionate of men, interested in people for their own sake, invested in humanity everywhere.
The second thing I took away from that trip was how complex and canny he was as a leader. He was disarmingly simple in his exchanges with the Guatemalan President- I think it was Vinicio Cerezo. But his charm belied a steel trap mind that absorbed every detail of what the Guatemalans were saying. He would immediately catch them up if they displayed the slightest inconsistency in their positions. He was also immovable on any point of contention that he thought did not favour Belize.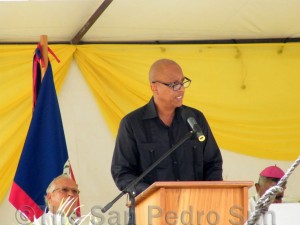 I have already suggested that Mr. Price was able to combine immersion in the daily business of running a country and shaping a nation, with an unceasing intellectual curiosity. And his search for new knowledge and new ideas, was never limited to the purely political. Actually, he was something of a renaissance man. He wrote poetry, played the piano, loved classical music and the arts, and read widely in the sciences, theology, philosophy and literature. The PUP will never have another leader like George Price. But then the country will never have another Prime Minister like George Price.
I cannot end this short reflection on Mr. Price without some comment on his complete faith in God. While he didn't wear his piety on his sleeve, his belief was absolute. Graham Greene was, as I understand it, one of his favourite authors and an acquaintance and perhaps even occasional correspondent. But the tortured questionings and falls from grace of Greene's whiskey priest, were not for Mr. Price. He had no doubt of the need to always do right, and of the omniscience and omnipotence of his eternal Creator.
Naipaul closes that 1969 piece with a story from Mr Price. "I have this recurring dream. I am in church. Someone is saying mass-Turton, my old employer, or Pinks, one of his managers-and I wonder why I, who would so much like to be up there, am not, and that old sinner is."
Well, let no one doubt that Mr. Price is up there now, united at long last and saying mass with his Almighty God.
Photo Gallery
Please help support Local Journalism in Belize
For the first time in the history of the island's community newspaper, The San Pedro Sun is appealing to their thousands of readers to help support the paper during the COVID-19 pandemic. Since 1991 we have tirelessly provided vital local and national news. Now, more than ever, our community depends on us for trustworthy reporting, but our hard work comes with a cost. We need your support to keep delivering the news you rely on each and every day. Every reader contribution, however big or small, is so valuable. Please support us by making a contribution.
Click to Donate
Follow The San Pedro Sun News on Twitter, become a fan on Facebook. Stay updated via RSS