San Pedro remains mostly UDP
Thursday, March 8th, 2012
Heredia takes BRS. Danny Guerrero is Mayor, Split SPTC Council: 5 UDP & 1 PUP
In the House: UDP 17, PUP 14 – Dean Oliver Barrow remains Belize's Prime Minister
After months of anticipation, voters turned out in full force on Wednesday, March 7th to decide both the General and Municipal elections. When all ballots were accounted for countrywide, the United Democratic Party managed to capture 17 seats out of a possible 31 seats in the National Assembly officially forming the new Belizean government. Two of those seats, Cayo Central (Collet Motejo – PUP vs Rene Montero – UDP) and Cayo North East (Orlando Habet – PUP vs. Elvin Penner – UDP) are reportedly to be contested in court.
In San Pedro the United Democratic Party (UDP) won the Belize Rural South Constituency re-electing incumbent Jose Manuel "Junior" Heredia Jr. as the Belize Rural South (BRS) Area Representative. 4,987 electorates out of a total of 7,100 registered voters (70.23%) cast their votes in the General Elections in Caye Caulker and Ambergris Caye.
In the San Pedro Municipal elections, Daniel Guerrero and five of his six councilors won for the UDP, and 1 PUP councilor candidate, Gualberto "Wally" Nuñez, now make up the new San Pedro Town Council.
In the Municipal elections, it is estimated that approximately 65% of electorates out of a possible 6,289 registered voters cast their vote. (Actual figures were not released as of press time.)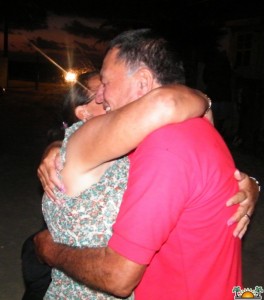 Since early in the morning, the machineries of the major political parties were oiled and running, bringing out their electors by cab, cart, car, boat and air. With the polls opening at 6AM, voters patiently waited, sometimes as long as three hours to vote for their chosen candidates. The lines moved slowly throughout the course of the day, especially at Area 37 polling station A-B which had 843 registered voters in both Municipal and General elections.
In Caye Caulker, where they solely voted in the General election, the process at the two polling stations A-J and K-Z for polling Area 34 and 38 went smoothly. Since early in the morning, the two lines were moderately constant and at the closing of the polls, 614 cast their votes out of a total of 811 registered voters in the two polling Areas, deciding on Ana Patricia Arceo for BRS Area Representative. Despite the support for Arceo, all 9 ballot boxes on Ambergris Caye favored Heredia, giving him the win.
In the Municipal Elections the following are final results:
Mayoral Candidates
Daniel "Danny" Guerrero – 1,716
Maria "Conchita" Flota – 1,502
Melanie "Mel" Paz – 629
Councilor Candidates – UDP
Carlos Enrique Barrientos – 1,996
Kenrick William Brackett – 2,027
Severo Guerrero Jr. – 2,126
Gabriel "Gaby" Nunez – 2,160
Guillermo "Mito" Paz – 2,026
Yolanda Paraham – 1,885
Councilor Candidates – PUP
Gualberto "Wally" Nunez – 2,021
Oscar David Aguilar – 1,779
Marina Graniel Kay – 1,923
Raymundo "Mundo" Nunez – 1,911
Viana "Vianie" Perez – 1,756
Maribel "Mar" Vasquez – 1,665
Councilor Candidates – Independent
Hilberto Graviel Sanchez – 245
Bernabe Badillo – 216
The General Elections results for Belize Rural South are as follows:
Jose Manuel "Junior" Heredia Jr. – 2,479
Anna Patricia "Patty" Arceo – 2,026
Robert "Bobby" Lopez – 332
William "Mike" Campbell – 24
Following the announcement of the results, a jubilant crowd of supporters led a victory parade through the principal streets of San Pedro. The newly elected Area Representative Manuel Heredia Jr. joined in the festivities alongside new mayor Daniel 'Danny' Guerrero. Guerrero expressed his thanks to the community of San Pedro for their faith in him and the party, thanking everyone who cast their votes and exercised their rights. The San Pedro Sun congratulates our new winners, our newly elected Public Officials. We look forward to working with them for the betterment of La Isla Bonita and Belize Rural South.
Follow The San Pedro Sun News on Twitter, become a fan on Facebook. Stay updated via RSS