Minister Lisel Alamilla wins a place in the finals of prestigious conservation award competition
Wednesday, April 11th, 2012
Press Release – Belize Press Office – Belmopan, 11th April, 2012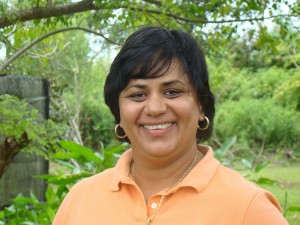 Belize's newly appointed Minister of Forestry, Fisheries and Sustainable Development, Hon. Liselle Alamilla has been named as a finalist in one of the world's most prestigious wildlife competitions, the Whitley Awards.
The nomination means that Hon. Alamilla will now travel to London in May for interviews with the panel of experts who will decide which of this year's seven international candidates will win a share of Whitley Fund for Nature (WFN) grants worth a total £210,000 GBP for their projects.
The results will be announced during a ceremony at the Royal Geographical Society, Kensington Gore, London, on Wednesday 9 May at which WFN's patron, Her Royal Highness The Princess Royal (Princess Anne) will present the prizes.
Commenting on the shortlist, WFN's acting director David Wallis said: "Winning a place on the Whitley Awards shortlist is in itself a major achievement. Entries are always high, and of high caliber, and only the most committed and effective nature conservationists win through to the finals. The candidates we are inviting to London for the next stage of judging are particularly impressive. Each one is taking inspirational steps to create a better future both for people and wildlife and we know that our judges are going to find it very difficult to choose between them."
Hon. Lisel Alamilla has won through to the finals because of her work with the Ya'axché Conservation Trust in promoting conservation of Maya Golden Landscape in southern Belize through multiple-level advocacy. If she is awarded the prize it will fund Ya'axché to continue this important work across the Maya Golden Landscape.
In addition to meeting the judges and HRH The Princess Royal, the trip to London includes opportunities to hear about the work of the six other finalists, attend receptions with leading conservation organizations and academics, meet WFN donors and receive professional development training.
Each Whitley Award winner will also have a new short film made about their work, narrated by the internationally-acclaimed wildlife broadcaster, Sir David Attenborough, a long-standing supporter and trustee of WFN. The films will be premiered as part of the awards ceremony and, later, be available to view online on YouTube.
The Whitley Awards scheme is an annual competition, first held in 1994. In the 19 years since the scheme began, it has given grants worth more than £6m to support the work of more than 130 grassroots conservation leaders in over 60 countries. To learn more about the charity, its donors and past winners, please see: www.whitleyaward.org.
– ends –
Follow The San Pedro Sun News on Twitter, become a fan on Facebook. Stay updated via RSS