Belize's portion of Bi-national Border Bridge to be completed by Mexico
Saturday, November 24th, 2012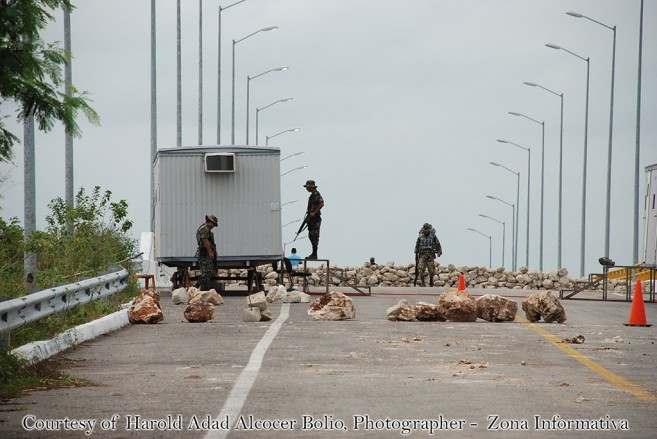 The Mexican President Felipe Calderón through the Federal Executive on Tuesday, November 20th, asked the Senate to authorize the Mexican Government to dispatch personnel from the Mexican Army to Belize. The reason for sending the Mexican Army to Belize is to support the Belizean government in the construction of a stretch of highway in the Bi-national Border Bridge that is located on the Belizean side of the northern border in the Santa Elena area of the Corozal District.
Belize and Mexico signed an agreement for the construction of the bridge back in June of 2005 when the then-President of Mexico, Vicente Fox, visited Belize. The Mexican government agreed to finance the construction of the bridge, 500 meters of road from the bridge into the Belizean territory, and the access road from the bridge to the Subteniente Lopez community in Santa Elena located in the state of Quintana Roo. Those projects were completed since 2008. However, the Belize government has been unable to construct the stretch of road, approximately a quarter of a mile long, from the end of 500 meters off the foot of bridge on the Belize side of border to the current Belizean Border facilities. The office of President Calderón said that in the framework of bilateral cooperation between the two countries, the Ministry of Foreign Affairs of Belize made a request to the Mexican government to finance the construction of the section of the highway that is still pending for the bridge to be officially opened.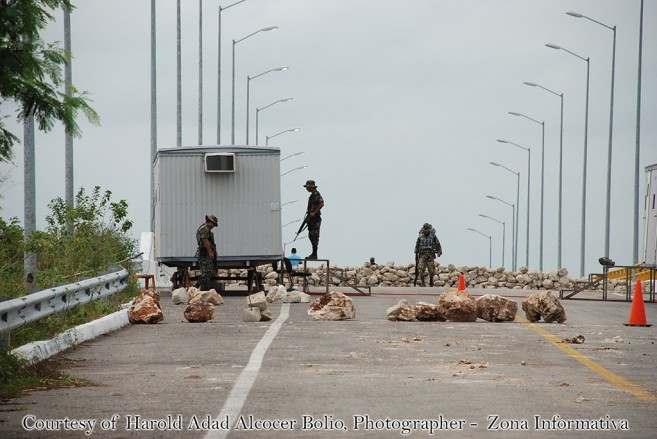 President Calderón said that the project responds to an agreement between the two governments that was first made in 2008 to open a new international bridge to encourage trade between the two countries. Calderón also said that the bridge offers more efficient and secure movement of people and goods and benefits more than 2,900 people living on both sides of the border.
Calderón said that as such, he proposed "to use the experience and capacity of staff of the Secretariat of National Defense" (Department of Defense), and send to Belize 11 members of the Mexican Army consisting of a colonel, a captain, a lieutenant and eight troop elements of the Directorate General Engineers section of the army.
The unarmed military elements will only work on the equipment and machinery needed for execution of the project, which is estimated to last for a period of four weeks. Calderon's request was referred to the National Defense Commission of the Senate of the Republic for analysis and for a decision.
According to multiple media reports in Mexico, it was the hope of President Calderon to have officially inaugurated the bridge before his successor President Elect Enrique Peña Nieto takes office on December 1st. The construction of the bridge and access road was constructed at a cost of approximately 150 million pesos.
Follow The San Pedro Sun News on Twitter, become a fan on Facebook. Stay updated via RSS