Parliamentarian disrespects House of Representative
Wednesday, August 14th, 2013
The opposition People's United Party (PUP) and the office of the Special Envoy for Women and Children have joined the many Belizeans in condemning the behavior of a senior parliamentarian. During the last meeting of the House of Representative on August 7th, Hon Michael Finnegan launched an offensive remark at the only female Member of Parliament, Honorable Dolores Balderamos Garcia. Garcia had risen to address a national concern regarding the behavior of the parliament's Mace-bearer (Sergeant at arms) Brian "Yellow man" Audinett. He had been documented urinating in public and had been seen exiting the National Assembly Building inebriated and is now facing criminal charges for attacking a civilian and police officer.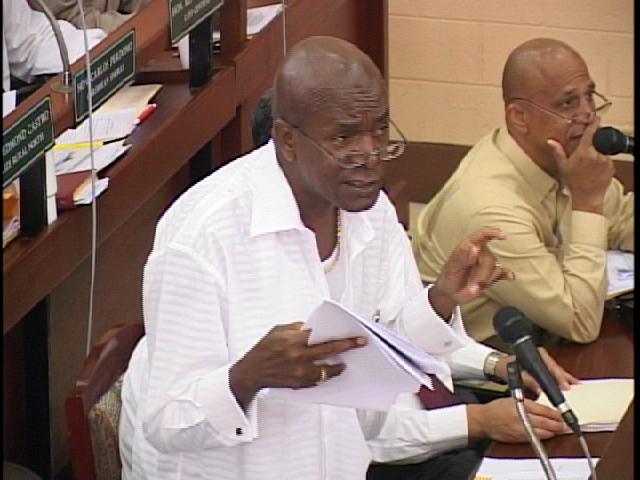 "Mr. Speaker, I am extremely concerned. I believe that the Sergeant of Arms that we have now, not only has he been found guilty of harm to a woman back in 2006 and charged $150, but I have personally seen the conduct of him being inebriated in these precincts, of him draining the bottle of Belikin outside of this House and of his behavior and of his conduct out in public, urinating in public and now we have a situation," said Garcia, Area Representative for Belize Rural Central. While Garcia was raising the issue before the Speaker of the House, Hon Michael Finnegan interrupted and shouted "Is the lady finished? You are crude; you are a crude woman!"
The issue raised by Garcia stems from video footage and pictures that had been circulating showing the Mace-bearer of the House of Representative, urinating in public on several instances. The footage also showed an inebriated Audinett exiting the National Assembly building (considered the most honorable house in the country) and stopping to take a drink from a beer bottle. Audinett, along with another person is also facing criminal charges after he allegedly attacked and hit a citizen and a police officer in July, a matter that is before the court.
Prime Minister of Belize Dean Barrow was the first to object to the statement raised by Garcia. "The question of how this Speaker governs the employees of the House is a matter for the Speaker to raise this. And if she did that, the Speaker would no doubt show a fair play…natural justice where any accusation that you want to make can be put to the sergeant and the Speaker will give him a chance to defend himself," said Barrow.
But his senior Cabinet colleague and Area Representative Michael Finnegan went a bit further in his comments. "To get up and say that the she saw the Chairman of Arms urinating out there – then I nearly want to ask her, like what – you understand me Mr. Speaker. If she saw the Sergeant of Arms urinating, what size was it? She's asking for it Mr. Speaker" said Finnegan, making hand gestures indicating "size." He added, "And the things I know about you and your husband, about what people have told me. You ought to be very careful."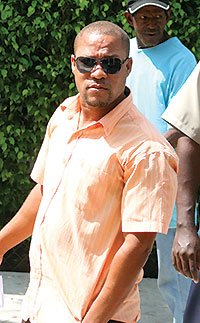 His comments go contrary to Standing Orders of the House of Representatives of Belize, Section 38. It states that "(4) It shall be out of order to use offensive or insulting language about Members of either Chamber of the Legislature. And (5) No Member shall impute improper motives to any other Member of either Chamber."
Finnegan was not reprimanded by the Speaker of the House Michael Peyrefitte for his remarks, sending mass condemnation by the wider public. The PUP's President United Women's Group (UWG) Wendy Castillo and Former Speaker of the House of Representative Sylvia Flores spoke against the unwarranted comments directed at Garcia. "We will not tolerate such vitriolic behavior against any woman, let alone a distinguished Belizean Member of Parliament, like Hon. Dolores Balderamos Garcia, public servant, wife and mother who was exercising a democratic right to raise an issue of public importance in the House. That this occurred without rebuke is unconscionable and a matter of public disgrace and at the obscene display of disrespect during a House Sitting. It signals a new low in our national discourse and we must not allow it. It has to stop! It stops here and it stops today! Therefore, PUP women demand a public apology from, and the immediate resignation of, the member for Mesopotamia. Finnegan gave Belizean women a vivid, colorful display of the kind of shameful treatment they justly seek to avoid when entering politics," said Castillo.
"And such assault that took place ought not to have taken place, there are rules as to how the Speaker of the House should behave and I felt that was an occasion when the Honorable Speaker should have ruled against the member for Mesopotamia. What he said and what he did in the House was unbecoming," said the former House Speaker.
After facing much criticism and pressure from his political colleague, Finnegan, the Mesopotamia Area Representative, gave in to the pressure. He called into the Krem WUB morning show on August 13th and apologized to the Speaker of the House and the House of Representative for his behavior. He said that his political colleagues advised him that he "went a bit too far." He maintained that he would not apologize directly to Garcia.
Kim Simplis Barrow, the Special Envoy for Women and Children also sent out a release following Finnegan apology. "I regret the incident that occurred in the House of Representatives last week; however I welcome the words of apology offered by Hon. Michael Finnegan this morning.
I call on the Speaker that he will, in the future, be protective of the rights of all members, but especially the rights of the lone female member of the House of Representatives, not to be subjected to offensive language or gestures. In a country with a very low percentage of women in elected office, it is imperative that all that is possible be done to support and encourage women's participation in politics and that we set good examples for our children. As Special Envoy for Women and Children, it is my sincerest hope that all members of the House of Representatives will do their part to demonstrate mutual respect to their colleagues and foster an environment which will inspire Belizeans from all walks of life and backgrounds, to aspire to serve their fellow citizens in that honorable House," said the statement issued by Kim Simplis Barrow.
It is not the first time that Finnegan's remarks have gone contrary to the standing orders. On May 17, 2007, during a debate, Finnegan referred to the then Madam Speaker of the House of Representative as a "Chancy b***." He was expelled from the House meeting but was admitted after he apologized for his behavior. It is expected that the Speaker of the House of Representative will address the issue in the next sitting of the Parliament.
Follow The San Pedro Sun News on Twitter, become a fan on Facebook. Stay updated via RSS