Caye Caulker residents claims Heredia has forgotten them; Village Council says not so
Friday, June 9th, 2017
Residents of Caye Caulker Village have been claiming that their Area Representative, Minister of Tourism and Civil Aviation Honourable Manuel Heredia Jr. is not fulfilling his duties on the island. They claim years of neglect by Heredia, and demand that he address the social issues affecting their community. However, according to local authorities on La Isla Cariñosa, Heredia has been meeting their expectations and addressing many issues.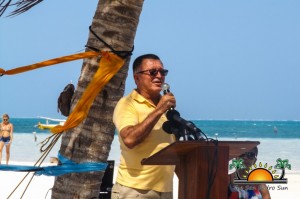 Heredia, who is in his fourth term, was re-elected as the Area Representative for Belize Rural South during the last general elections in November 2015. His constituency includes Ambergris Caye, Caye Caulker and St. George's Caye. According to Hicaqueños, after winning the elections, Heredia once again veered his attention towards Ambergris Caye, abandoning Caye Caulker in the process.
Their complaints address issues such as lack of infrastructure, degraded roads, condemned police housing and most importantly, the lack of a well maintained health centre. According to residents, schools are functioning with insufficient resources, and many children even need assistance with at least one meal during classes. Villagers would like to see a feeding program at the Caye Caulker Ocean Academy for students. "He had said it many times that he does not need Caye Caulker… But he should not forget that Caye Caulker also helped him in his re-election," said a concerned Hicaqueño.
Enelda Rosado, Chairwoman of the Caye Caulker Village Council stated that the island is passing through many challenges, and so far Heredia has been assisting them. According to her, the Minister made a commitment to La Isla Cariñosa during a meeting with her and the village council. "Minister Heredia has been working along with us, and according to him works are on the way to address the street conditions, while at the same time he informed us about the development of streets on the back of the island, so residents can access their parcels of land," said Rosado. "The lobbying for a high school, a new health centre and police barracks are also in the pipeline according to him." Rosario indicated that Heredia has already secured land for these structures to be built in Caye Caulker.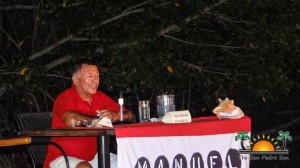 In addition, Rosado also stated that one of the goals of the village council is to be able to collect for trade licenses. She explained that Heredia is assisting in the process, so they can have that jurisdiction, which will bring more revenue to the island. The Chairwoman also touched on the complaints from many of the residents, who feel forgotten by Minister Heredia. "Things take time, and we know that it has been an issue in the past, but since we came into office, we have been pushing and lobbying for the betterment of the island, and we are happy that finally things are underway," said Rosado.
In an interview with The San Pedro Sun, Minister Heredia confirmed Rosado's comments and stressed on the fact that the current village council in Caye Caulker has been receiving plenty of his attention and assistance. "If you could calculate by percentages when it comes to assistance, Caye Caulker is getting way more than San Pedro Town," Heredia said. "Just because they do not see me; that does not mean that I am not around taking care of them. I am working hard for both islands."
Heredia mentioned that he is also assisting all the students in Caye Caulker with a subsidy, including those who study out of the island. "I have also distributed several acres of land, and now that they will be able to collect for trade licences, they will have additional funding to take care of internal issues, like fixing roads. With this additional revenue, they will not have to wait on Central Government," he said. Heredia admitted that there has been a shaky relationship between him and Caye Caulker, but he believes things can change as more development is coming to La Isla Cariñosa. He pointed out that despite a minority of supporters; he is trying to be an Area Representative for everyone in Belize Rural South.
Caye Caulker villagers have declared that they are still waiting to have a public meeting with Heredia. Villagers claim to have sent a letter to Heredia, urging him to meet with them. However, according to the Minister, everything will transition through the island's village council, which is working closely along with him and his Ministry.
Follow The San Pedro Sun News on Twitter, become a fan on Facebook. Stay updated via RSS