2 Horse Power Yamaha takes 1st Place in 2012 Eco-Challenge Kayak Race
Tuesday, May 15th, 2012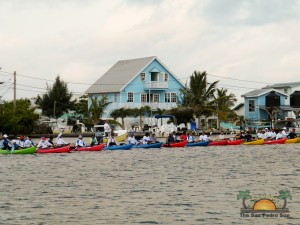 Twenty seven teams took off from the "Embarcadero" area of San Pedro to take on the 8th Annual Lagoon Reef Eco-Challenge on May 12th. Both junior and senior kayakers alike took to the creeks and waves of Ambergris Caye for their chance to claim the coveted prize and bragging rights of what has quickly become the most popular sporting event on the island. The 42 mile long race took them along the banks of the lagoon at the back of Ambergris Caye, through thick mangrove wetlands and winding creek pathways all the way north to the border between Mexico and Belize, snaking their way through the small channel separating the two countries, just a few feet apart, and then pinning the teams against wave after wave of Caribbean Sea along the Ambergris Caye shoreline as they sprinted to the finish at the Central Park in San Pedro Town on May 13th.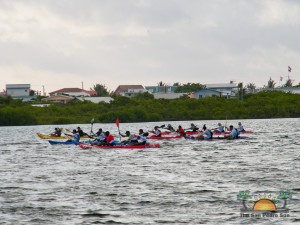 At the end of the race, and after all times were recorded and verified, Team #13, 2 Horse Power Yamaha, was crowned the overall winner of the 2012 Eco-Challenge Kayak Race. 2 Horse Power Yamaha team members Douglas Penland and Fernando Giacoman crossed the finish line with a total combined time of 9 hours, 53 minutes and 57 seconds in a race that was fought tightly among the top three teams. Team #2, Southwind Boys, Jimmy Polonio and Carlos Ramirez, led the first leg of the race for the majority of the first day and only narrowly lost out at end by 9 seconds as Penland and Giacoman edged past them moments before the finish. Third Place Team Coast Guard, #23, Tony Franzva and Karl Borland, gave both 1st and 2nd Place finishers a tough challenge, managing to stick with them the entire race and at moments looked to take one of the top two places themselves.
It proved to be a tough race for many of the kayakers and on the second day, only 16 of the 27 teams that started the race took off from the Basil Jones area of north Ambergris Caye to fight for the win. Strong waves and sweltering heat made it a hard fought battle and the kayakers gave their all in an exciting and grueling race.
In the Junior category, top place finishers, #5 Blue Ridder Boys, Daniel Gregorio and Mario Chimal, were the first to cross the finish line on day two in a surprise finish that saw them beat out all the other teams by over a minute, but had a total 2-day time that saw them take 8th place overall, ahead of three of the senior competitors. Their total time was an impressive 10 hours, 45 minutes and 3 seconds. Rounding out the top three places in the Junior category were team #3, Con Todo, who took second place, and team Oceana Boys, #25, who finished third.
For a full list of placing and times for each category and day of the race see the table below…
Prizes:
Senior Division
First Place – $3,000 Cash and Gift Certificate Wine de Vine
Second Place-  $2,000 Cash and $50 Tab at Stars Café
Third Place – $1,000 Cash and $40 Gift Certificate Liquor Box
Junior Division
First Place – $1,000 Cash and 2 Massages at Sol Spa
Second Place – $700 Cash and Dinner at Las Terraza O Restaurant
Third Place – $400 Cash and 2 Tickets Tropic Air
Overall Standings Prizes:
Fourth Place – Two $150 from Belize Bank
Fifth Place – $200 Cash
Sixth Place – $200 Gift Certificate at Caliente Restaurant
Seventh Place – $200 Gift Certificate at Red Ginger Restaurant
Eight Place – $150 Cash
Ninth Place – Two round trip tickets Tropic Air
Tenth Place – $100 Cash/ Shopping at La Divina Providencia
Eleventh Place – $100 Shopping at SP Hardware
Other Prizes Awarded
Dead Dog Tired Award
Most Grumpy
Most Creative
Sportsmanship Award
Most Eco Friendly
Most Enthusiastic
Team that got lost
Team that got smoked
Youngest team
Last Place
Now we look forward to a new Kayak Race coming next month by the same organizers of the Lagoon Reef Eco-Challenge, The Eco-Pro Kayak Race. Slated for the 23rd and 24th of June the Eco-Pro Kayak Race will see major competitors from all over the country as well as some international kayakers completely circling the island in a 60 plus mile race with more challenges and much larger prizes on the line. 1st Place kayakers will be able to win a whopping $10,000 prize for taking on the challenge of this much larger and longer race around Ambergris Caye. Pro Kayakers… start practicing!
On another note, Eric Donis, the young athlete who planned to swim from San Pedro to Belize City in the Healthy Reefs, Healthy People Swim Challenge, did take to the waters to swim, but instead swam from Caye Caulker to San Pedro. Eric and four other swimmers were awarded certificates of completion and appreciation for their efforts in the swim challenge and for doing their part to bring awareness for our delicate reef and marine eco-systems.
The San Pedro Sun would like to congratulate all the kayakers for taking part in this year's competition and thank all of the sponsors who gave to this worthy cause. We look forward to next year's race being even bigger and better. Kayakers, start practicing from now!
Sponsors for the 2012 Lagoon Reef Eco-Challenge were The Hol Chan Marine Reserve, SEAduced by Belize, El Pescador, Captain Sharks, Fido's Restaurant, The San Pedro Sun, Belize Diving Adventure, Kakaw Chocolate, The Palms, FC's Aluminum, Pedro's Inn, Go Fish Belize, Wally's Electrical , Mata Chica, Sunrise Reality, Nellie's Laundromat, Hollywood Reality, Belize Shores, Coco Beach , Southwind Properties, Tropic Air , Sol Spa, Island Golf Cart Rentals, Elvi's Kitchen – Prepared all the food, Las Terrazas  O' Restaurant, Victoria House Hotel, El Dorado Store, Caribeña Enterprise, Bowen and Bowen Crystal Bottling Co. – gave all the water for the race, Castillo's Hardware, Geo's Hideaway Café, Captain Morgan's, White Sands, Blue Tang Inn, Caye Management, San Pedro Town Council, Julie Babcock, Banyan Bay Villas, Cocotal Inn and Cabanas, Caribbean Villas, Cholo's Golf Cart Rental, Mata Rocks, Wayo's Beach Bar, Lady Leslie, OCEANA, Ramon's Village, Belize Bank Ltd., Go Fish , S.P. Hardware, Wine de vine, La Divina Providencia, Average Joe's, Caliente Restaurant, Blue Water Grill, Red Ginger Restaurant, Baller's Barber Shop, Hurricane Ceviche Bar & Grill, Premium Wines, Liquor Box, San Pedro Starz Café Bar  & Grill, Casa Pan Dulce, Lino's Meat Shop, Quality Poultry , Luis Zapata Photography, Love Fm, Mr. Sean Gordon vegetable and fruit vendor- supplied all the fruit for the paddlers , Amigos Del Mar , Mr. Jody Leslie, Mr. Pepe Molina, Brianna's Restaurant, Island Gear Boutique, The Belize Tourism Board, Hon. Manuel Heredia Jr. and the Belize Coast Guard.
2012 Lagoon Reef Eco-Challenge Race Results:
8th Annual Eco-Challenge Kayak Race 2012 Score Sheet
Double Male
Team #
Name
Time Day 1
Place Day 1
Time Day 2
Total Time
Place
13
2 Horse Power Yamaha (Douglas Penland & Fernado Giacoman)
7:01:27
1st
2:52:30
9:53:57
1st
2
Southwind Boys (Jimmy Polonion & Carlos Ramirez)
7:01:36
2nd
2:52:59
9:54:35
2nd
23
Team Coast Guard (Tony Franzva & Karl Borland)
7:09:00
3rd
2:55:30
10:04:30
3rd
22
Super Buy (Maxie Staines & Martin John Leslie)
7:15:40
4th
2:55:20
10:11:00
4th
6
Marina's Team (Jose Villamil & Jesse Guerrero)
7:28:28
5th
2:47:54
10:16:22
5th
16
Captain's Casino (Charles Garay & Arden Garay)
7:30:15
6th
2:52:14
10:22:29
6th
1
Dos Cocos Locos (Edwin Casasola & Freddy Blandon)
7:31:28
7th
2:57:20
10:28:48
7th
11
Strong Paddlers (Eduardo Pineda & Jose Chimal)
8:04:06
8th
3:00:06
11:04:12
8th
27
The North Studs (Angel Verde & Gustavo Gillette)
8:28:19
10th
3:27:38
11:55:57
9th
20
Kukoo (Daniel Nah & Jovi Coh)
10:55:51
11th
3:24:47
14:20:38
10th
Junior's
Team #
Name
Time Day 1
Place Day1
Time Day 2
Total Time
Place
5
Blue Ridder Boys (Daniel Gregorio & Mario Chimal)
7:53:36
1st
2:51:27
10:45:03
1st
3
Con Todo (Ari Guardado & Jason Valladarez)
8:05:27
2nd
3:02:11
11:07:38
2nd
25
Oceana Boys (Shadaney Bradley & Irvin Chacon)
8:28:38
3rd
3:05:42
11:34:20
3rd
15
Underdogs (Jadeci Craft & Samuel Figueroa)
8:40:15
5th
3:00:47
11:41:02
4th
4
Caramba's Boys (Brian Bradley & Jason Chee)
8:34:31
4th
3:21:51
11:56:22
5th
14
Easy Does It (Brian Guardado & Erick Hernandez)
8:55:24
6th
3:17:36
12:13:00
6th
Photo Gallery
Please help support Local Journalism in Belize
For the first time in the history of the island's community newspaper, The San Pedro Sun is appealing to their thousands of readers to help support the paper during the COVID-19 pandemic. Since 1991 we have tirelessly provided vital local and national news. Now, more than ever, our community depends on us for trustworthy reporting, but our hard work comes with a cost. We need your support to keep delivering the news you rely on each and every day. Every reader contribution, however big or small, is so valuable. Please support us by making a contribution.
Click to Donate
Follow The San Pedro Sun News on Twitter, become a fan on Facebook. Stay updated via RSS