Belizean footballer Colville Richard injured during football match
Friday, October 31st, 2014
Belizean footballer Colville Richard playing in the United States with the Huston Hurricanes Football Club (Canes) has been off the field for over a week. That's because he was seriously injured during his fourth football game on Wednesday October 15th and has been medically advised to remain off the field for at least six weeks. The 24-year-old right winger is a former football player from Ambergris Caye who was drafted to play at one of the top Texas Football clubs earlier this year.

Richards got injured during the game between the Hurricanes and Austin's Real Cuauhtémoc in which the Hurricanes won by two goals to nil. Speaking to The San Pedro Sun, the injured footballer said that his injures came during a slide tackle from the left side. "I had pushed the ball in front of me and all my weight was on my left leg so when the tackle came in high, it caught me on the knee joint," said Richards adding that "It is a very unfortunate incident and I don't believe it was intentional."
The following day after the match on October 16th, The Hurricanes Football Club announced that Richards would be out for at least six weeks. Head Coach Bren Reyes said he was seriously injured, and as such he would miss the biggest game of the club's season. That game was against Texas' favorite Ranchero King FC. "It's a big blow for us and the player. He has been in fine condition of late, with three goals in as many games in the season. He will go for magnetic resonance imaging (MRI) once the swelling goes down, but it's not looking good," said Reyes.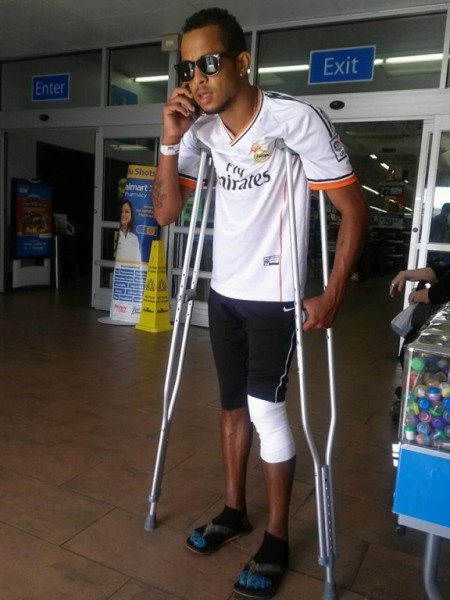 Richards told The San Pedro Sun that his MRI results show that he has a seriously sprained knee joint. Medical doctors have put him on therapy and are hoping that he can be back on the football pitch in the next six weeks. Despite Richards was not being able to play with the Hurricanes for the match against Ranchero King FC, they won by three goals to nil.
The San Pedro Sun and the Belizean public wish Colville Richards a speedy recovery.
Follow The San Pedro Sun News on Twitter, become a fan on Facebook. Stay updated via RSS