Strongest Woman in Belize: Mary Gonzalez wins big at the Belize Powerlifting Championship 2023
Tuesday, February 28th, 2023
Islander Mary Gonzalez returned to San Pedro, Ambergris Caye as Champion after an excellent performance that landed her first place in the 3rd Annual National Powerlifting Competition. Held at the St. John's College Junior College Gymnasium in Belize City over the weekend (February 25-26), the event was organized by the Belize Powerlifting Association. Another islander currently residing in Belmopan, Edith Ruiz, also won big, placing second overall, and took gold in her 57kg weight class.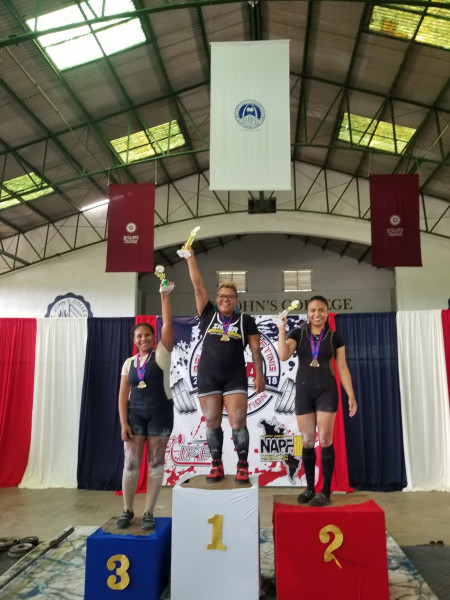 The national championship was divided into a two-day event for the first time, with the female athletes competing on the first day and male lifters on the second day. Gonzalez competed in the 84+ kg category, squatting a final 390lbs, benching 190lbs, and deadlifting 415lbs, went 9 for 9 without incident and won the title of Best Female Lifter 2023. Coming in second place was Edith Ruiz and in third place, Joylynne Smith. All three women are pound for pound, the strongest women in Belize.
Gonzalez shared with The Sun that she started preparing for the Nationals at the end of November last year. "It was tricky as there were holidays coming up and some travel, but my coach Khalid Usher, NAPF 2022 Bronze Medalist, worked with my schedule and allowed me to focus on the three big lifts," she said. The island athlete added that she was injured during the 2022 National Competition and had been recovering through physical therapy. "Essentially, this year was my redemption year. I had been aiming to win last year, and everything was on track for that to be a reality. Unfortunately, I ended up with a strained anterior delt, and had to withdraw from the competition." Coupled with some intense physical therapy on the island, and modified work, she eventually was able to train properly and come competition time, she was prepared.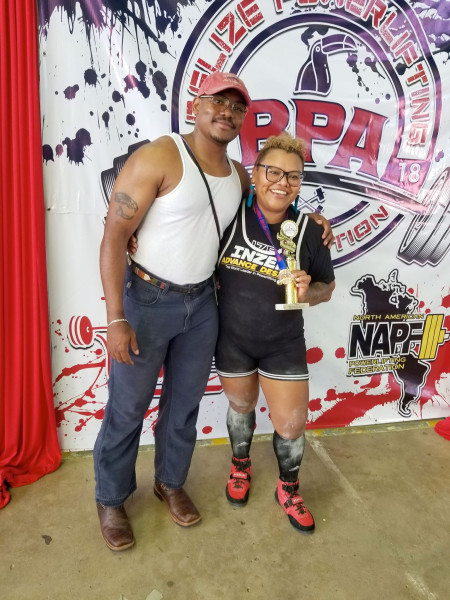 Training and recovering from an injury were not the only obstacles leading to the championship this year. Even though the training plan went well, nearly two weeks before the event, Mary Gonzalez said she became ill with COVID-19. "I managed to recover by Tuesday, February 21st, leaving me with only a few days to prepare. Even though we had bigger numbers in mind for the day, my coach and I mutually decided to reduce my top numbers to ensure I was able to complete all my lifts without incident," she said. The hard work and sacrifices paid off, as she emerged with a big win at the end of the competition.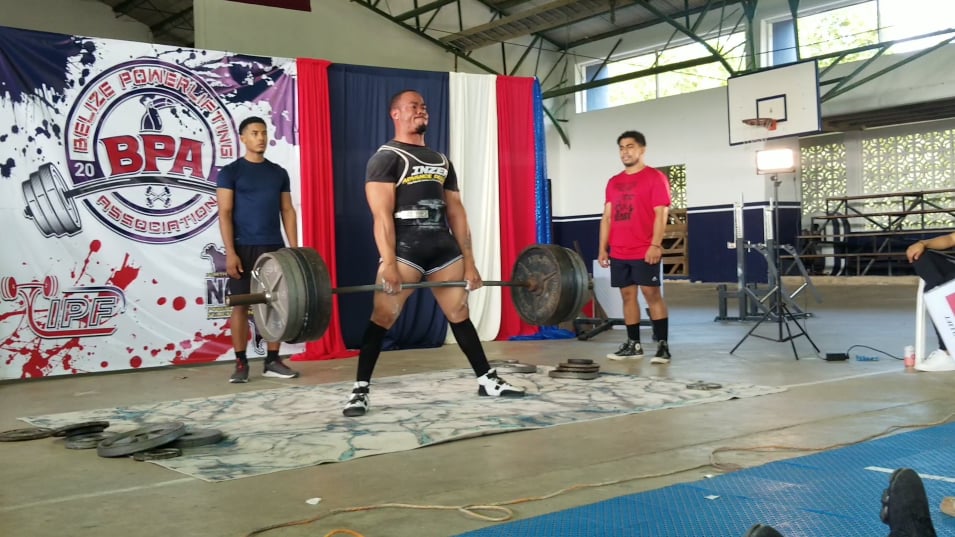 The following day, it was the turn of the male competitors. The top lifters for this year's tournament were led by Rayford Brown, who squatted 520lbs, benched 385lbs and deadlifted 605lbs (pictured above) with a body weight of 198.4lbs. In second place was Kenyon Wright, followed by William Murillo in third place.
The National Championships were a qualifier for athletes aiming to compete internationally. Mary Gonzalez confirmed that she has officially been pre-selected for the national team to represent Belize at the 2023 North American Powerlifting Federation Championship in the Cayman Islands between August 7th – 12th.
The Belize Powerlifting Association is the brainchild of Usher, the president of the association, who developed the concept in 2018 along with his university colleagues, Ryan Bood-Usher, Kevin Aké, and Ashley Mcfadzean, following a competition in Mexico. During their first participation, Usher and his colleagues did not win any medals, but following their second participation as an association, they returned to Mexico City and brought home two gold and one bronze medal.
Follow The San Pedro Sun News on Twitter, become a fan on Facebook. Stay updated via RSS