The 2019 BBBFF Strongest Man and Woman in Belize are Kaylon Godoy and Mary Gonzalez
Saturday, November 30th, 2019
Island resident Mary Gonzalez, The San Pedro Sun Associate Editor, placed first in the female division of the 2019 Belize Strong Man/Woman Competition held in Ladyville Village on Sunday, November 24th. The competition was hosted by the Belize Body Building and Fitness Federation (BBBFF) and saw five males and three females competing for the coveted titles. Taking the title of Strong Man 2019, was Kaylon Godoy of Power House Studio, Belmopan.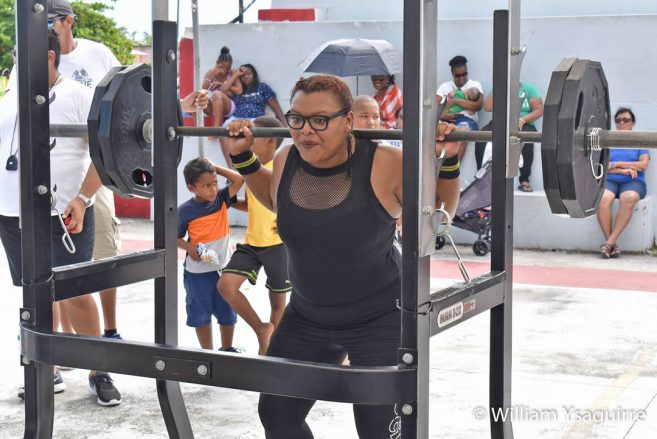 The participants battled to best each other in tests of strength. In the female competition, women were challenged in the discipline of bench press, back squats, deadlift and tire flips. The male contestants had the same obstacles, in addition to the Farmer's Walk and the pulling of a bus from Serrano Bus Company.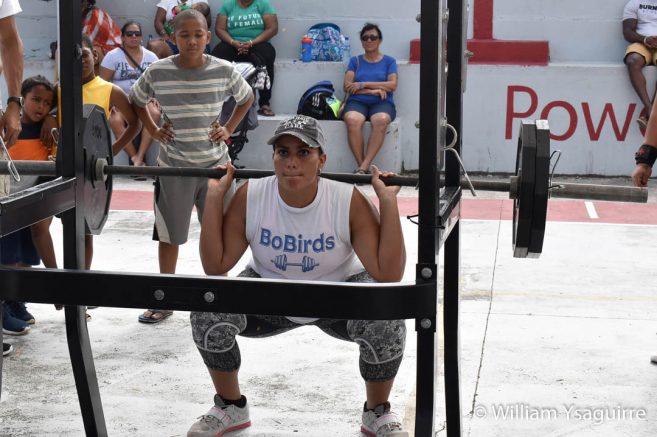 The tough female trio comprised of Mia Galdamez, Roberta 'Bobby' Usher and Mary Gonzalez. Each competitor put to work years of discipline, hoping to break the previous year's records. Mia Galdamez won the first event, with a 75kg (165lb) bench press. In the second segment however, Gonzalez went head to head with Galdamez after Usher hit her max weight in the back squats. To the delight of the audience, both Gonzalez and Galdamez kept adding weight and squatting at an even pace, hitting 170kg (374.786lbs). After both failed the 175kg (385lbs), it was time for a tiebreaker. Both women had one minute to complete as many back-squat repetitions as possible, using 225lbs. Gonzalez went first, hitting 22 back squats in a minute. Galdamez made a valiant effort, but fell short at 18, giving Gonzalez a hard-earned event win.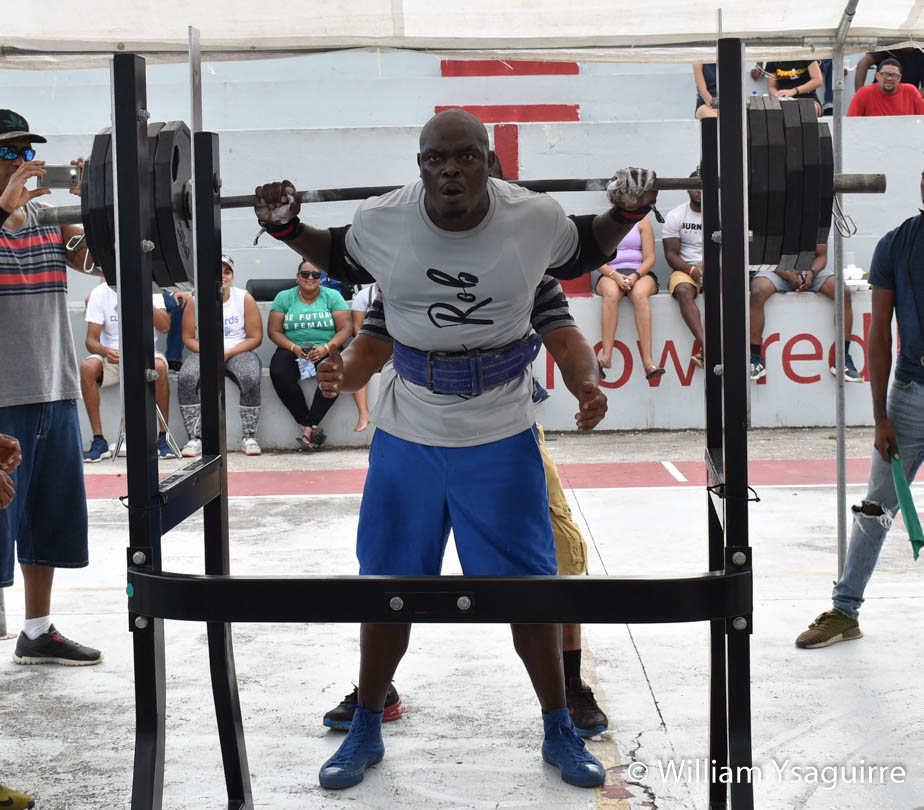 Not content with the back squat challenge, the women again put on a show in the deadlift portion of the competition. Usher managed to pull a personal best at 335lbs, but could not hit the second weight, and it came back down to a showdown between Galdamez and Gonzalez. Both women kept adding weight, and in the end, it came down to who could deadlift 386lbs (175kg). Mia failed her first attempt, and Gonzalez took the stage. To the delight of the crowd, she managed to face the challenge and pulled the weight cleanly. Mia took her second attempt, but was unable to succeed, giving Gonzalez the second win of the day. Thereafter it was a tire flip event, in which Usher cleaned the competition floor within 35 seconds, besting Gonzalez' 50 seconds and Galdamez' 52-second attempts.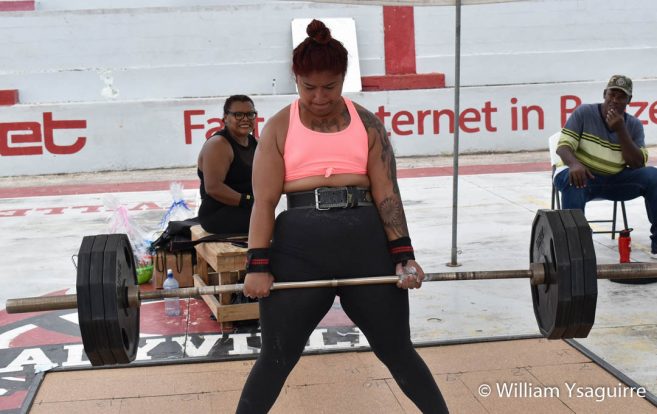 With two hard-earned wins, Mary Gonzalez was officially named the BBBFF Strong Woman 2019. She walked away with a grand prize comprising of a trophy, medal, protein products, gift bags/baskets, wireless headphones and cash prizes as well. In second place was Mia Galdamez and third place went to Roberta Usher. They both received medals, cash prizes and other sport accessories. "It was truly an exciting event for me. Some might say, oh it was only three people competing, but take those three women's numbers and you have some significant strength!" says Gonzalez. "I was amazed to watch the other women and their hard work. Mia certainly gave me competition, and I foresee a bright future for her in the lifting community. Roberta was amazing to watch – her very young son was in the audience, and it made me happy that she continues to train and be a role model. I hope young girls and women can see that lifting weights isn't just for the boys anymore. I'm 38 years old, and I wish I had discovered this discipline earlier, because I cannot imagine what I could have accomplished! But this is an amazing title, and I hope I can hand it over to someone new next year!"
In the male division, Kaylon Godoy from Power House Studio in Belmopan won first place, mastering all categories, bench press, squats, deadlift, tire flip, farmers walk and bus pull. In second place was Robert Williams representing the BBBFF Gym, while third place went to Khalid Usher from Power House Studio.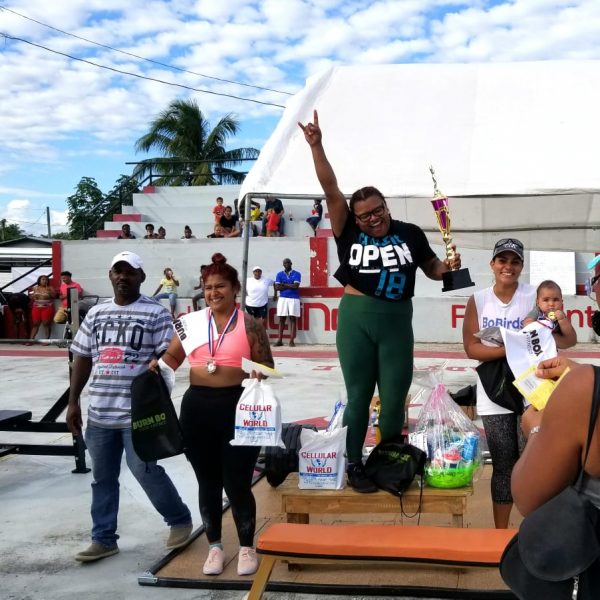 The BBBFF thanks all participants and sponsors for making the event possible. The results of the event broke the records of previous events, giving organizers an additional reason to make the competition bigger and better for next year.
The San Pedro Sun congratulates Mary Gonzalez and Kaylon Godoy on a job well done!
Follow The San Pedro Sun News on Twitter, become a fan on Facebook. Stay updated via RSS