San Pedro football teams represent the island well at NAIC; the tournament moves to the semifinals
Wednesday, July 26th, 2023
The National Amateur Interdistrict Championship (NAIC) 2023 football tournament is nearing its end, with the semi-finals taking place this weekend. Among the 18 teams that joined the tournament on June 17th, Ambergris Caye was represented by Shark Shooters FC and Terror Squad FC. Both teams represented the island well but fell short of advancing to the final rounds.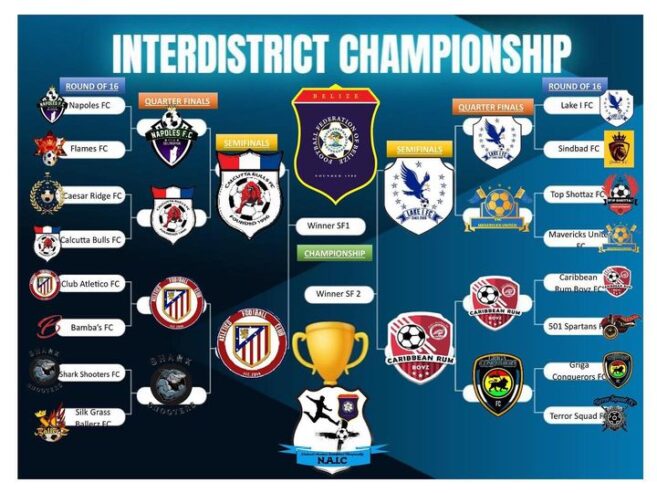 The other teams in the national tournament included Napoles FC, Griga Conquerors, Caesar Ridge, Mavericks United, Calcutta Bulls, Lake I FC, Top Shottaz FC, Caribbean Rum Boyz FC, Club Atletico FC, Sindbad FC, 7 Miles FC, 501 Spartans FC, Flames FC, Silk Grass Ballerz, Bambas FC and Sarteneja FC.
The island teams started winning every match at the beginning of the NAIC. However, the island boys faced stronger teams as the elimination period began. Terror Squad's last game was against Griga Conquerors. They traveled to Dangriga Town in the southern Stann Creek District for the match on July 12th. The team played their best but could not win the home-away game and were out of the competition.
Shark Shooters played at the Ambergris Stadium on Saturday, July 22nd, against Club Atletico FC in NAIC's quarterfinals. The ball started rolling at 7PM. The visiting team scored their first goal in the 15th minute. Shark Shooters tied the game in the 28th minute. Four minutes later, Club Atletico scored their second goal taking the lead. Shark Shooters netted another goal in the 37th minute. During the injury, Shark Shooters made a comeback, and before the first match was over, they scored another goal retreating to the lockers with a 3-2 lead.
The intense match saw another in favor of Club Atletico in the 55
th and 59th minutes. The island team quickly responded, tying the game in the 64th minute. However, in minutes 67th and 83rd, Club Atletico widened the gap, sealing the game with a 6-4 victory. San Pedro's Shark Shooters were eliminated from the competition.
The first leg of the semi-finals starts on Saturday, July 29th, in the Capital City of Belmopan between Club Atletico and Calcutta Bulls. The second match in the semi-finals will occur on Monday, July 31st, in Orange Walk Town between Caribbean Rum Boyz and Lake I FC.
Follow The San Pedro Sun News on Twitter, become a fan on Facebook. Stay updated via RSS