BAA institutes $5 Rider Fee
Thursday, January 20th, 2011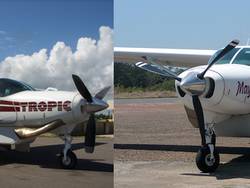 Air travel is one of the fastest and most convenient ways to get to and from the mainland. In 20 minutes, one can already touch down at the municipal airstrip and head to run errands as necessary. For those international travelers, plane rides are the top choice to head to their destination. Of course, for this convenience, one has to pay a bit more than if they were to travel via water taxi.
Well now we can add on $5 extra to the price of a ticket for local travel (in the country of Belize). The $5 is called a "rider fee" and has been sanctioned by the Government of Belize and the Belize Airport Authority. According to a letter issued by Tropic Air, all (Tropic) tickets will now increase by $5 to reflect the required fee starting January 24th, 2011. The San Pedro Sun spoke to Tropic Air about this change, and they have explained that if one buys a one-way ticket to the mainland, and from there decides to buy another ticket to return, the $5 fee will be charged each time a ticket is purchased. To save a bit on the price, it is highly recommended that customers buy round trip tickets with open returns.
The Belize Airport Authority's (BAA) General Manager, Kenworth Tillett explained to The Sun that the fee came about as a result of all the planned improvements for the airports countrywide. Statutory Instrument #44 to increase the rider fee was Gazetted on May 8th, 2010. He did indicate that airlines had been informed that the fee was imminent. The San Pedro Airstrip (John Greif Airport) is "way ahead of the curve in terms of improvements," stated Tillett. He was of course, speaking of the proposed improvements reported in Issue #49, Vol. 20 of The San Pedro Sun, wherein a groundbreaking ceremony was held to mark the beginning of the much-needed works on the San Pedro Airport.
Improvements are in the plans for airstrips/ports throughout the country, and according to a press release issued by the BAA on January 15th, 2011, "This small fee has become necessary as the Authority seeks to secure loans to expand several airports in the country of Belize, including and most urgently and immediately, the Belize Municipal Airport." The release continues, "The BAA manages and maintains all public aerodromes in Belize with no subvention or funding from any external source. Capital improvements for the good and safety of the industry must be made and therefore utilizing Statutory Instrument No. 44 of 2010 the Rider Fee has officially been implemented."
Follow The San Pedro Sun News on Twitter, become a fan on Facebook. Stay updated via RSS