Belize Observe International Civil Aviation Day
Wednesday, December 7th, 2011
Today, Wednesday December 7th, 2011, was observed as International Civil Aviation Day. The event was three fold; an official ceremony at the ITVET building on Freetown Road in Belize City, a wreath laying ceremony/placement of new names of fallen pilots at the municipal airport in Belize City and an open day at the ITVET building.
In speaking at the event, Director of Civil Aviation Jose Contreras explained that the day is geared to raise awareness on the importance of aviation in Belize. "This day is celebrated annually on 7th December to mark the creation of the International Civil Aviation Organization in 1944," said Contreras. Belize has been a contracting state of ICAO since 1991. In speaking to The San Pedro Sun, Contreras said, "The event is also set to enhance the rapport between members of the aviation community and also serves to promote and enhance aviation safety and enhance public awareness on the importance of aviation safety in Belize."
In the absence of the Minister of Civil Aviation Hon. Manuel Heredia, his CEO Lindsay Garbutt explained, "We are committed to creating a conducive environment for the development of an air transport industry that is sustainable, meets the needs of the customers, improves the level of service and reduces costs while being safe efficient and internationally competitive."
During the opening ceremonies, several people were awarded for their outstanding contribution to aviation in Belize. Those that were awarded included John Searle, Andres Grajalez, Eden Hollard, Emmanuel Fernando Trejo, Luigi Zaldivar, Kenneth Lopez, Leopoldo Balderamos and John Grief II. Posthumous awards were also given.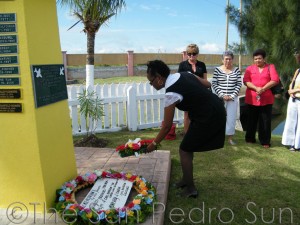 Following the official ceremonies, the gathering moved to the Belize City Municipal Airstrip where a wreath laying ceremony took place. During the ceremony, two new names were added to Pilot Memorial Monument dedicated to Captain Luis Rene Tam. The two names added were that of Captain Nigel Donald Flowes who died in November of 2009 and Sir Barry Manfield Bowen who died in February of 2010. A prayer was offered and a moment of silent was observed in memory of all the fallen pilots after which family members of the deceased Belizean pilots had the opportunity to share some reflection on the life of their relatives.
Immediately after the wreath laying ceremony, the Department of Civil Aviation hosted an open day where local and international airlines participated. International Civil Aviation Day was observed under the theme, "Assistance and Cooperation for Globally Sustainable Air Transportation."
Photo Gallery
Follow The San Pedro Sun News on Twitter, become a fan on Facebook. Stay updated via RSS