El Pescador hosts Tagging Tournament
Sunday, January 29th, 2012
Press Release – El Pescador Lodge – January 16, 2012 – El Pescador Lodge is honored to have hosted the 1st Annual Invitational Tagging Tournament to Benefit Bonefish & Tarpon Trust at El Pescador Jan 12 – 16th. El Pescador has worked with The Bonefish and Tarpon Trust (BTT) and their tagging program since 2009. We tag permit, bonefish and tarpon in order to answer basic questions about population, growth rates and movements to better understand how to protect both the fish as well as their habitats. The tournament required anglers and guides to not only measure the fish before release, but to tag bonefish and permit and to take a DNA sample from tarpon by swiping a sponge across their upper jaw. Fifty-eight bonefish and permit were landed, tagged and fin clipped during the three days. The elusive tarpon evaded us for this event – many shots but none landed. The Grand Champions are Adam Marton and Anthony Cuomo along with their guide, Nesto. Congratulations!
The focus of this charity event was to perform work on behalf of, and raise money for the BTT whose mission is to support research to help understand, nurture, and enhance healthy bonefish, tarpon, and permit populations. El Pescador donated US$250 for each of the 12 anglers who enter the Tagging Tournament. A total of US$3000 was given to BTT board member, Chris Peterson, at the award ceremony in the tournament grand champions' names, Adam Marton and Anthony Cuomo. The grand champions will each become "Gray Ghost sponsors" and receive the corresponding benefits associated with that level of membership at BTT. The grand champions also received one (1) spot, with the entry fee waived, to compete in the 2013 March Merkin invitational permit tournament in the Florida Keys as well as a US$500 gift certificate from Patagonia and an exquisitely carved trophy by local artist, Robbie Guererro. The Grand Champion's guide, Nesto received a SIMMS GORE-TEX(r) Paclite(r) jacket and pants as well as a matching trophy.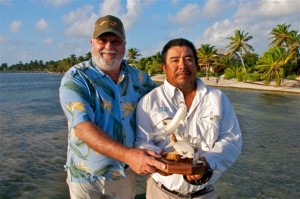 • 1st runner up is Bill Williams with his guide, Sinoe. Their prizes included a HATCH Finatic 11+ reel, a YETI cooler with BTT logo, a CLIFF fly box and a trophy by local artist, Robbie Guererro.
• 2nd runner up is Jenn and Hackney Parker with their guide, Cesar. Their prizes were Costa del Mar polarized sunglasses, an 8 wt SCOTT rod with a special inscription for the event, a SAGE 6000 series reel, a CLIFF fly box and a trophy.
• 3rd runner up is Jim Larson and Randy Bonzheim with their guide, Gilberto. Their prizes included SMITH Techlite glasses, an 8wt Helios rod and reel from ORVIS TRAVEL and a CLIFF fly box and a trophy.
• Jenn Parker also won the "top female angler" award of a pair of pliers from RISING.
Participants enjoyed presentations by Bonefish and Tarpon Trust and Green Reef. BTT board member, Chris Peterson, gave a very educational and interesting presentation regarding the results to date of tagging specific to the movement of bonefish, tarpon and permit. They frequently cross international boarders between the USA, Bahamas, Cuba, Mexico and Belize. This highlights the importance of co-management with our neighboring counties. Even though Belize has the foresight and commitment to protect our natural resources by being the 1st country in the world to give bonefish, tarpon and permit catch and release status, if our neighbors do not have the same commitment, it is not the total solution.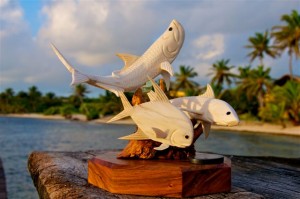 Mito Paz from Green Reef also gave an encouraging talk about the importance of protecting our mangroves, shoals and sea grass beds in order to preserve habitat for marine species in general. He also outlined what specifically is being done here on Ambergris Caye to protect our 400 square miles of pristine sight casting flats and mangrove lagoons.
We held a friendly casting competition on Saturday. Cesar won the guide's distance category with a 109 foot long cast. Impressive! Sinoe won the guide's accuracy category by landing the fly within three 48 inch diameter circles placed at 25, 45 and 65 feet respectively in 33 seconds. Great job! Adam Marton won for the guests distance competition with a cast of 94 feet; and Bill Williams won the accuracy category for the guests with a time of 1min 54sec. Prizes included Rainy's flies, Yellow Dog shirts, Hatch bottle openers and DVDs of Rising and Drift. All participants received an El Pescador fishing shirt, Costa polarized sunglasses, RIO bonefish leaders and tippet, Rainy's tarpon flies, Hell's Bay fishing shirts, Hatch hats, Rising trucker caps, and Yellow Dog hats and beer cozies.
El Pescador would like to thank our guests for participating in such a worthwhile cause. We would also like to thank Chris Peterson and the Bonefish and Tarpon Trust for allowing us to be part of the solution. Most notably we would like to thank our Guides and Staff who make Belize proud; their hard work and enthusiasm are what makes Belize such a unique and special destination. Special thanks and appreciation go to our generous supporters for their conservation ethic and great prizes!
Follow The San Pedro Sun News on Twitter, become a fan on Facebook. Stay updated via RSS