CZMAI reiterates Catch and Release Law
Friday, August 18th, 2017
A photograph circulating on social media featuring an angler proudly displaying a Tarpon has caused much outrage within the environmental and fishing community of Belize. In the image the Belizean angler was holding what appeared to be a Tarpon of about 25 pounds. Tarpon are among the three species of fish protected by law in Belize and therefore should not be killed. In an effort to raise awareness on Catch and Release fishing and the protected species, The San Pedro Sun contacted the Coastal Zone Management Authority and Institute (CZMAI) to further explain the law.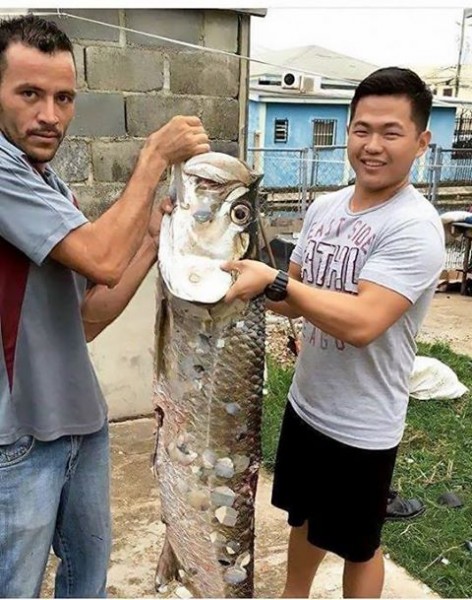 On September 26, 2009, Statutory Instruments (SI) 114 and 115 were passed into law. SI 114 of the Fisheries Act, Chapter210, cites the three main fish species designated for protection including other common sport fish species: Tarpon (Megalops atlanticus), Permit (Trachinotus falcatus) and Bonefish (Albula vulpes). These fish species are intended for 'Catch and Release' fishing only. "Catch and release is a practice within recreational/ sport fishing, intended as a technique of conservation. After capture, the fish are unhooked and returned to the water before experiencing serious exhaustion or injury," says CZMAI. "SI 115 of the Coastal Zone Management Authority Act, Chapter 329 states that 'every person desirous of engaging in sport fishing within Belizean waters shall apply… for a sport fishing license.' The CZMAI is thus responsible for the distribution of licenses and the collection of fees from the sale of these licenses."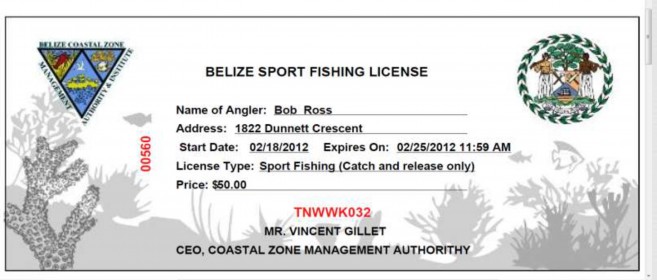 When asked about the image posted on social media, CZMAI explained that in order to effectively end these situations more education needs to be done. Up to date, many Belizeans and visitors still do not know about the Catch and Release law. "We continue to work with the Belize Tourism Board through certification programs keep with yearly tour guide licensing, to teach catch and release procedures and best practices. We encourage persons that partake in sport fishing to become or have a 'Sport Fishing Specialist Guide', as it can only help your fishing business, by showing your guests that you are serious about what you do and a real contributing member for the benefit of the Sport Fishing Industry," explains CZMAI.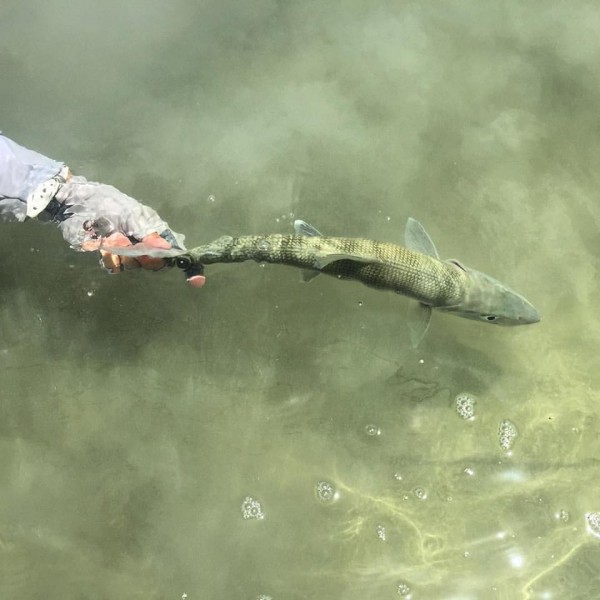 In an effort to prevent misuse in the Sport Fishing Industry, CZMAI works with the Fisheries Department and the Belize Coast Guard to implement enforcement strategies to ensure compliance. They also encourage resorts, tour operators, and the Belize Tourism Board to help in self-policing.
Any infractions are to be reported to CZMAI (223-5739 or [email protected]) or the Fisheries Department (203-2623 or 224-4554 or [email protected]) immediately.
Follow The San Pedro Sun News on Twitter, become a fan on Facebook. Stay updated via RSS