Contingency of Canadian Tourism Industry Professionals on FAM trip in Belize
Monday, April 22nd, 2013
Canada is Belize's second largest market for overnight tourism. Last year alone over 24,000 Canadians visited Belize and the number keeps growing. For that reason, the Belize Tourism Board (BTB) is now investing more into the Canadian market, hosting a number of media practitioners, Canadian based travel writers, travel agents and tour operators to experience Belize as part of Belize's strategy to reach to more Canadian tourists/travelers.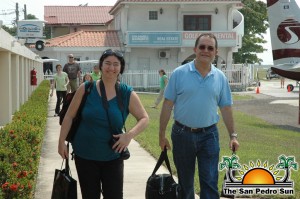 During their week's stay in Belize, the Canadian contingency, which has been divided into two groups, will be visiting several destinations such as the Cayo District, Hopkins, Placencia Peninsula and Ambergris Caye, where BTB hopes they can discover Belize. According to Travel Trade Officer at BTB, Althea Sebastian the Canadian Road Show FAM Trip is a follow-up to road shows that BTB did in January in Canada. "This is the first time that we (BTB) are bringing Canadians to a FAM trip in Belize. We want them to experience firsthand the Belize product. They will be travelling the entire country so that they can get to know the country so as to better sell Belize as a destination," explained Sebastian in an interview with The San Pedro Sun.
Over the past 10 years, visitors from the Canadian market have increased from 9831 overnight tourists in 2003 to 24, 223 overnight tourists in 2012. In the months of January and February of this year alone, over 8000 Canadians visited Belize. Tourists from out of Canada would normally take a six-hour flight to Belize. But what is driving more and more Canadians to Belize? Reservations Specialist Ana Magalhaes of Tourcan Vacation based in Toronto, Canada explained that Canadians simply want something different. "I think Canadians want to see new things and now they are looking for things such as nature. I think Belize has much to do when it comes to nature as in Belize they can go into the jungle or they can enjoy the beach and the sun, they can find the reef and do diving and I think that is what Canadians are aiming for; enjoying nature," said Magalhaes. When asked if distance plays a role for Canadian tourists in choosing a vacation destination, she said, "Belize is not too far compared to other destinations such as Costa Rica and even Peru- places that Canadian also travel a lot to. What they are looking at is the nature aspect of their destination; they are looking at how much activity they can enjoy and Belize offers that."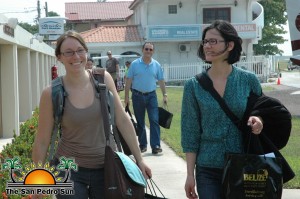 According to Magalheas, most Canadians who travel to Central America choose Costa Rica, but as of recent there has been increasing numbers of Canadians now travelling to Belize. "I think that Canadians are beginning to know more about Belize. BTB is doing a great job in showing Belize to Canadians as there are now growing inquires about Belize," said Magalheas. While being the only English speaking country in Central America is not really a factor in Canadians determining a destination within Central America, Magalheas said that "it certainly makes it easier to move around and to communicate."
Amongst the 24 visiting Belize is Natalie Degrandmont, a French freelance travel and magazine writer based in Montreal, Canada. Degrandomnt said that coming to Belize and experiencing the country is important to her readers since she targets travel agents in Canada. "I will be writing several publications about Belize. Mainly what I will be writing about is to describe what Belize has to offer; I will write something that travel agents can figure out what kind of product is in Belize, the kind of hotels and what are some of the interest that can be targeted," said Degrandmont. She also said that depending on what she gets to see while in Belize, she will be writing for several print and online publications.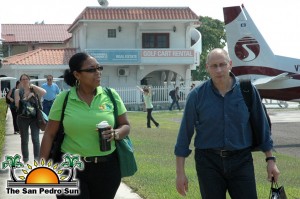 Director of Marketing and Industry Relations at the B.T.B., Alyssa Carnegie said that the FAM Trip will help Canadian travel agents, tour operators and the press to see and experience Belize as unique place from other countries. "A lot of people use travel agents because they trust what the travel agents have to tell them. So it is important that these travel agents are familiar and know the product that they are selling as well. I mean you wouldn't be a sales person and not know what you are selling. The destination has also developed extensively. Belize has become very 'sexy' and there is lot of new developments happening and they want to get to know that. They want to experience it and see what it is like firsthand so that they can better inform their clients when approached about the Belize product. There is a lot of competition; there are lots of travel agents selling lots of other destinations. So it is important that on trips like these, they get to realize what makes Belize so different, so unique and so special; what makes us stand out from all the rest because we do. That way, they will transmit this information and relay this information to their clients as well as people who are interested," said Carnegie
The group of Canadians will remain in Belize for seven days, from April 15th to the 21st. The tour of Belize is expected to give the country premium exposure in top Canadian news outlets and travel publications.
Follow The San Pedro Sun News on Twitter, become a fan on Facebook. Stay updated via RSS