American Actors Charles Michael Davis and Travis Van Winkle vacation in Belize
Wednesday, January 6th, 2016
Each year, more and more visitors are attracted to Belize's beautiful island of Ambergris Caye, where they can enjoy a unique travel and vacation experience. The great opportunities the island offers to all types of travelers has grown to even attract a few celebrities ever, now and then. The most recent celebrity vacationers touching down on La Isla Bonita's shores were Charles Michael Davis and Travis Van Winkle, who were here enjoying a boys' getaway. Of course, The San Pedro Sun had an exclusive opportunity to meet up with the American actors.

31-year-old Charles Michael Davis is an American actor and model. He's best known for his role on The CW television drama, The Originals. Davis has also been featured in shows such as Battle Scars, Grey's Anatomy, Switched at Birth, The Game, and Ur in Analyzis.
Travis Van Winkle, 33-years-old, is best known for his performances in movies such as Transformers, Friday the 13th, Accepted and Meet the Spartans. Van Winkle also acts in TNT's post-apocalyptic drama series The Last Ship, whose third season will air in summer of 2016.
Davis and Van Winkle were accompanied on their trip to Belize by three other friends. The group had been in Belize from December 26th, but did not arrive on Ambergris Caye until December 30th. The first leg of their trip took them to San Ignacio Town where they enjoyed Belize's pristine jungles, Maya Archeological sites and intricate cave systems.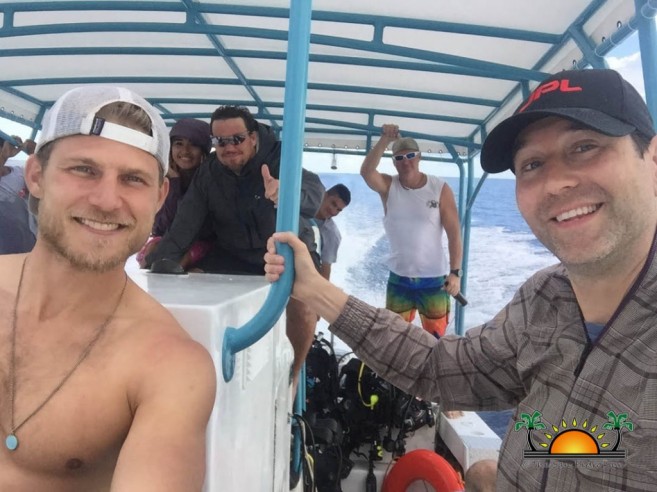 Their stay was organized through Belize It Yourself (BIT) concierge services, which provides a tailored and personalized travel experience to satisfy every tourist. According to BIT, Belize provided them with a feasible travel time as well as a variety of recreational activities. "Belize is truly un-Belizable," said Davis. "The people have been amazing. Very accommodating and super friendly. It's been a great trip," said Van Winkle. While in San Pedro, the group enjoyed diving and snuba, and even took part in the San Pedro Town Council's New Year's Eve Countdown celebrations. Some of the group also took part in a lionfish hunting expedition with SeaStar Belize.
The San Pedro Sun would like to thank Belize It Yourself for facilitating the meet and greet. Learn more about Belize It Yourself at their website: www.belizeityourself.com
Follow The San Pedro Sun News on Twitter, become a fan on Facebook. Stay updated via RSS