Tourism industry delivers record breaking results
Saturday, January 14th, 2017
Despite taking a hit from Hurricane Earl in 2016, the Belize tourism industry is the primary sector that continues to excel. From new additional flights, cruise lines, marketing strategies, and international recognition via various vacationing celebrities, Belize is definitely in the spotlight for 2017.
On Wednesday, January 11th, the Belize Tourism Board (BTB) released impressive statistics that indicate record tourism arrivals. "The year 2016 culminated with another significant achievement for the tourism industry, boasting the highest overnight arrivals in twenty years. 2016 has proven to be the most successful year for Belize's overnight tourism sector," the press release said.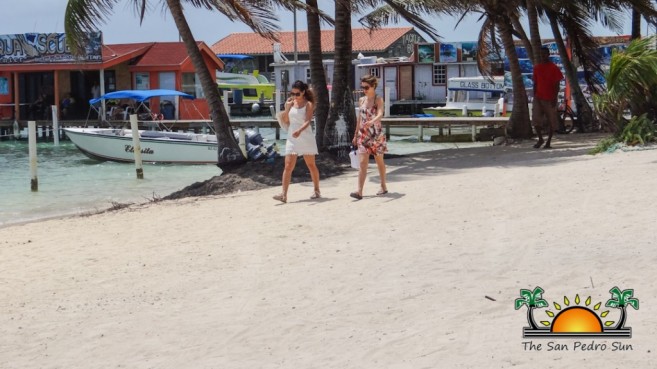 BTB's Tourism Data Analyst Michael Arana told The San Pedro Sun that Belize saw a 13% increase in overnight visitors in 2016, and he believes this trend will continue in the upcoming years. Not only does this put the country on track for significant growth in the tourism sector, but it is also helping to stabilize the country's economy. "With an overall increase of 13% in comparison to 2015, this translates to 44,422 additional visitors enjoying the beauty of our Jewel; the largest increase reflected in the past 20 years. As depicted in the graph below, the growth in the industry continues," the press release said.
(graph here)
In Prime Minister Right Honorable Dean Barrow's end of year message to the country, he indicated that he is more than confident that the tourism sector will prevail this year. "In the all-important tourism sector, there are the new airline routes to come from Fort Lauderdale and Denver, plus the already-commenced Tropic Air flights to Merida, Cancun, Chetumal and parts of Central America. A direct Mexico City to Belize connection via a Mexican carrier is also being worked on for 2017," said Prime Minster Barrow.
He also stated that Belize is making accommodations to host this increase in passenger arrivals. "There is a frenzy of hotel construction in North Ambergris Caye, Caye Caulker and Placencia. Blackadore Caye has also broken ground, and Caye Chapel's owners expect their 200 million US dollar partnership with a five star brand to be announced by February 2017," said Prime Minister Barrow.
Flights
On January 5, 2017, BTB announced that a new direct flight from the United States will be arriving to Belize starting on June 4th. Southwest Airlines will offer a daily, year-round non-stop flights from Fort Lauderdale to Belize. In August 2016, Southwest Airlines also announced that starting March 11, 2017, they will be operating a new seasonal direct flight between Denver, Colorado, US and Belize. This new flight will operate on Saturdays until April 24, 2017.

Director of Tourism, Karen Bevans commented "This is excellent news for Belize. This seasonal flight will result in seven additional flight arrivals into Belize, directly at the height of our peak season for tourism. A large amount of visitors to Belize are already from the U.S. state of Colorado, and with the addition of this new direct flight, we certainly expect to see these numbers growing significantly."
WestJet, a Canadian airline, also introduced a direct flight from Toronto, Canada to Belize on October 29, 2016. This new route welcomed a surge in Canadian tourists.
Cruise tourism
With the addition of the Harvest Caye Cruise line and Carnival Vista, BTB's statistics also revealed that cruise tourism hit a record in cruise passenger arrivals, exceeding one million visitors. "Cruise tourism reflected growth with a 4.9% increase in arrivals in comparison to 2015. The launch of Harvest Caye in November 2016 contributed to the boost in cruise passenger arrivals, particularly in the last quarter."
Carnival Vista, the largest ship in the Carnival fleet made its first call in Belize on December 28, 2016. The Vista can hold a maximum of around 4000 passengers and 1,500 crew members. These two cruise ships are expected to increase cruise ship arrivals in 2017.
International exposure
The BTB, who is responsible for preserving the tourism product in the country, has been utilizing their social media marketing tools and other marketing strategies to help the country gain exposure. Recently, BTB hosted Olympian gold-medalist Simone Biles and her family. Biles documented her vacation via social media, garnering much exposure for Belize.
Aside from Leonardo DiCaprio's Blackadore Caye development, numerous celebrities have put the Jewel in the spotlight. These celebrities include Charles Michael Davis, Travis Van, Ben Flajnik and Oscar Generale. In 2017, Bollywood actress Nargi Fakhri vacationed for the New Year holidays on Ambergris Caye, while other celebrities like Drew Carey, James Franco and Alan Tudyk were spotted throughout the country. Miss Belize Rebecca Rath has even given Belize exposure through her journey to compete in the Miss Universe pageant, with her social media coverage obtaining much publicity and popularity in the months leading up to the contest.

Belize has also been highlighted through print publications. In December 2016, The Lodge at Chaa Creek in San Ignacio was featured in Vogue Magazine, while The New York Times listed 'Belize' in their annual list of 52 Places to go in 2017.
Tourist arrivals to La Isla Bonita keep increasing
A great percentage of visitors make their escape to La Isla Bonita or Caye Caulker Village to indulge in water activities such as snorkeling, diving with sharks, or just some fun in the sun. The San Pedro Sun interviewed Mayor of San Pedro, Daniel Guerrero about his predictions on tourist arrivals this year. "Tourism arrivals to San Pedro Town have continued to increase over the years, and we welcome all visitors. I am optimistic we will have a lot more arrivals to our island, because we have a lot to offer," said Guerrero.
Mayor Guerrero also acknowledged that with the increase of arrivals, there will also be an increase in traffic-related issues. However, he spoke about his plans to adjust the influx of arrivals. "We at the San Pedro Town Council, under my directive, will be improving the streets, and addressing our traffic issue with the help of an official transportation manager and expert. We have commenced work to fix the streets by Laguna Drive and the bridge and hope to fix the roads. We are in the early stage of revitalizing the downtown and beach area in Boca del Rio," said Guerrero.
Tourism affects the entire population
Whether you work at a restaurant, bank, grocery store, or cut the lawn at a resort, the majority of employment in Belize depends on tourism. As BTB continues their efforts to boost our tourism product and enhance Belize's profile as a top destination within the region, they encourage the citizens to take pride in their country. There are many ways you could preserve the tourism industry, such as keeping Belize clean, showing hospitality to visitors, and being mindful of how negative actions today can have a trickle effect in the future.
Ultimately, BTB is delighted with the statistics for 2016, and is confident that 2017 figures will be remarkable. With so much exposure and additional services to Belize, there can only be growth in the tourism industry.
Follow The San Pedro Sun News on Twitter, become a fan on Facebook. Stay updated via RSS