BTB records brisk growth path in overnight tourism arrivals
Thursday, July 13th, 2017
On Wednesday, July 12th, the Belize Tourism Board (BTB) released the latest figures on overnight tourism arrivals for 2017. Once again, the BTB registers a positive trend for the first half of this year, maintaining a steady, brisk growth path. The latest statistics show that the month of April registered the highest overnight arrivals (24.2%) compared to the same month last year, followed closely by June, with a 10% growth. There was also an overall growth of 7.8% in tourism overnight arrivals for the second quarter of 2017. BTB states that this a clear affirmation that Belize continues to attract an increasing number of travelers as a 'must-visit' destination.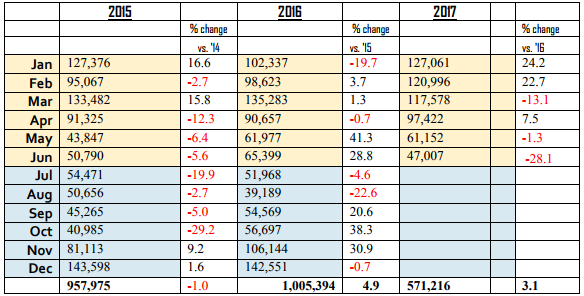 The trend of overnight arrivals remained positive through the first six months of 2017, with 7.8% overall growth in overnight arrivals. Since June 2017 recorded a 10% growth, it had the highest arrival total for a June month in history, with over 37,600 overnight visitors. Over the past five years, overnight arrivals in June have equaled the figures seen in the high season month of January. BTB suggests that this trend is a possible expansion of the number of months that are traditionally recognized as high season months for tourism in Belize.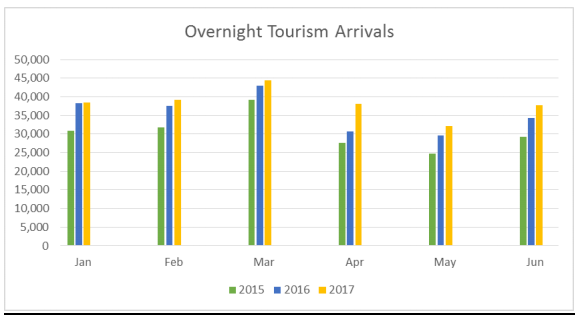 In June 2017, there were 13 cruise calls visiting Belize, which brought in 47,000 cruise passengers. Although the number of actual arrivals for June exceeded forecast arrivals, it did not reach the level of 2016. However, in the first half of the year, there has been an overall increase of 3.1% in total cruise passenger arrivals. Arrivals for 2017 includes visitors from both the seaports in Belize City as well as arrivals to Harvest Caye in the south.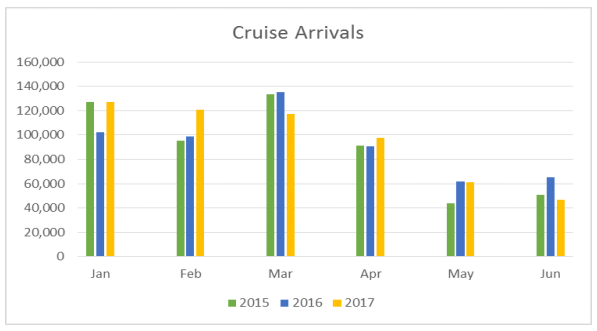 These latest statistics not only provide a very positive outlook for tourism arrivals for the remainder of this year and beyond, but they also represent the successful efforts of the industry in marketing and promoting Belize as a growing, viable and attractive tourism destination.
BTB is dedicated to building tourism in the most economically and environmentally sustainable manner. As a part of its responsibilities, the BTB promotes Belize as a premier tourism destination to both in-country and international consumers. For more information on the BTB and its services, visit www.travelbelize.org.
Follow The San Pedro Sun News on Twitter, become a fan on Facebook. Stay updated via RSS