Mysterious private flight on July 10th brought foreign investor to Ambergris Caye
Thursday, September 3rd, 2020
Prime Minister Right Honourable Dean Barrow offered additional details on the mysterious private flight that arrived in Belize on July 10, 2020, with a foreign businessman. The private flight originated in Saint Louis, Missouri, USA, and the single traveler, referred by the Prime Minister as a significant investor, spent a couple of days in San Pedro Town, Ambergris Caye, where he is reportedly engaged in a million-dollar investment in the southern part of the island.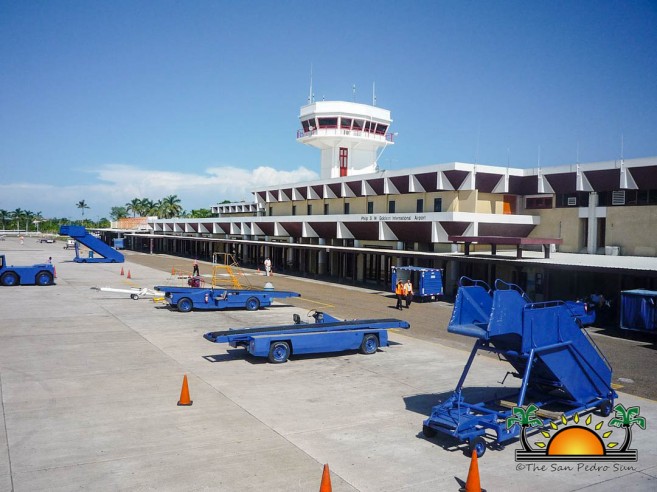 Barrow indicated that there was nothing wrong with the private flight, no omissions, and no violations of any rules. He even mentioned that the minister in charge of the Civil Aviation Department, Honourable Manuel Heredia Jr., assisted in getting the aircraft's clearance to bring the investor to Belize. Barrow indicated that the investors brought his PCR negative test and, while on the island, reportedly stayed at his condo and avoided circulating. According to the Prime Minister, the current COVID-19 outbreak on Ambergris Caye cannot be associated with the investor's visit.  "He has a $20 million dollar investment," Barrow said. "He also owns two additional premises, a penthouse, and a condo. His itinerary was to check on the new investment." Barrow added that after some ten days or so, he left the country. According to records from the Civil Aviation, the same aircraft that brought him on July 10th returned to Belize on July 21st, this time originating from Naples, Florida, USA.
Heredia has denied arrival of private flight
Prime Minister Barrow broke the news about the private flight from Texas, USA, with potential investors heading to San Pedro on Wednesday, August 5th, during a virtual press conference. He said that at the time of sharing the report, he had not reviewed it with Civil Aviation for accuracy. A check with Civil Aviation indicated that the flight never came, and Barrow later apologized.
The fact was that a private flight did come, but Heredia went on record on August 7th, stating otherwise. He made it clear that a private plane did not land in the country with potential investors traveling to the island. "They can check the Department of Civil Aviation, Concession Company, Immigration, and Customs, and they will find out that it was a mistake that the Prime Minister made," said Heredia. The minister further added that he has no authority in approving such a private flight to enter the country as there is a process established by Central Government. Heredia explained that whenever anyone intends to come into Belize via a private flight during this pandemic, they have to go through the Ministry of National Security, Health, and Immigration. Then once it is given the green light, the Minister or Director of Civil Aviation is informed, and orders are given to the Belize Concession Company to open the international airport.
Follow The San Pedro Sun News on Twitter, become a fan on Facebook. Stay updated via RSS