BTB reminds returnees and tourists of protocols for movement within the country
Wednesday, October 7th, 2020
Belize re-opened the Philip Goldson International Airport (PGIA) on October 1st, welcoming back returning residents and tourists. Prior to the anticipated re-opening, travelers were informed of protocols and rules outlined by the Government of Belize to prevent the spread of COVID-19. On Tuesday, October 6th, the Belize Tourism Board (BTB) reminded returnees and visitors of these protocols, which mandates Belizeans and legal residents to self-isolate for ten days, while tourists are not to leave the premises of their approved accommodations known as Gold Standard hotels without the necessary arrangements.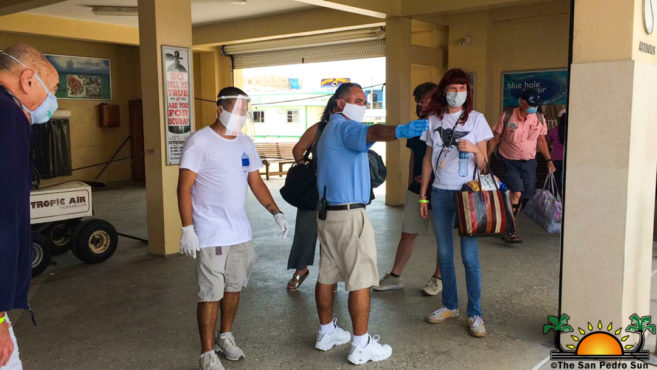 BTB outlined the regulations under the COVID-19 protocols addressing returning Belizeans and residents, foreign second-home owners, long-stay visitors and Qualified Retired Persons. These are to observe a ten-day quarantine regardless of a negative test result. It is known that the virus has an incubation period from ten to 14 days. Tourists visiting the Jewel and traveling within what is known as Tourism Safe Corridor are not permitted to venture from their hotel compounds unless arrangements have been made for them to visit other Gold Standard hotels for dining. They can also leave the hotel if they are on a tour with an approved tour operator.
Another important detail is the wristbands provided to tourists at the PGIA upon arrival. They are not to take these off, as they serve to identify them as a Safe Corridor visitor. Of importance is that the Tourism Police will be on patrol, and if a guest is found in the community on his own, he or she will be taken back to their Gold Standard hotel.
In the meantime, BTB reminds everyone that masks are mandated and urges the proper practicing of hand washing/sanitizing frequently. Social distancing is to be observed as the virus does not move on its own. Keep a distance of about six feet from anyone and join the effort in slowing the spread of COVID-19. For further information on travel updates and protocols visit www.belizetourismboard.org.
Follow The San Pedro Sun News on Twitter, become a fan on Facebook. Stay updated via RSS