Maya Island Air turns stand-alone terminal into COVID-19 rapid testing facility in San Pedro Town
Monday, January 25th, 2021
Belize has seen an expansion of approved antigen testing centers to meet the recent requirements from the Center for Disease Control and Prevention (CDC) that international air travellers need a negative COVID-19 test taken within 72 hours before traveling to the United States of America (USA). The most recent center launched in San Pedro Town on Saturday, January 23rd, and is a joint effort between Maya Island Air and Caring Hands Clinic, offering rapid COVID-19 testing at their stand-alone terminal 1, which has been transformed into an equipped health facility. It's open daily from 9AM to 5PM but hours can be flexible depending on the demand of the customers/patients. Tests start at US$65 per traveller flying with the airline.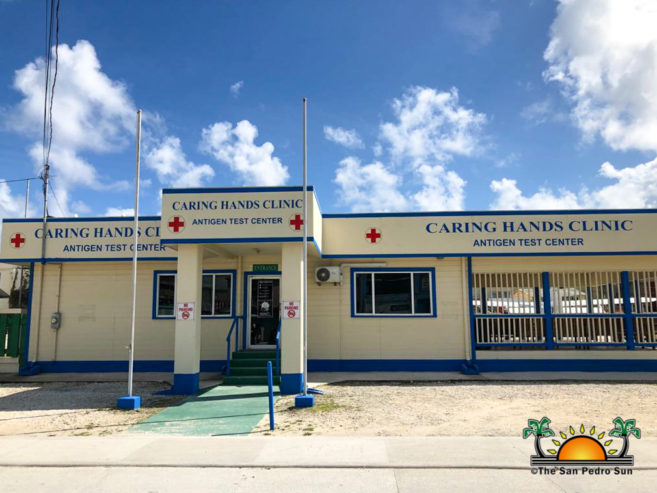 The service is also available to non-Maya Island Air passengers (walk-ins) for US$75 and test results are provided in 10 minutes. The clinic counts with a testing area and a doctor onsite for consultations in the case there is a positive case. The facility also has a fully stocked pharmacy and a covered deck seating/waiting area. The clinic also guarantees a safe and sterilized environment.
According to Maya's Chief Executive Officer Cris Sosa, the airline reached out to the leading professionals in the national COVID-19 response. They were able to make contact with a team of qualified health professionals led by Belizean Dr. Shanna Pott. This team was quick to put together a response program for the island but had no facility to safely test travellers. "We want travellers to feel comfortable, in a sanitized facility that is properly supervised by medical personnel. Because of that, Maya Island Air has donated for the benefit of the island and tourism industry, this facility, renovated and suitable for COVID-19 testing, consultation and disbursement of medication," said Sosa. He encouraged anyone traveling to the USA, to make use of this well-equipped facility. He said that the intention is to roll the program out nationwide with a combined effort from stakeholders in tourism and aviation to secure the health of the entire industry.
Dr. Pott and her team at Caring Hands Clinic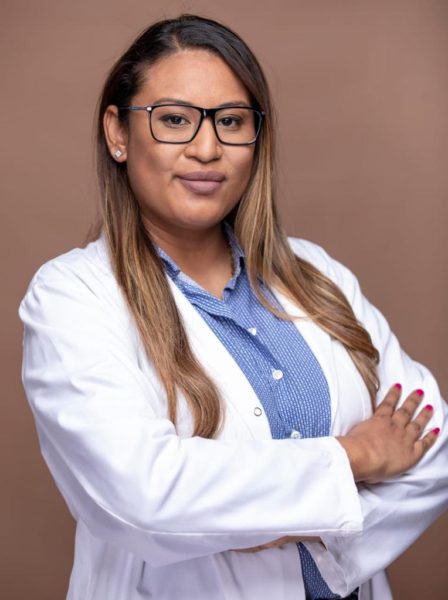 Five years ago, Dr. Shanna Pott, originally from Corozal District, returned from Cuba after pursuing her dream to become a doctor at the Escuela Latinoamericana de Medicina. She is considered a pioneer in the battle against COVID-19 in Belize. Dr. Pott is certified in various aspects of COVID-19 critical care management such as swabbing, testing, and treatment of patients in various stages of the disease. Under her guidance, the antigen test center on the island – Caring Hands received the blessing of the Ministry of Health and Wellness. The San Pedro Sun was informed that the testing kits are in compliance with the United States Food and Drug Administration, the team at the clinic sourced all CDC, Pan American Health Organization, and the World Health Organization compliant tests.
Dr. Pott said that from her experience dealing with all levels of testing and treatments, COVID-19 is dynamic, unpredictable and a disease that needs a multifaceted approach. She thanks Maya Island Air for the opportunity to join this program. "It presents an opportunity for us to continue being of service to Belize and the people, travellers, and tourism industry, which we are trying to get back on track," said Pott. "We need to get back up and running in the safest way possible." The facility is also able to do mobile testing if needed, but a controlled environment like the clinic is preferred. Appointments are encouraged, but walk-ins will be tended to.  Below is the contact information to make appointments or find out more information about Caring Hands Clinic.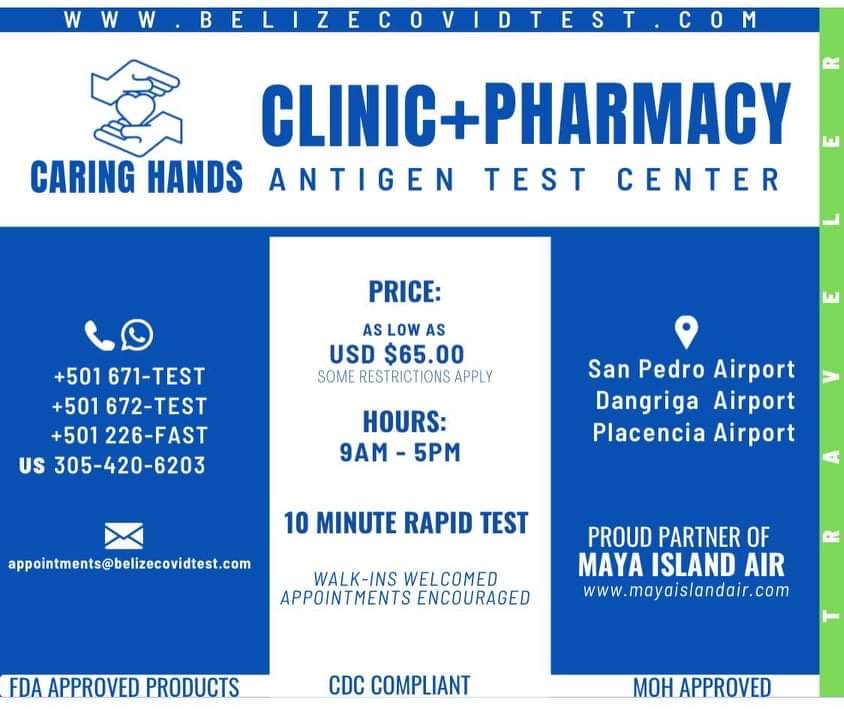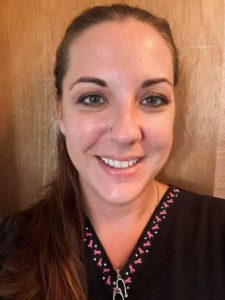 Another member of the medical team at Caring Hands Clinic is island resident and Nurse Cora Guillen. Hailing from Arizona, USA, she is a Progressive Care Certified professional. Guillen is also certified in ACLS, BLA, and LVAD. In her 13 years in the field, she has provided healthcare at The Banner Good Samaritan, Phoenix Children's Hospital, and tertiary healthcare facilities in Belize.
The CDC requirements for air travellers goes into effect on Tuesday, January 26th, and it also applies to United States citizens returning home. A negative COVID-19 test or certified documentation showing recovery must be presented to airline personnel before allowed to board a flight.
Follow The San Pedro Sun News on Twitter, become a fan on Facebook. Stay updated via RSS