Preseason weather system develops in Atlantic Ocean
Thursday, April 20th, 2017
The Atlantic hurricane season officially begins on June 1st and lasts through November 30th, but the National Hurricane Center has been tracking a circulation of thunderstorms in the mid-Atlantic over the past several days. On Wednesday, April 19th, the system was classified as Tropical Depression One.
Located over the north central Atlantic and located about halfway between Bermuda, the storm has winds of approximately 35 miles per hour (mph), just 4 mph lower than the speed required to be classified as a tropical storm.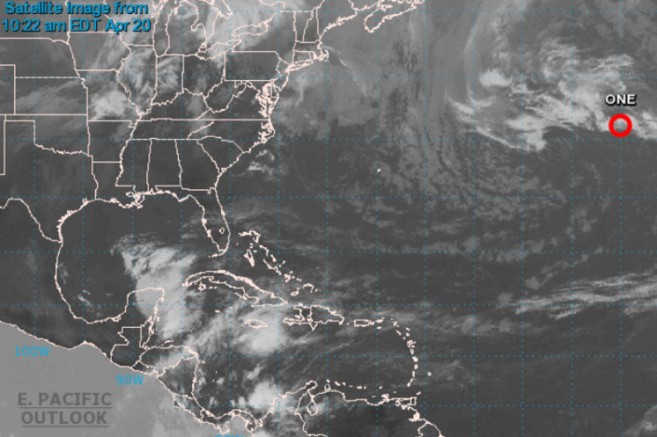 Although it is not a threat to land, the system was absorbed into a subtropical depression by Wednesday afternoon, moving toward the northeast. National Hurricane Center forecasters say the system is expected to be short lived, and probably will not gain the intensity needed to earn the name Arlene.
Since geostationary satellite data became available in 1966, the average date of first storm formation is June 22, but there is a lot of variability. However, if this system is named, it would be the sixth preseason formation that has occurred over the past six years. Other early systems were Alberto and Beryl in 2012, Ana in 2015, then Alex and Bonnie in 2016.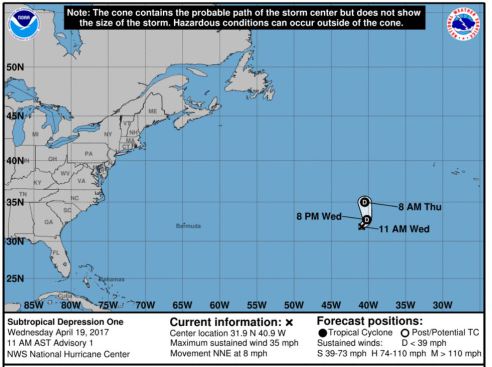 Forecasters predict "normal" hurricane season 2017
In addition, forecasters at North Carolina State University USA are predicting a near "normal" hurricane season in 2017. The 2016 season saw 15 named storms, seven of them becoming hurricanes and four becoming major hurricanes. Led by Dr. Lian Xie, the research group states 11 to 15 named storms will form in the Atlantic basin this year, with four to six of the storms having the potential to develop into a hurricane, and two becoming major hurricanes.
The research group uses over 100 years of historical hurricane data, along with sea surface temperatures and other weather patterns to develop their annual forecast. The prediction was also measured from average number of named storms (11) and hurricanes (six) from 1950 to 2014.
Colorado State University USA researchers also released a similar forecast, and their predictions call for 11 named storms, with four of those becoming hurricanes. This matches the 30-year average during 1981 to 2010 for the Atlantic basin.
According to an outlook released by The Weather Company, the 2017 Atlantic hurricane season is to be less active than a year ago, with the number of named storms and hurricanes near historical averages. The outlook also cited that there may be a potential development of El Niño later this summer. The current forecast sea-surface temperature irregularities have played a major role in their forecast for a near-average season.
There still uncertainty regarding El Niño's development, and therefore, it can have an effect on the hurricane season. "If El Niño fails to launch, we may be too low with our numbers," said Dr. Todd Crawford, chief meteorologist at The Weather Company.
The National Emergency Management Organization (NEMO) of Belize reminds the general public to take all necessary precautions during any storm or hurricane. They also recommend everyone to think of safety first. For more information on hurricane preparedness, please visit NEMO's website at site.nemo.org.bz
Follow The San Pedro Sun News on Twitter, become a fan on Facebook. Stay updated via RSS