Boat owners asked to notify the Belize Port Authority on the island before relocating vessels as Tropical Depression approaches
Thursday, August 20th, 2020
As tropical depression #14 continues to approach Belizean waters, representatives of the Belize Port Authority (BPA) on the island are asking boat owners to contact them if they need to move their vessels to a safer area.

Boat owners are asked to send a message with the relevant information of their vessels to the phone number 601-9528. The Belize Coast Guard on the island will be provided with this information in order to make the movement of boats from the eastern side of Ambergris Caye more organized.
Boat owners are expected to move their vessels on the lagoon side of the island. They are reminded that before they move their boats, the BPA must be informed to avoid any difficulties with the coast guard. Ambergris Caye continues under a State of Emergency, thus, the movement around the surrounding waters is being closely monitored by the coast guard.
Tropical Depression could become hurricane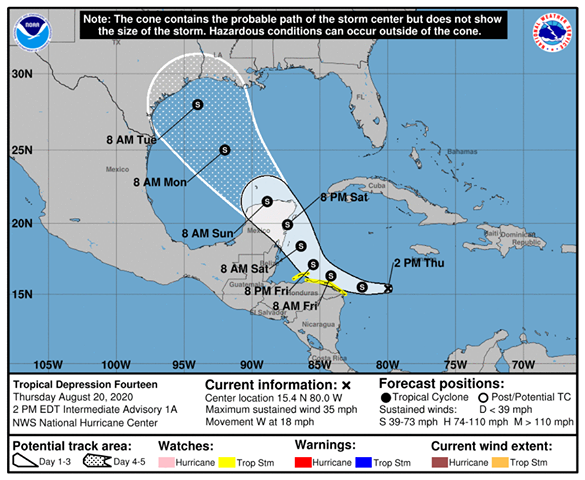 Tropical Depression #14 formed on Thursday, August 20th, and at press time it was in the vicinity of the Honduras – Nicaragua border. Maximum sustained winds are near 35 miles per hour with higher gusts. The system is expected to become a tropical storm later today, and could be near or at hurricane strength by late Saturday, August 22nd, when it reaches the Mexican Yucatan Peninsula.
It is moving toward the west near 18 miles per hour, and a westward motion is expected to continue through this evening. A turn toward the west-northwest and northwest with a decrease in forward speed is forecast tonight and tomorrow Friday, with a general northwest motion continuing through at least Sunday. According to the forecast track, the center of the system will move near or just north of the north-eastern coast of Honduras and the Bay Islands, moving north by the Belizean coast and into the Mexican Yucatan Peninsula.
Ambergris Caye residents brace for the storm
Island residents are beginning to secure their properties by board their windows with plywood at the possible threat of the storm.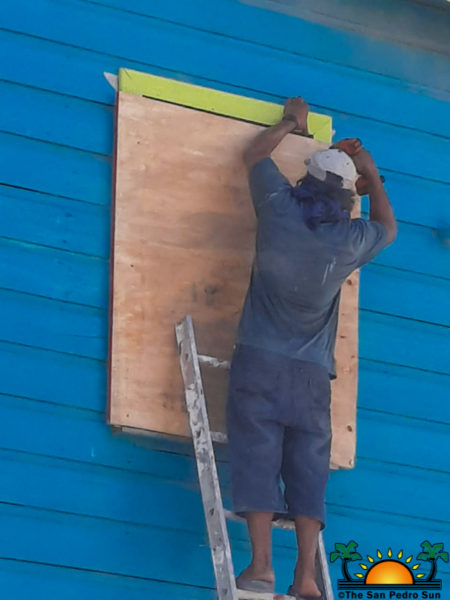 The effects of the weather disturbance are expected to show up by late tomorrow, Friday August 21st with the beginning of heavy rains.
The National Emergency Management Organization (NEMO) advises everyone to stay alert and not to panic. NEMO, along with other authorities such as the BPA, will keep the general public updated on any further developments.
Follow The San Pedro Sun News on Twitter, become a fan on Facebook. Stay updated via RSS