Amandala's headline sparks outrage
Thursday, April 21st, 2016
The headline "Girl, 13 said 'YES' to 4 men," made the front page of Amandala's Sunday edition of their newspaper on April 10th. Shortly after, The National Women's Commission (NWC) and The National Committee for Family and Children (NCFC), issued press releases expressing outrage at the distasteful choice of wording.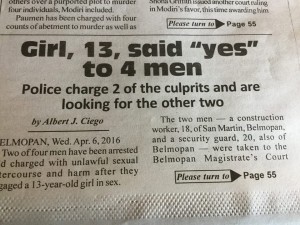 The article was written by former police officer and Amandala's staff reporter, Albert Ciego. According to Anne-Marie Williams, the Executive Director of NWC, she believes that Ciego intentionally sensationalized the headline, and since he was formerly associated with the police, he should have been better acquainted with the laws of Belize.
According to the Criminal Code of Belize, a child under the age of 16 years cannot give consent and consequently, she cannot say "yes" to the four men stated. As such, the article should have reflected that four men took advantage of the minor and had sexual intercourse against her will.
On April 6th, two of the four perpetrators were charged with unlawful sexual intercourse and harm. The two who received charges were remanded to prison, while the other two offenders have yet to be apprehended.
Considering that Belize was the fifth country to ratify the United Nations convention on the Rights of the Child (CRC), Executive Director for NCFC, Margaret Nicholas, took a stand on the matter, especially since their motto is "The Best Interest of the Child Is Key."
"It is testament to our country's recognition of the importance of caring for our children and nurturing them to be responsible and productive citizens. One of the obligations to our children is to protect them from all forms of exploitation, abuse and neglect," stated Margaret.
Article 19 of the CRC declares that "children should be protected from being hurt and mistreated in body or mind". Amandala's headline should have reflected along the lines of: '2 of 4 men charged for rape of 13 year old girl'.
In addition, the NCFC called out Amandala for breaching professional ethics in accountable journalism, stating that they victimized the child, rather than exposing the appalling acts of the four men.
Amandala editor Russell Vellos responded via a note attached to the printed release on the weekend edition that began on page 54 on Sunday, April 17th. Within the note, it states that the headline is factually correct, and that the newspaper "did not deny the victimhood of the child who said yes, merely reported the fact that she did so, regardless of consent."
Additionally, the NWC and NCFC advises all media correspondents to sensitize their approaches when it deals with topics, or issues involving children.
Follow The San Pedro Sun News on Twitter, become a fan on Facebook. Stay updated via RSS