ACES' Cherie Chenot-Rose seriously injured in traffic accident
Monday, December 16th, 2013
On Tuesday, November 19th at around 11:30 AM, San Pedro Police responded to a traffic accident on Pescador Drive. According to a report, Herson Gonzalez lost control of his golf cart bearing license plate number S/PC-0467, and crashed into a local food stall. In the process, he slammed Cherie Chenot-Rose, founder of American Crocodile Education Sanctuary (ACES), into a tree pinning her by both legs. According to Gonzalez, the golf cart experienced mechanical problems which caused the accident.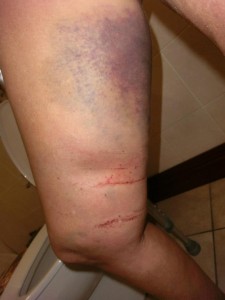 While police classified her injuries as a "bruise", Chenot-Rose in fact experienced major injuries to her upper right leg and was transported to Belize Medical Associates hospital in Belize City. A medical report certified Chenot-Rose's injuries as Wounding. Chenot-Rose was released from the hospital after three nights and is currently on crutches while recovering from the sustained injuries. "It all happened so fast and there was no warning. After the crash the driver jumped from the cart and began apologizing over and over, 'I am so sorry I am so sorry.' I was pinned to the tree by the cart and I begged for someone to get the golf cart off of me. From nowhere people came running and pushed the cart backwards, freeing me," said Chenot-Rose.
The local food stall vendor was later identified as Stephanie Rowland, resident of San Juan Area. Rowland sustained no injuries, but the crash knocked down her table causing all her food products to fall the ground and damaging her plastic table.
Investigations were carried out and on Sunday, December 1st, 19 year old Herson Gonzalez was formally arrested and charged for Negligent Wounding and driving without due care and attention. Gonzalez is to pay for Rowland's damaged food and table. Chenot-Rose has requested court action and the matter is still under investigation.
Photo Gallery
Follow The San Pedro Sun News on Twitter, become a fan on Facebook. Stay updated via RSS