Fire Department quickly douses small fire at Ramon's Village
Wednesday, April 13th, 2016
On Sunday, April 10th, the San Pedro Fire Department (SPFD) responded to a minor fire incident that took place at Ramon's Village Resort on Coconut Drive. According to the SPFD, the fire occurred around 7:10PM and was immediately dealt with. The culprit appears to be an unattended lit cigar left on a wooden porch.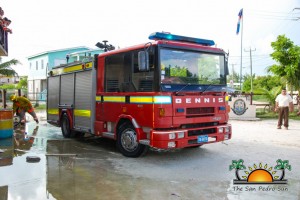 Officer in Charge of the SPFD, Newton Lennan, credits Ramon's Village's active fire brigade, which is prepared, alert and aware when a fire breaks out. Lennan acknowledges that the brigade is beneficial for the tenants of Ramon's Village. "This group is really effective, especially in terms of them recognizing the situation and responding to the situation on time," said Lennan. Readers will recall that on August 27, 2013 Ramon's Village Resort suffered a devastating fire that destroyed nearly two-thirds of the resort. Having the brigade in place is an excellent method to derail another catastrophe.
The SPFD shared some basic fire tips. Smokers are cautioned to be extra careful in disposing their cigarettes. In fact, do not carelessly discard cigarettes—make sure that it has been completely put out.
The SPFD also asks residents to take precautions with electrical items. "Whenever you leave your residence, unplug electrical appliances like your iron or TV. If you smell electrical smoke, unplug immediately. Make sure your belongings are secure from circuit shortages, which can sometimes lead to unexpected electrical fires," said Lennan.
A fire escape plan at home is the top recommendation by the SPFD. Lennan encourages parents in San Pedro to teach their kids what to do in a case of emergencies such as demonstrating the 'stop, drop, and roll' (especially important when clothes are on fire), the use of windows as exits, and the importance of having a common meeting place. The SPFD encourages all households and businesses to install a meeting plan where everyone knows which location to meet at after escaping a fire.
"When you have your fire plan in place, inform your family of your meeting area. In case of a fire, everybody should get out and meet at the designated meeting place within 5 to 10 minutes. This method gives account that everybody has made it out of a fire," said Lennan.
The SPFD is located on Pescador Drive and is open 24 hours a day, for seven days a week. Their contact number is 206-2372.
Follow The San Pedro Sun News on Twitter, become a fan on Facebook. Stay updated via RSS