Golf cart completely destroyed by fire on Coconut Drive
Tuesday, February 21st, 2017
A golf cart, which was parked next to Island City Supermarket on Coconut Drive, suddenly ignited into flames shortly before 7PM on Monday evening, February 20th. The San Pedro Fire Department (SPFD) was alerted and the fire was rapidly extinguished upon their arrival. The golf cart was completely destroyed, but no one was injured in the bizarre incident.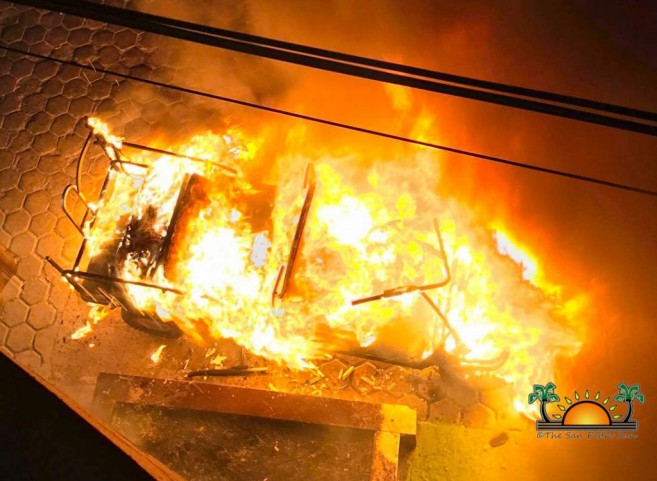 Reports are that the occupants of the golf cart were inside the store when their rented cart caught fire. Luckily for them, they did not have any valuable items on the golf cart at the time of the incident.
Before the SPFD arrived to the scene the staff from the supermarket had begun hosing the fire in an attempt to keep it from escalating. By the time the fire fighters arrived, the fire had been completely extinguished, but nothing could be done to save the golf cart; it had burned down to its chassis.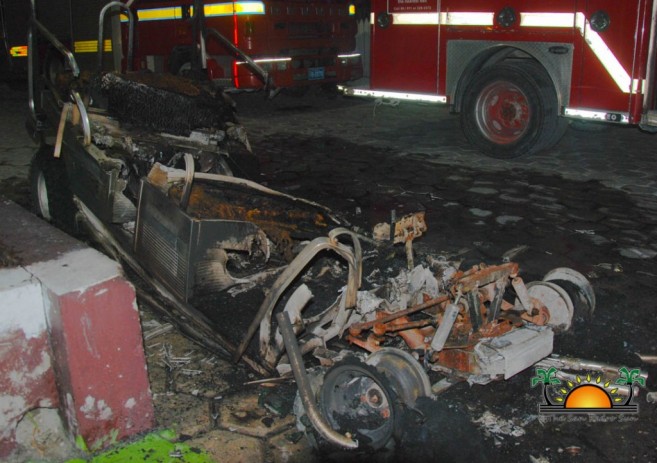 The Fire Department is still trying to figure out what could cause a parked golf cart to burst into flames. As they continue working to find any leads, their hypothesis is electrical malfunction. However, they need to confirm this speculation before releasing an official report.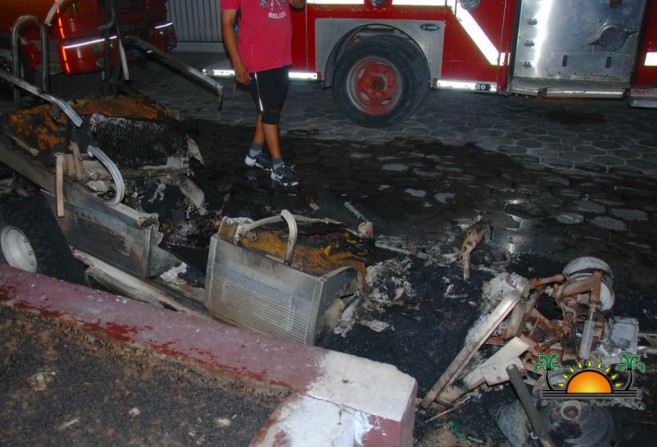 Newton Lennan, Fire Chief Officer at the SPFD, told The San Pedro Sun that most of the times when a golf cart catches fire, they are rapidly consumed by the blaze. He is recommending golf cart owners to invest in fire extinguishers which could be carried on the vehicles. "We will sit with the local authorities so this can be implemented," said Lennan. "It's way better to invest in a small fire extinguisher than to replace an entire golf cart."

According to local authorities, another part of the investigation will focus on the location of where the golf cart was found. Usually customers would park in front of the entrance of the supermarket, however, in this case the golf cart was on the far side of the building facing the street, an area which is not considered a parking area when shopping at Island City.
The SPFD will continue investigating, and The San Pedro Sun will share their findings.
Follow The San Pedro Sun News on Twitter, become a fan on Facebook. Stay updated via RSS