Golf Cart catches fire on Coconut Drive
Tuesday, October 24th, 2017
On Tuesday, October 24th, around 9:10AM, the San Pedro Fire Department (SPFD) was notified about a golf cart engulfed in flames on Coconut Drive, south of town. By the time the fire trucks arrived, the area had been cordoned by the San Pedro Traffic Department and traffic was diverted. The vehicle was rapidly gutted by the blaze, and completely destroyed before the fire could be extinguished. No one was reported injured in the freak incident.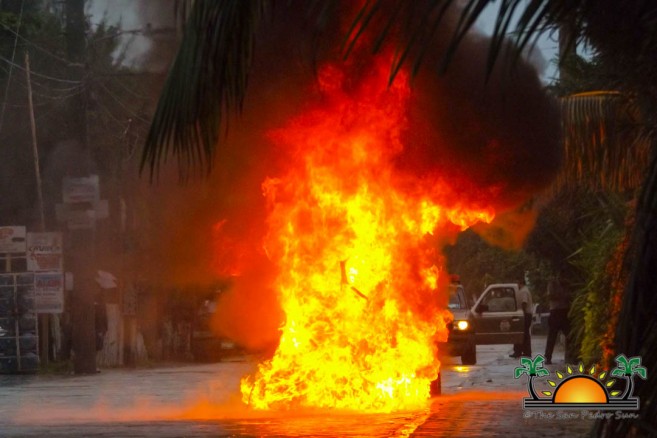 Despite a light rain, the golf cart burned brightly on the sidewalk, at some point gaining intensity as the gas tank exploded. Onlookers, along with members of the local authorities could only watch as the vehicle burned to a crisp, black clouds billowing in the air.
A few witnesses complained that the fire department did not properly respond to the fire. They pointed out that a fire truck did arrive, but nothing was done, and the cart continued burning. SPFD Personnel told The Sun that upon being alerted about the fire, they quickly responded. However, due to a mechanical problem with their truck, they were unable to extinguish the fire right away. A second truck was deployed and the blaze was rapidly extinguished.
The cause of the fire is still under investigation, but speculations are that it is due to an electrical malfunction. The SPFD stated that according to a report given to the San Pedro Police, the fire started as the vehicle was being driven. Its occupants reported that there was a burst of smoke and then the cart suddenly ignited. They immediately jumped off the cart and called for help; however nothing could be done to save it, and it burned down to its chassis.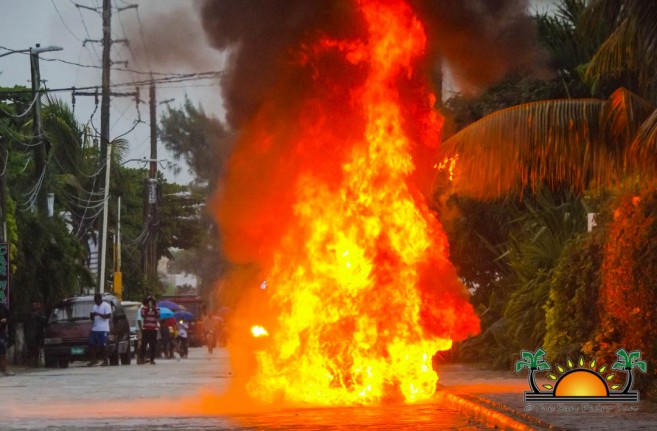 This is the second incident this year in which a golf cart burned down. In February a cart was completely destroyed after it suddenly caught fire next to Island City Supermarket. Its occupants also reported that they noticed smoke coming out from under the seat and seconds later, the vehicle burst into flames. No one was injured and the cause of the accident was deemed to an electrical malfunction.
Follow The San Pedro Sun News on Twitter, become a fan on Facebook. Stay updated via RSS