SPTC addresses traffic issues with golf cart rental owners
Thursday, February 16th, 2017
In an effort to alleviate traffic-related issues on Ambergris Caye, the San Pedro Town Council (SPTC) has been following the recommendations of Canadian traffic expert, Darwin Juell. Since the last traffic consultation on January 16th, the SPTC has made it a priority to address prominent issues affecting San Pedro's daily traffic flow. As such, the SPTC met with several Lebanese golf cart rental owners regarding their business practices on Wednesday, February 8th.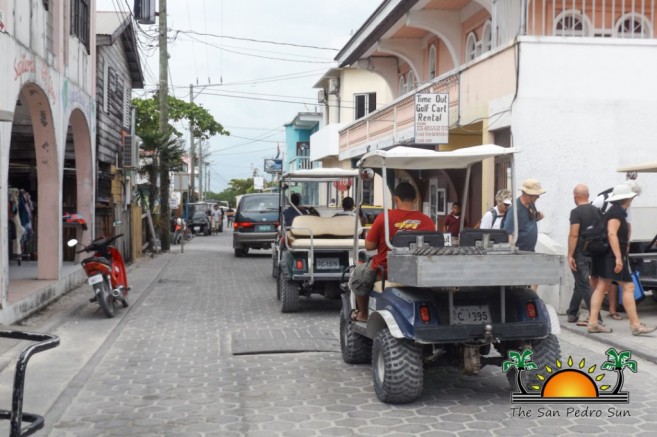 The SPTC has conducted several meetings with the various Taxi Associations, but this meeting with the golf cart rental owners came after numerous complaints were given via Facebook. Complaints included reckless driving, halting traffic and blaring music. The SPTC took these complaints into consideration and developed an itinerary to discuss with the Lebanese stakeholders.
The meeting was also attended by Mayor Daniel Guerrero, Deputy Mayor Gary Greif, Officer in Charge of the Coastal Executive Unit, Assistant Superintendent Henry Jemmott, Caribbean Local Economic Development (CARILED) Officer of the SPTC Jorge Aldana, Head of the San Pedro Traffic Department Chris Nuñez, and San Pedro Health Inspector/Ministry of Health, Horris Patten.
There were several issues discussed in the meeting: 1) speeding; 2) illegal soliciting of tourists/locals at water taxis or air strips; 3) maintenance/washing golf carts on the street; 4) noise pollution; 5) business signs that block the street/advertising golf-cart on the street; 6) rude behavior; 7) traffic violations of parking/overloading.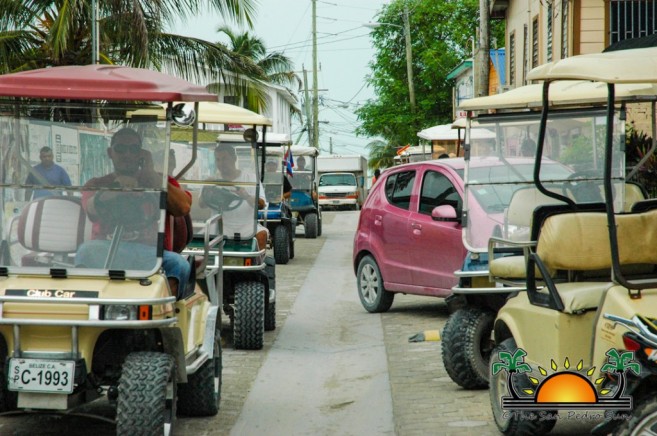 Deputy Mayor Grief stated that the SPTC is taking traffic issues seriously and will be active in addressing these traffic issues in the weeks ahead. "We are looking at these traffic issues holistically. We dealt with the taxis, and now we are dealing with the golf cart rentals. We are not targeting the Lebanese. We are here to target these issues. This meeting was planned for a few weeks later, but the community reached out to us, commenting on Facebook about what they dislike. Sometimes you have conflicts in the community, and people just feel like they are complaining just to complain. However, we have seen these same problems, and decided to organize this meeting now rather than later."
While the SPTC discussed insurance policies and future plans of improving traffic, mainly in the downtown area, OC Jemmott also gave precautions on the increasing number of golf cart thefts.
Greif further explained that the SPTC is looking to work with the San Pedro Police Department to enforce these rules.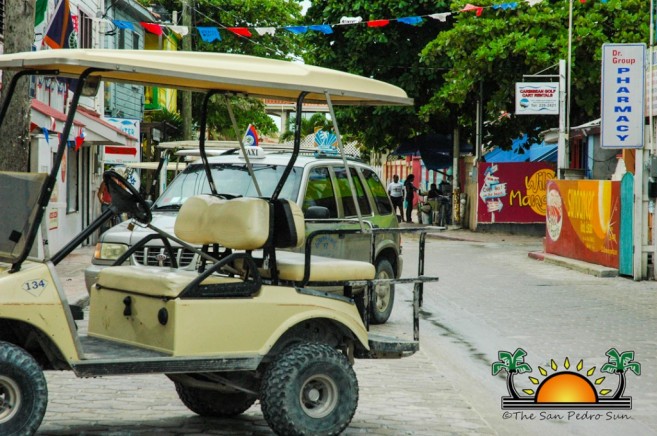 Greif said that the SPTC is expecting to see immediate results. "We are hoping that everyone adheres to our laws, and it should yield positive results. If not, there will be penalties. When it comes to soliciting, we will have their trade license revoked. Since we have a working relationship with the Magistrate, if someone is caught speeding, the vehicle can be impounded and we can revoke their driver's license," said Greif.
After the meeting, one golf cart rental owner told The San Pedro Sun he appreciated the officials' input, and plans to work along with the SPTC to improve the traffic flow. "It was a perfect meeting for everybody. We have been working for better things on the island. We hope the rest can comply. We were there to address traffic-related issues. It's not because we are Lebanese, it's because we all live here on Ambergris Caye. We should want to help each other out, and I look forward to positive changes," he said.
This meeting was one step forward in making San Pedro a safer, more attractive island. If you have any complaints about reckless driving or traffic violations, please report it to the San Pedro Traffic Department at 226-2936.
Follow The San Pedro Sun News on Twitter, become a fan on Facebook. Stay updated via RSS