New San Pedro Traffic Board Appointed
Saturday, January 7th, 2017
After being dormant for almost three years, a new traffic board has been appointed for San Pedro Town. The five-member group, officially known as the Ambergris Caye Traffic Control Committee (ACTCC),  includes three members from the City of Belmopan and two from Ambergris Caye.
Serving as the Chairperson of the Board is Ruth Dawson, while Alberto Nuñez is secretary and the CEO is Ruth Meighan. The other committee members are Commissioner of Transports, Tirso Galvez and San Pedro Town Mayor Daniel Guerrero.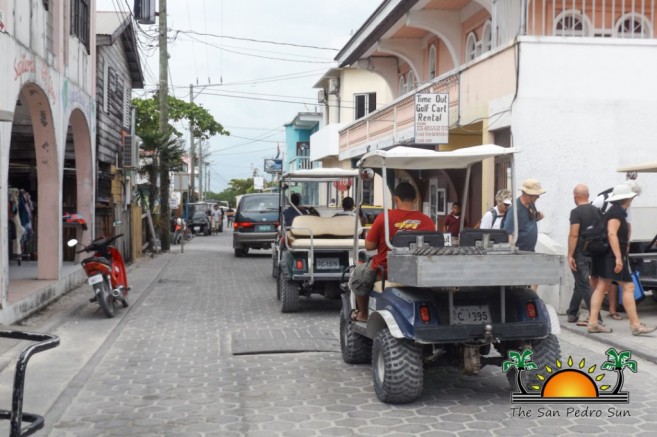 Mayor Guerrero spoke to The San Pedro Sun, stating that it is the first time the chairperson of the Board is someone from outside Ambergris Caye. The members of the committee have always been assigned by the Minister, however, the chairmanship has always been assigned to someone from the island. "We have no control on the appointment of members for the Traffic Board," said Guerrero. "Each Minister does things differently and this is how he wants it to be this time."
Guerrero indicated that the sole responsibility of the ACTCC is to monitor the importation of vehicles to the island. "They will not interfere with the internal affairs of the San Pedro Traffic Department," Guerrero. "However, all vehicles coming to the island will be needed to be cleared by the new Traffic Board." He stated that the decision to have outsiders as heads of the committee was unexpected. But Guerrero hopes that it is for the better, and will help decrease traffic congestion on the island.
In the upcoming weeks, as the new Board settles in, its main duty will be put to test regarding vehicular influx to the island. The San Pedro Town Council had attempted to set a moratorium for the importation of vehicles. However, now with the new Traffic Board and its new membership the moratorium remains open. In an attempt to monitor whether more vehicles make their way to the island, the SPTC plans to organize a Traffic Management Committee to ensure that all regulations are followed when registering new vehicles.
The San Pedro Sun will continue following this story.
Follow The San Pedro Sun News on Twitter, become a fan on Facebook. Stay updated via RSS