More golf carts on the island, despite restrictions implemented by SPTC
Friday, November 25th, 2016
In April of this year, The San Pedro Town Council (SPTC) implemented a long-term moratorium barring the importation of additional golf carts, luxury and large vehicles to the island. The rule was particularly aimed to prevent cart rental companies from continuing to increase their fleets while attempting to address the traffic congestion on Ambergris Caye. However, despite these efforts, new golf carts have been seen arriving in Town, and the rumour about the moratorium being lifted was confirmed by Mayor Daniel Guerrero.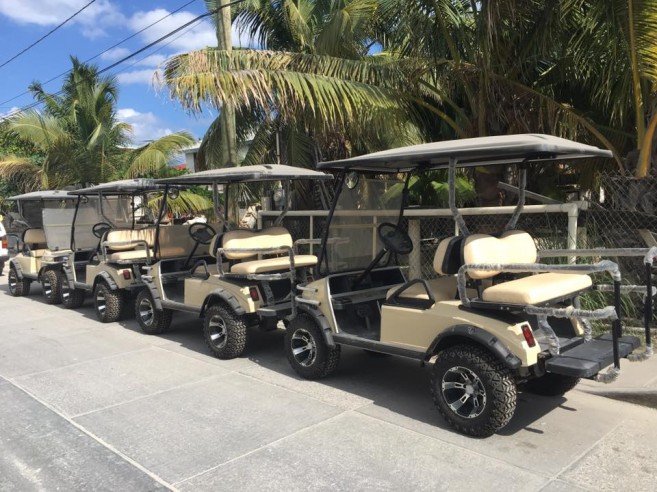 In Volume 26, Issue #13 of The San Pedro Sun, a story titled 'More carts arrive on the island despite constant traffic complaints,' Guerrero stated that the moratorium would apply to everything, "especially for golf cart companies that want to bring additional carts, it will not happen," he stated. Furthermore, he added that when issued a golf cart permit it is good for only three months. "If there are people out there with permits to bring in a golf cart, they need to get it in before their permits expire," said Guerrero. He had also stated that after expiration, permits were void, and anyone wanting to apply for new permits would probably have to wait until the new term of the Town Board.
However, in a recent interview with The Sun, that policy seems to have changed. Mayor Guerrero explained that if any additional golf carts have been coming to the island, they are for replacements or those rentals who have not completed their fleets. "There are companies that have applied for a certain amount of carts, but they cannot bring all of them at the same time. So they bring them slowly and that's why you might see new golf carts coming. It is not new companies opening or anything like that," said Guerrero. Also contrary to what he said back in April, Guerrero now states that even though permits should be valid for three months only, holders can now renew expired permits for a fee. This extension will give the rental proprietors additional time to complete their fleets, and as long as those permits are valid, they will be honoured.
The moratorium has been lifted for the months of November and December only. Mayor Guerrero stated that due to the Christmas season approaching, he made an exception by opening the moratorium. "It's Christmas and people may want to have something," he said. However, the temporary lifting of the moratorium will not apply to rental companies. "I am closing it again right after December 31st, and it will not be lifted until hopefully the following term of the new Town Board," stated Guerrero.
At the moment, the SPTC is granting permits for private golf carts to qualified individuals and thus, there are a few dealerships open on the islands who are allowed to bring a limited amount of carts. However, Guerrero stated that at some point, the moratorium will also apply to private carts, and the only vehicles allowed to be imported to San Pedro Town will be for replacement only. "We are trying to monitor the vehicular influx to the island in an attempt to control the traffic on the streets. That's why we implemented the moratorium in the first place, so we could manage the volume of carts and vehicles on the island," said Guerrero.
He reiterated that they are doing everything possible to alleviate the traffic conditions and acknowledges that the town does not need more vehicles on the streets. Guerrero mentioned that the problem of traffic can also be minimized by the residents. He encourages everyone to use their vehicles only when necessary and to continue making use of the public parking lot on Angel Coral Street.
Follow The San Pedro Sun News on Twitter, become a fan on Facebook. Stay updated via RSS