More golf carts arrive on the island; Mayor explains
Saturday, November 25th, 2017
A total of 40 new golf carts were reportedly delivered to an establishment south of San Pedro Town on Wednesday, November 15th. This has raised concerns among residents, who believed that the continued importation of golf carts to the island will add to the on-going traffic problem. In previous occasions, Mayor Daniel Guerrero has stated that no more golf cart rental companies would be allowed to increase their fleet. However, the new arrival of golf carts says otherwise. The San Pedro Sun spoke with Guerrero, who clarified that the latest shipment is not for any golf cart company, but rather for a dealership.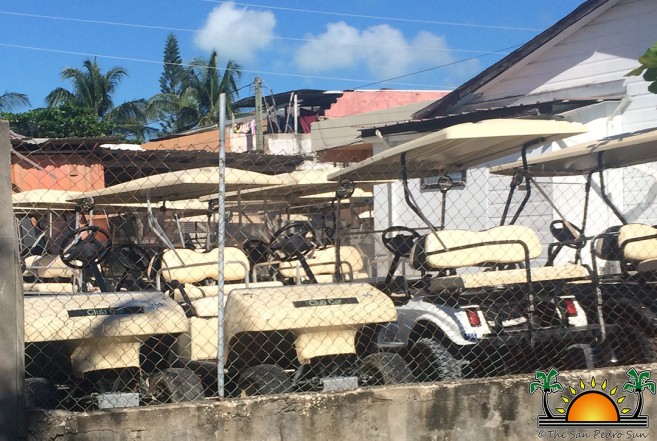 Mayor Guerrero explained that his administration is not issuing permits for new golf cart rentals, however, current companies are able to bring in additional carts in case they need to replace used ones. "I am being very clear on the fact that there will be no more new golf cart rental companies, so those new golf carts that came last week, are not for a new company," said Guerrero. "What is happening is that some of these companies are now becoming dealerships, thus they are now selling golf carts, and once someone has a dealership license they can bring in golf carts for selling." He pointed out that this is how private owners obtain their golf carts. "If someone qualifies for a golf cart and has the money to buy one, we cannot deny that privilege to any island resident. In that case, they can purchase it from one of the golf cart rentals that may have a dealership license or from any other cart dealers on the island," said Guerrero. He also indicated that if a golf cart rental sells a golf cart, they have the right to replace the golf cart that was sold.
According to the Mayor, the fact that more golf carts continue coming to the island for the dealership agencies, it is not expected to have a negative impact on the island's vehicular congestion. "It makes no difference if it is one or three dealerships because if the demand is there people will still buy their golf carts and it is not like people buy golf carts every day," said Guerrero. "So the number of golf carts coming to the island does not matter. Even if there is just one dealership, people will still purchase their carts, and is not like they will purchase carts every day either."
In April of 2016, The San Pedro Town Council (SPTC) implemented a long-term moratorium barring the importation of additional golf carts, luxury and large vehicles to the island. The rule was particularly designed to prevent rental companies from increasing their fleets while attempting to address the traffic congestion on the island. However, despite such efforts, the moratorium did not survive and up to date, there are no signs that it will be brought up again.
For the time being, the SPTC continues to encourage people to use their vehicles and carts only when necessary.
Follow The San Pedro Sun News on Twitter, become a fan on Facebook. Stay updated via RSS