Justin Daniels released from polyclinic after rescued at sea
Monday, August 14th, 2023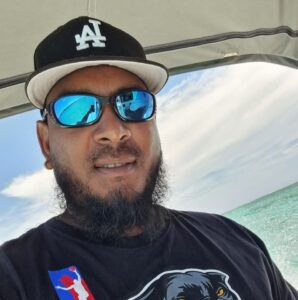 Islander Justin 'Bobo' Daniels has been released from the Dr. Otto Rodriguez San Pedro Polyclinic II after receiving medical attention following his rescue at sea. Daniels was reported missing at sea on Sunday, August 13th, for several hours before a search and rescue team found him.
On Sunday evening, around 7PM it was posted on social media that Daniels was missing at sea somewhere between Caye Caulker and Ambergris Caye. Concerned friends asked anyone with boats to join them in the search for Daniels. Soon after, a team of boaters from the Ѕаn Реdrо community took to the sea in search of Daniels. The Belize Coast Guard was reportedly also involved in the search and rescue that went on for hours. Emergency services such as Island Emergency Services (IES) and Rickilee Response and Rescue (Triple R) team also answered the call to search for Daniels.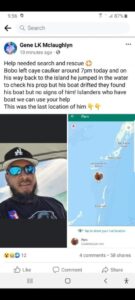 As per several reports, Daniels was heading back to San Pedro when he experienced mechanical issues with his boat. Daniels shared that a piece of rope had become entangled with the boat's propeller. He jumped into the water to check on the propeller when the boat started drifting away due to the windy conditions at sea. Daniels shared that he quickly lost sight of the boat in the dark of night and was stranded at sea. His boat was later found drifting.
While friends and relatives feared the worst as Daniels struggled to survive, and at some point, Daniel's also considered his own fate. He kept fighting and trying to stay afloat, but as the hours went by, he started losing the fight as the battering waves consumed his energies. Fortunately, help came his way just in time. According to rescuers from Triple R, Daniels was found after midnight, alive but exhausted. It took three men to get him inside a boat.
Watch the rescue video here: warning, adult language. 
According to IES, they were nearby in another boat and moved to the vessel where Daniels was. IES said they immediately checked his vitals and provided other emergency services like checking oxygen levels. Afterward, Daniels was transported to San Pedro's polyclinic by Triple R. He remained stable and observed until Monday afternoon. He was later allowed to go home.
Daniels is grateful to everyone who answered the call for help and those who organized the search and rescue that led to saving him. He thanks everyone immensely as he believes he is alive thanks to everyone's efforts on Sunday night.
Follow The San Pedro Sun News on Twitter, become a fan on Facebook. Stay updated via RSS