San Pedro celebrates the end of the Mayan Calendar
Thursday, December 27th, 2012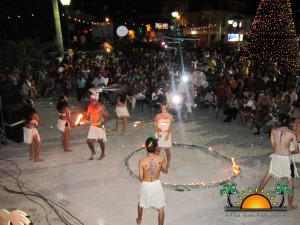 San Pedro residents and visitors came together on December 20, 2012 to bring in the 14th B'ak'tun by observing and celebrating the close of the 13th Pik cycle in the ancient Maya calendar known as the Long Count. December 21, 2012 was a highly anticipated date that came 1,872,000 days after the beginning of the current Maya era that, according to ancient hieroglyphic texts, came about via a mythical creation. The 21-12-12 date is based on archaeologists' and researchers' findings on a monument in Tabasco, Mexico in the 1960s, and it brought with it, many speculations on what would occur on this day.
Being part of the Mundo Maya, Belize was no exception when it came to celebrating this historic date, while nodding to the rich history and culture of the Maya people whose awe-inspiring civilization is still being studied and has brought much attention to the countries they spanned during the height of their reign.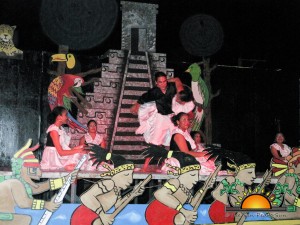 In San Pedro Town, the San Pedro Town Council (SPTC) held an all-night event at the Central Park with live music, dance presentations, Maya ritual presentations, food and drinks, and even fire works for the crowds to enjoy. The event started a little after eight and went straight on till the wee hours of the morning. Speaking to the public about the Mayas and the impact they had on the country was Angel Nuñez, Mayor of San Pedro, Daniel Guerrero, and Minister of Tourism Hon. Manuel Heredia Jr.
Entertainment included Lucio and the New Generation band and Rompe Raja. The Corozal Community College (CCC) presented traditional Mayan dances with elaborate costumes depicting fire dances and the deer dance. The night was full of excitement and great talent. The event could not have had a better end than the performance at sunrise of an Ancient Mayan Ritual on the beach in honor of the end of the 13th B'ak'tun.
Photo Gallery
Follow The San Pedro Sun News on Twitter, become a fan on Facebook. Stay updated via RSS