Carlos Perrote to direct San Pedro's first ever Summer Music Camp
Monday, February 25th, 2013
The children of San Pedro are sure to have a productive summer this year,as they will have the opportunity to learn the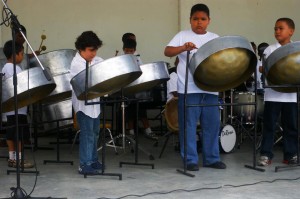 vibrant art of music. For the first time ever, a music camp for children between the ages of five to eighteen will be held. This music summer camp has previously taken place annually in both Orange Walk Town and Belize City. Children learn the skill of playing a variety of instruments that include the percussion, Garifuna drums, steel pan, piano and guitar. No program of this style has previously been held here in San Pedro Town, so it is bound to be a great learning experience for the community's children.
Training the children is Cuban music teacher Carlos Perrote. Perrote obtained a Master's degree at the Supreme Institute of Art in Havana, Cuba. Perrote is well educated in the world of music, having played in the National Symphony Orchestra of Cuba and toured Germany, France and Italy. Since 1991, Carlos Perrote has resided in Belize, and has since produced two albums, worked as a music teacher at the National Institute of Creative Arts, and was even musical director for the late Andy Palacio and the Garifuna Collective. Currently, Perrote is the music director at Grace Primary Music School and the Holy Redeemer Marching Band. He has been recognized as a very talented musician in Belize and with his diversity in combining music , especially Cuban and Garifuna rhythms.
The summer program is scheduled for July 22nd to August 9th. The class will take place at the San Pedro High School from Monday to Friday. Classes will be divided into Advanced and Beginner in order for participants to receive the best education possible. Morning classes will be scheduled for Beginners and afternoon classes for Advanced students. The children will be taught basic elements of music, writing music, music notes and much more. It is a fun way to keep the youth of San Pedro entertained over the summer break while providing them with hands-on creative art training. This is a wonderful way to preserve our Belizean culture and traditions while helping children tap into their musical talents and creativity.
Parents are asked to consider this great opportunity to bring culture into the lives of their kids. Anyone interested in more information on the summer program can contact organizer Elisabeth Hobarth at telephone 226-3755 between the hours of 7AM to 4PM or email at [email protected] It is best to register by March 4th to guarantee your child's space in the program.
Follow The San Pedro Sun News on Twitter, become a fan on Facebook. Stay updated via RSS