Deputy Prime Minister, Hon. Patrick Faber and Ms. Sapna Budhrani, President of NICH, Bestow Title of Artist Emeritus and Awards to Three Outstanding Belizean Artists
Monday, October 22nd, 2018
Honourable Deputy Prime Minister Patrick Faber, Minister with the portfolio of Education, Youth, Sports and Culture along with Ms. Sapna Budhrani, President of the National Institute of Culture and History (NICH) today presented Mr. Florencio Mes, Ms. Myrna Manzanares and Gerald "Lord" Rhaburn with the title of Artist Emeritus at the Museum of Belize.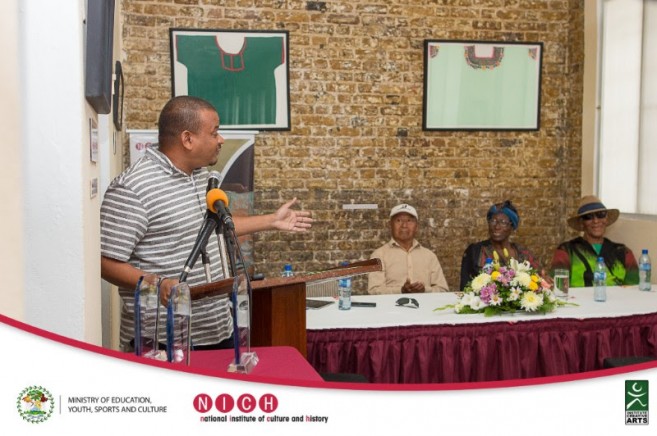 Ms. Budhrani, President of NICH, welcomed all to the ceremony sharing that, "Belize is blessed with diversity, nature, ethnicities and cultural heroes; living, inspiring individuals who have made us dance, laugh and appreciate." She recounted her personal experiences of listening to Mr. Mes's harp music and how the soothing music helped to strengthen her concentration and focus, her appreciation of Ms. Manzanares' writings of the Belizean Creole Culture that are shared locally and internationally, and the collective Belizean experience of hearing and singing along with such iconic songs as "If you bawn deh, you bawn deh", "Pump it up", "Gumagarugu Water" and many other of Lord Rhaburn's many hits. Ms. Budhrani ended by saying that, "It is a privilege for me to be a part of this event and to be able to recognize the works of our elders and icons of culture."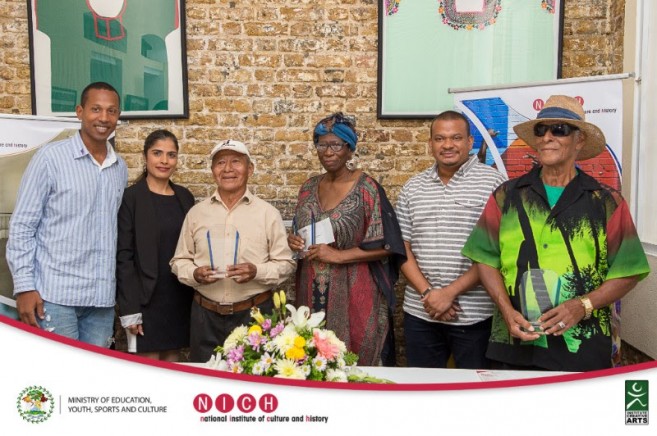 Deputy Prime Minister, Honourable Patrick Faber, presented these three iconic Belizean cultural artist and authors with a plaque to adorn their homes. He congratulated these legendary, remarkable cultural contributors on behalf of the Government of Belize, especially The Prime Minister Right Honourable Dean Barrow, for having made selfless contributions to the many different facets of what is 'Belizean Culture'. He also surprized them by rewarding them with, "Greatest congratulations and deepest gratitude for all the contributions that you have made in your lifetime towards the preservation of Culture in Belize and implore you to continue with this wonderful work. We thank you for it with a monthly $500 stipend as a token of appreciation for your life's passion and hard work."
A short biography of the lives and some of the accomplishments of our awardees was read by Ms. Dana Rhamdas of the National Creole Council, Mr. Hilario Mes, son of Mr. Florencio Mes and Ms. Karen Vernon, Theatre Director at the Bliss Center for the Performing Arts. Mr. Gerald "Lord" Rhaburn was also surprised by a phone call by fellow Calypsonian and long-time friend, Dr. Linda McArtha Sandy-Lewis, also known as "Calypso Rose".
Follow The San Pedro Sun News on Twitter, become a fan on Facebook. Stay updated via RSS