Labour Department hosts Labour Education Seminar
Friday, March 20th, 2015
The Ministry of Labour has held Labour Education Seminars across the country in hopes of informing both employers and employees about the Labour Laws of Belize. The seminar promotes healthy employment relations and social protection. In San Pedro, the seminar was on Thursday, March 12th at the Lions Den and saw the participation of several businesses. Those in attendance learned valuable information on the Labour Department and the right and responsibilities of both employers and workers.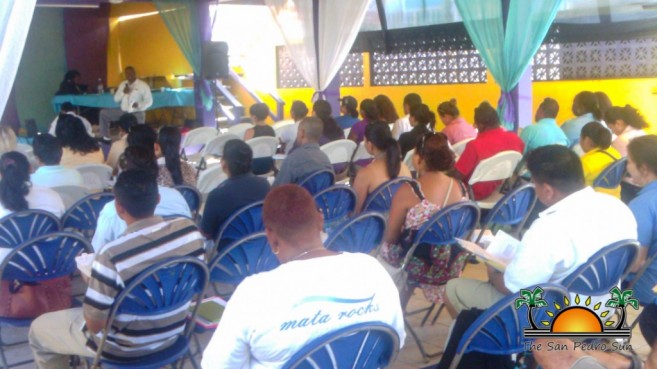 San Pedro Labour Officer, Rissela Dominguez, the indicated that seminar was essential to inform the community on the amendment to the Labour Laws. "We recommend all employers and employees to work along with the Labour Department. At many times, there are new amendments to the law that people are not aware of. We at the Labour Department can help them get a better understanding of those laws, and guide them when making decisions. For this seminar we invited two representatives from the companies: one person in management and one auxiliary staff. This allowed us to reach out to both employers and employees," said Dominguez. Those that attended the seminar were given informative materials that could be shared with other colleagues.
Issues addressed at the seminar included temporary employment permit/ employment services, trade unions and employer's organization, and trade disputes. Several acts of the Labour Laws of Belize were also discussed, including the Wage Councils Act, Factories Act, Workmen Compensation Act, Shops Compensation Act, Labour Act, The Collective Bargain Agreement, Settlement of Disputes in Essential Services Act, and the Labour Amendment Act. At the end of each discussion, there was a question and answer segment where participants voiced concerns and opinions. The four key speakers at the event included Marvin Mora, Akmar Codd, Ivan Williams and Paulette Wagner.
The San Pedro Labour Department would like to thank all those who attended the event, and invites those who were unable to attend to visit the San Pedro branch office located on the second floor of Island Galleria on Coconut Drive during normal working hours. They can also call 206-2700 to schedule an appointment.
Follow The San Pedro Sun News on Twitter, become a fan on Facebook. Stay updated via RSS