Statistics show sharp decline in Belize's exports
Saturday, August 13th, 2016
The Belizean economy continues to take a hit, as the latest report on the country's exports by the Statistical Institute of Belize (SIB) has reported a major downfall for the month of June. According to the SIB report, released on Wednesday, August 3rd, exports fell by a whopping 30%.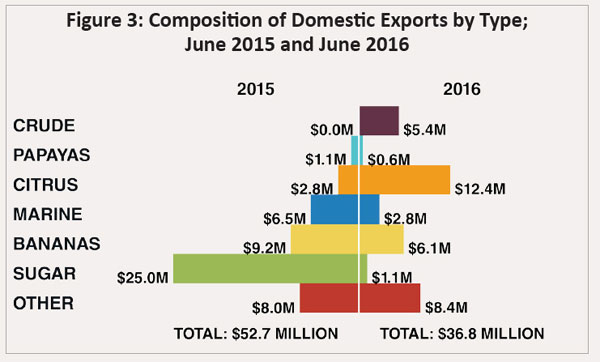 According to the SIB's External Trade Bulletin, the total value of Belize's domestic exports for the month of June 2016 was $36.8 million, showing a reduction of $15.9 million from the $52.7 million recorded in June 2015. The sector responsible for the major decline was sugar products. The earnings from the Sugar Industry for the said month fell by $24 million, from $25 million in June 2015 to $1 million in June of 2016. The culprit in this shortage is due to the changes in the scheduling of bulk shipments in sugar earnings.
The other exports in line that also showed decline were marine products and the banana industry. Marine products fell short from $6.5million to under $3 million, which accumulates to more than 50% in loss. Meanwhile, in the banana belt, exports declined by 1/3 or from $9 million to $6 million.
"Despite the overall contraction in export earnings for June 2016, citrus sales got a welcome boost during the month. Revenues for this industry more than tripled, from under $3 million in June 2015 to $12 million in the same month of this year, due to a surge in orange concentrate sales," the SIB report said.
In the natural resources sector, crude petroleum recorded no sales in June, leading to an over $5 million shortfall. Moreover, so far it has been reported that for the first half of 2016, merchandise exports from Belize totalled $231.8 million. It may sound like a huge figure, but when compared to 2015 the number represented a $73 million or almost 25% decrease in exports revenue.
The report also focused on the import date, showing that imports were up by 11.2% for 2016. The value for the total of imports for June alone was valued at almost $168 million. This is a $21.2 million shortfall from the $189.2 million imported around the same time last year. "Merchandise imports for the first half of the year totalled $974.9 million, representing a 2.4 percent or a $23.5 million decrease from the same six month period last year when goods totalling $998.4 million were imported," the SIB reported.
It has been speculated that if the situation continues at this rate, the Government of Belize (GOB) will need to take drastic majors to balance the economy. According to sources from the Financial Department, GOB might have to soon consider the International Monetary Fund's recommendation to raise taxes.
Follow The San Pedro Sun News on Twitter, become a fan on Facebook. Stay updated via RSS