Statistical Institute of Belize releases economic figures for 2016
Friday, February 3rd, 2017
On January 25, 2016 the Statistical Institute of Belize released its latest 2016 figures on consumer prices, imports, and exports. Compared to December 2015, the country's imports decreased by 3.2%, while exports decreased by 10.7%, and consumer prices went up 1.1% in December 2016.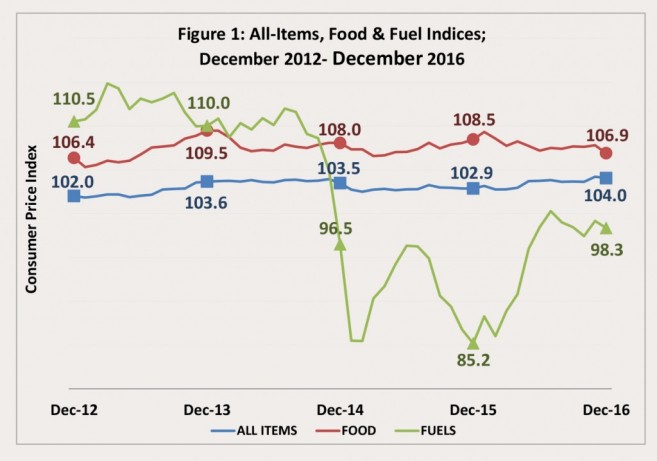 The All- Items consumer price index recorded an inflation rate of 0.7%, increasing to 104.0 in December 2016 when compared to 102.9 in December of 2015. In December 2016, the 'Transport' index rose by 9.9% when compared to December 2015. This index remained the main contributor to the rising inflation rate, as fuel prices rose by 15.5%. Diesel prices recorded the highest increase of 35.9% when compared to December 2015. The 'Food and Non-Alcoholic Beverages' category saw an overall 1.6% decrease as 'Food' prices went down by 1.5% compared to December 2015. However, sugar prices recorded a 29.4% increase, and 'All Other Categories of Goods and Services' prices rose by 0.6% compared to December 2015. There was minimal change in the 'Housing, Water, Electricity, Gas and Other Fuels' category. The price of a 100 pound cylinder of Liquefied Petroleum Gas (LPG) increased slightly by 1.2% from $83.88 in December 2015 to $84.91 in December 2016.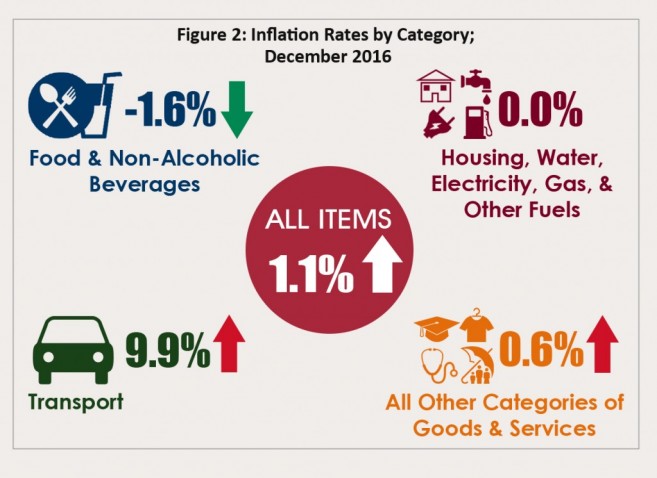 Belize's total imports for the month of December 2016 were valued at $173.9 million. This is a decrease of 3.2% ($5.8 million) compared to $179.7 million in December 2015. For November and December 2016, imports of 'Machinery and Transport Equipment' remained the category with the steepest decline, recording a drop of over $7 million in December 2016. This was due mostly to reduced purchases of tractors, telecommunication parts, and four cylinder vehicles, while lower imports of gaming machines and air conditioner (AC) generators contributed to a $2.7 million decrease in goods designed for the 'Export Processing Zones'. Decreased purchases of turkey meat, along with instant and roasted coffee led to a $1.6 million fall in the 'Food and Live Animals' category during the December 2016. On the other hand, imports into the 'Commercial Free Zones' increased by over $4 million. In addition, $2.6 million more was spent on 'Mineral Fuels and Lubricants' in December 2016 than in December 2015.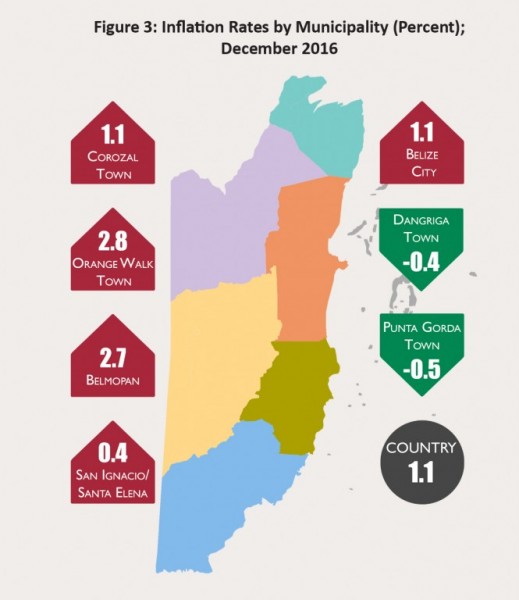 For the entire year of 2016, merchandise imports totaled almost $2 billion, a decrease of 4.3 percent or $89.1 million from the total imports recorded for 2015. The most significant drop in imports during 2016 was observed within the 'Export Processing Zones' category, which fell from $115.8 million to $45.3 million. In 2016, Belize spent over $20 million less on diesel fuel, leading to a $37.7 million decline in the 'Mineral Fuels and Lubricants' category. The importation of 'Chemical Products' decreased by $13.7 million due to reduced purchases of PVC pipes, fertilizers, and medical supplies. The 'Commercial Free Zones' category experienced an $11.6 million decline as a result of lower imports of handbags, clothes and cigarettes. On the other hand, imports of 'Machinery and Transport Equipment' rose by $29.2 million due to increased imports of telecommunication parts, while 'Other Manufactures' increased to $20 million as a result of heightened purchases of prefabricated buildings and laboratory plastics.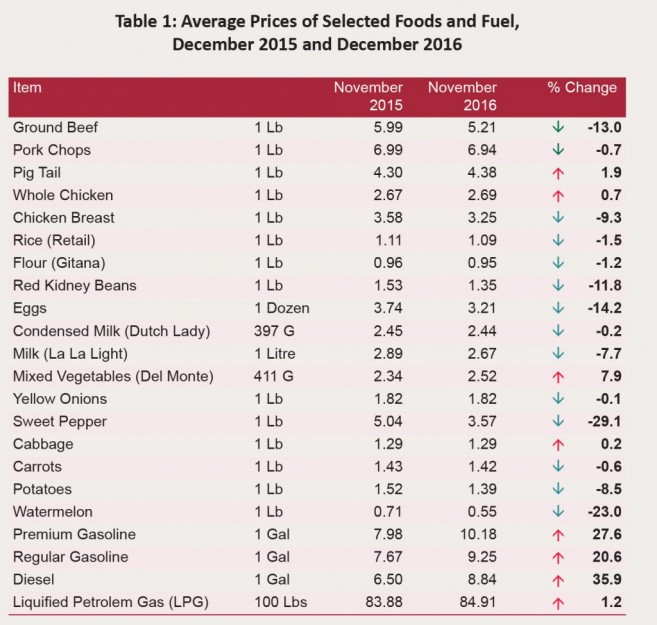 The total domestic exports for December 2016 went down 10.7%, or $2.1 million, when compared to $17.9 million in December 2015. The month also saw a drop of $2.8 million in citrus exports, from $6.2 million to $3.4 million, with orange concentrate earnings down by almost half, compared to December 2015. Banana exports sales decreased slightly from $5.7 million to $5.1 million as sugar grew slightly from $0.4 million in December 2015 compared to $0.5 million in December 2016.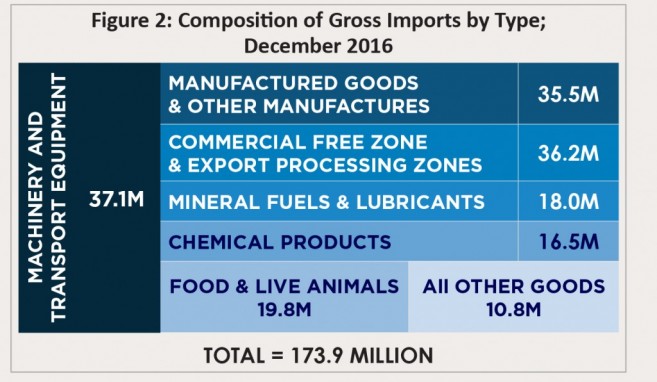 In 2016, domestic exports totaled to $401.9 million, which decreased by 25.1% or $134.7 million dollars from the $536.6 million recorded for 2015. This significant drop in Belize's export was as a result of decreased earnings across all major commodities earnings in 2016 when compared to 2015. As citrus experienced a minimal 1.5% decline, it enjoyed favorable market prices over the year. Sugar fell by 23.3% from $134.4 million during 2015 to $103.1 million in 2016. Banana exports also recorded a 28.5% slump in revenues from $97.8 million in 2015 to almost $70 million in 2016. Crude petroleum exports in 2016 amounted to $22.5 million, which showed an increase compared to 2015.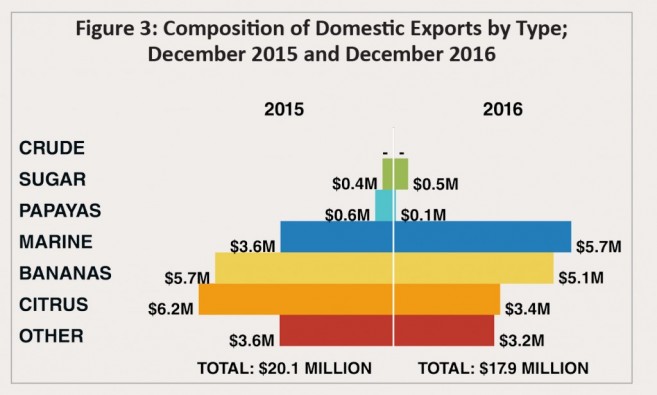 The SIB is scheduled to release its statistics for January 2017 on February 22nd.
Follow The San Pedro Sun News on Twitter, become a fan on Facebook. Stay updated via RSS