SIB releases new figures; consumer prices continue to rise
Wednesday, June 7th, 2017
The Statistical Institute of Belize (SIB) has published its latest statistics on the consumer price index and external trade for the country of Belize. In April 2017, the prices of goods and services were 2.2% higher than the year before, and for the first time in 2017, the statistics recorded an inflation rate of 1.9%.
The All-Items consumer price index increased from 102.9 to 105.3 in April 2017 compared to the previous year. In comparison to April 2016, rising airfare prices were one of the primary contributors to an increase of 17.9% in the Transport category. The prices within the 'Fuels and Lubricants' sub-category increased by 11.5%, compared to April 2016. The highest increase was seen in the price per gallon of Premium Gasoline, which rose by 31% from $8.29 in April of last year to $10.86 in April 2017. Diesel also increased by 25% from $7.34 to $9.19, while Regular Fuel rose nearly 14% from $8.68 in April 2016, to $9.89 in April 2017.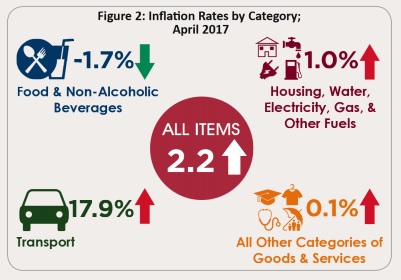 The 'Food and Non-Alcoholic Beverages' category recorded an overall decrease of 1.7%. The slight decline of prices included: beef steak, chicken breast, milks, eggs, onions, cabbages, and watermelons. However, the lowered prices for these products contributed the increase of ground beef and sweet peppers.
When compared to April 2016, the 'Housing, Water, Electricity, Gas and Other Fuels' category saw an overall rise of 1% due to higher prices for Liquefied Petroleum Gas (LPG) and home rentals. The average cost of a 100 pound cylinder of LPG rose by $13 or almost 16% from $83.76 in April 2016 to $97.03 in April 2017, while home rental prices were 0.5% higher than they were in the same month last year.
Across the various municipalities, Belmopan recorded the highest increase in consumer prices for the month at 3.6%, which was followed by Dangriga at 3.1%. These two municipalities experienced the largest increases in home rental costs, which reflected the high rates of inflation for the month. However, Punta Gorda Town, recorded the lowest rate of inflation at 0.7%, where food prices decreased.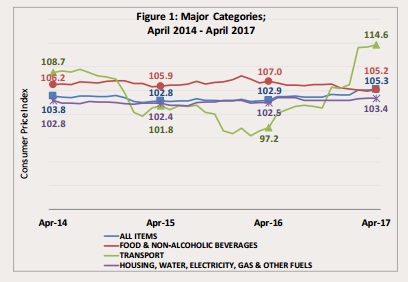 Imports:
Belize's total imports for April 2017 were valued at $146.7 million. This was a decrease of 10.4% or $17.1 million from imports in April 2016, which totaled $163.8 million. The categories of 'Machinery and Transport Equipment', 'Manufactured goods', and 'Other Manufactures' overshadowed purchases of 'Mineral Fuels and Lubricants', and goods destined to the Commercial Free Zones also registered a decrease in imports. The significant $24 million decline in imports of 'Machinery and Transport Equipment', from $53 million in April 2016 to $29 million in April 2017, was the primary cause of the downturn in overall imports during the month. Within this category, purchases of telecommunication parts plummeted from $17 million during April of last year to just over $0.6 million in April of this year. Imports of 'Manufactured Goods' saw a less drastic decline of $2 million from $21 million to $19 million due to lowered imports of glass bottles, plywood and aluminum windows and doors. 'Other Manufactures' also fell from $14 million to $12 million, as a result of reduced purchases of floor mats, medical needles and catheters, and gold jewelry.
In addition, 'Export Processing Zones' goods decreased from $5 million to $4 million, with milling tools, lift detectors and gaming machines, among the decreased items within this category. On the other hand, imports of 'Mineral Fuels and Lubricants', recorded growth of nearly $7 million. A spike in imports of tennis shoes, women's clothing and cigarettes resulted in an almost $4 million increase in items destined for the 'Commercial Free Zones', from $15.5 million to $19.5 million, while purchases of 'Crude Materials', particularly pine lumber, increased by over $1 million in April 2017.

Exports:
The total domestic exports for April 2017 amounted to $35.7 million, which is an increase of 3% or $1 million when compared to exports for April 2016. Sugar was the only major export commodity that saw a sizeable increase during the month, while both citrus and crude petroleum declined considerably. Sugar increased from $2.4 million in April 2016 to $13.1 million in April 2017. Although no shrimp was exported in April 2017, marine products still recorded a modest growth of $0.5 million from $1.3 million to $1.8 million during the month, owing to the strong performance in sales of both whole fish and lobster meat. Earnings from banana exports remained unchanged at $6.6 million, while citrus exports experienced a sharp decline, from $15.2 million in April 2016 to $7.7 million in April 2017, as sales of orange concentrate fell by almost a half during the month. There were no exports of crude petroleum during April 2017. The European Union accounted for almost two thirds, or $22 million of total exports for the month, while 20%, or $7.2 million was exported to the United States.
The SIB is scheduled to release its statistics for May 2017 on Wednesday, June 26th. To view the full report of April 2017, please visit: www.sib.org.bz
Follow The San Pedro Sun News on Twitter, become a fan on Facebook. Stay updated via RSS