SIB's February report showing negative economic growth: inflation is up, exports and imports down
Tuesday, April 11th, 2017
The Statistical Institute of Belize (SIB) released their figures for February 2017 on Wednesday, March 29th. The latest economic statistics shows that the country's imports and exports earnings fell sharply. The 'All-Items' consumer price index also increased from 102.7 in February 2016 to 105.1 for February 2017. 'Transport', 'Food and Non-alcoholic Beverages' and 'Housing, Water, Electricity Gas and other Fuels' recorded the highest prices for February 2017.
The 'Transport' category was the major contributing factor to the overall rise in consumer prices during February 2017, jumping by almost 20%. 'Fuel' prices for the month went up more than 16%, with the sizeable increase observed in the price of diesel fuel, which jumped by 43%, from $6.36 in February 2016 to $9.11 in February 2017. International airfares also saw a significant hike in the prices for some destinations, which further contributed to the overall increase in 'Transport' prices. Prices for the purchase of new motor vehicles were also up, recording a 7% increase during the month.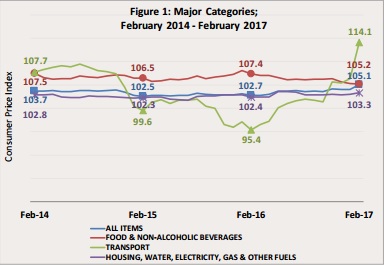 However, February 2017 reported an overall decline in the prices of 'Food and Nonalcoholic Beverages' by 2.1%. In the 'Meat' category, consumers saw lowered prices for items such as ground beef, beef steak, whole chicken and chicken breast. There were also decreases observed in the prices of eggs and milk.
In the 'Housing, Water, Electricity, Gas and Other Fuels' category, an overall increase of 0.9% was recorded for the month of February 2017, when compared to February 2016. Within this category, the price of Liquefied Petroleum Gas (LPG) was increased, with the cost of a 100-pound cylinder of LPG rising 12% from $82.60 in February 2016 to $92.35 in February 2017. Consumers also saw home rental prices rising by 0.5% on average.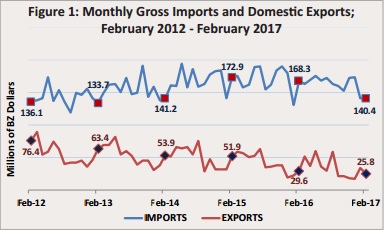 Imports
Belize's total imports for the month of February 2017 were valued at $140.4 million, which is a 13.1% decrease compared to February 2016. Imports were down for the second month in a row this year, with the 'Machinery and Transport Equipment' category recording the largest slump. The category fell by $10.8 million, from $42.2 million to $31.4 million, due in most part to reduced purchases of telecommunications equipment, agricultural equipment and four cylinder vehicles.
'Commercial Free Zones' imports declined by $6.8 million when compared to the previous year, with a decrease in cigarettes, handbags and shoes. There were also less imports of gold jewelry, lighting fixtures and laboratory plastic, which led to a $4 million decrease in the 'Other Manufactures' category,. The decrease of wheat starch, wheat gluten and bio-ethanol contributed to a $3.5 million drop in the 'Chemical Products' category. The importation of 'Food and Live Animals' fell by $2.8 million and goods destined for the 'Export Processing Zones' declined by $2.4 million. While the former category saw decreased imports of coffee, powdered beverages and lard (shortening), lowered purchases of imported containers, lubricating oils and air compressors were also recorded.
On the other hand, the importation of both 'Mineral Fuels and Lubricants' and 'Manufactured Goods', grew in the month of February 2017. Due to the rising fuel prices on the world market, Belize spent over 50% or $8.1 million more on 'Mineral Fuels and Lubricants'. The second month of the year saw an increase in purchases of construction steel, glass bottles and carton boxes, prompting a $2.2 million expansion in the 'Manufactured Goods' category.
Exports
In February 2017, the total domestic exports went down by 12.9% when compared to February 2016. A sharp decline in citrus sales during February 2017 caused the decrease in the overall export earnings.
Citrus exports, comprising mainly of orange concentrate, dropped by 45% or $3.9 million, from the $8.7 million noted for February 2016. Sugar exports also fell by $1.5 million, as exported quantities of that commodity decreased by over 50%.
However, banana exports recorded a strong performance for the month, rising by over $3 million, from $4.2 million in February 2016 to $7.3 million in February 2017. In the marine products category, recovering shrimp exports also resulted in a slight growth of $0.4 million.
The SIB is scheduled to release its statistics for March 2017 on Wednesday, April 26th. To view the full report of February 2017, please visit: www.sib.org.bz
Follow The San Pedro Sun News on Twitter, become a fan on Facebook. Stay updated via RSS