SIB Releases quarterly economic indicators – cost of living on the rise!
Friday, April 8th, 2016
Since November 2014, consumer prices registered a successive decrease making Belizeans happy. However, the good life was short-lived, as on January of 2016 prices began to increase again, followed by February recording the second consecutive increase since price trends began to reverse. According to the report released by the Statistical Institute of Belize (SIB), the inflation rate for the month of February compared to last year's one was higher by 0.3%, while the rate for January 2016 was recorded to be 0.4% higher than last year.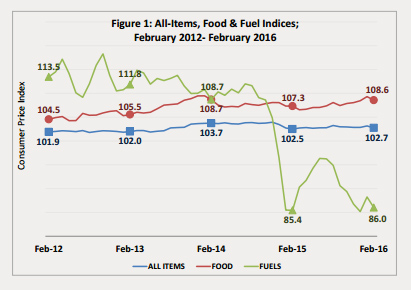 The data, presented by SIB Statistician Stephanie Vasquez, showed that while there was an increase in economic activity during the same period last year, as it relates to this year, imports are down while exports have dropped a dramatic 43%. "In January to February of this year, Belize's imports were valued at two hundred and twenty-nine point three million dollars, down 4.8% or 15.2 million from the 314.5 million recorded for the same period last year," explained Vasquez.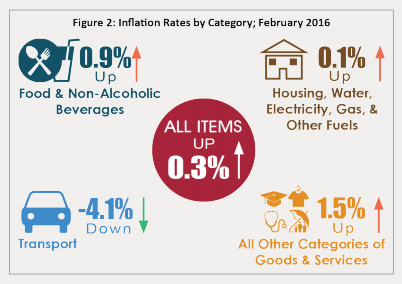 The trend of increase in the cost of living is affecting Belizeans in almost every aspect of their daily life. Roughly 60% of Belizean household spending includes housing, utility bills, food, non-alcoholic beverages and transport. When all these expenses are put together along with others, it was found that transport was the least expensive one. The reduction in the prices in the transport section was by 4.1%, even though the price at the pumps did not ease down.
However, if the prices at the pumps did not decrease, how did spending go down in the transport area? The answer given at the presentation was said to be due to a fall-off in airfare prices. These fares were down by 32%, which were triggered by lower world market prices for fuel. When you look closely at the pump prices, they are higher now than at the same time last year, due to an increase in the import duties which are charged on locally sold fuel.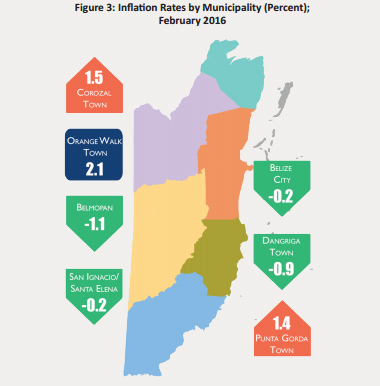 In addition, the SIB recorded a 0.7% increase in fuel prices, with premium gasoline up by 20%, regular gasoline by 3%, while diesel was recorded with a decrease of 9%.
Additionally, prices in food and non-alcoholic beverages increased by 0.9%. There was some fluctuation on these two items according to Vasquez. "An example is: the increase in the price of ground beef was offset by a major decline in the price of red kidney beans," said Vasquez.
When it comes to the housing and utilities category, an increase in rental prices of 0.7% was offset by decreases in gas and electricity prices. This led to a slight increase of only 0.1%. While in other areas, prices decreased by 1.5%, but healthcare brought increases in the price of consultation fees and surgeries in some private medical facilities. The hospitality industry, which includes hotels and restaurants, also registered an increase in prices. The SIB report also pointed out an increase in price insurance for both health and transport, likewise for hairdressers and salons as well.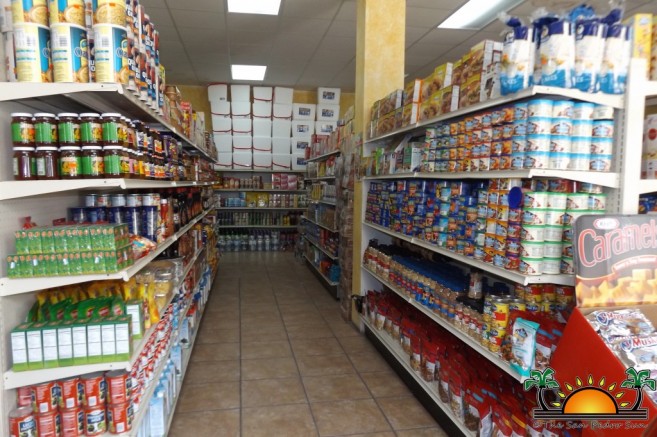 However, not everything was bad news and even though the pump prices are generally higher this year, the price of liquefied petroleum gas has gone down by as much as $10.54 compared to last year.
Orange Walk District recorded the highest increase in prices, driven mostly by increases in the cost of rentals and food prices.
Furthermore, it was also noted in the presentation that regionally, Guatemala recorded the highest inflation rate in Central America, at 4.3%. Costa Rica had the lowest recorded rate of 0.003%. These statistics placed Belize in second place in the region at 0.3%.
At the end of the presentation it was concluded that Belize did experience a slow but positive growth in its economy during the last part of 2015. However, it proved to be a challenging year with the Consumer Price Index already increasing as fuel prices go up.
Follow The San Pedro Sun News on Twitter, become a fan on Facebook. Stay updated via RSS