Financial Intelligence Unit signs MOU with Income Tax Department
Friday, November 4th, 2016
A most significant Memorandum of Understanding (MOU) was signed on Wednesday, October 26th between the Income Tax Department and the Financial Intelligence Unit (FIU). In this new domestic cooperation, they will fight against money laundering, countering terrorism financing and tax evasion. The new agreement will also facilitate the exchange of information between the two government agencies.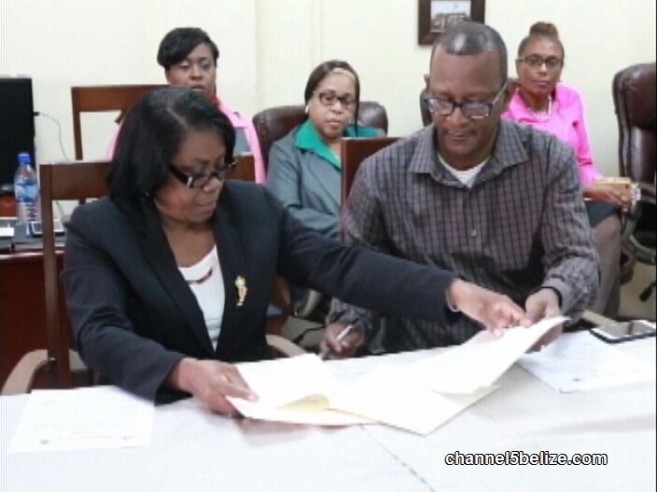 The parties are very optimistic, and they expect that the MOU will enhance in the investigation and prosecution of illicit cases. According to the FIU Director Kent Clare they are seeking to achieve a more advanced, and organized collaboration, specifically on things like the development of legislation. "We would hope to develop a legislation to criminalize tax evasion in Belize," said Clare. "Currently, as it stands, even though it is an offence under the income and business act, I think that the penalties that are provided are generally of a summary nature." He elaborated that someone found guilty now would be fined no more than ten thousand dollars.
Clare believes that there is a real threat of laundering taking place locally in Belize. "Simply put, this is where we are, we are exposed to the unknown," said Clare. "It is incumbent on us to monitor and not take anything for granted, whether is our borders, the risk from criminal activities, to street crime, to cyber-crime and the protection of our financial systems, and so on."
The FIU is also conducting a very ambitious, but necessary, program to develop an assessment for Belize called 'National Risk.' It will basically be an anti-laundering and terrorist financing initiative, taking into account the wide variety of stakeholders from the Ministry of Immigration, customs department, tax, the offshore sector, including the Central Bank. "Even though we are known as a country where we all get along and have a laid back atmosphere, the institutions that are our regulators must be careful to protect what we have all enjoyed," said Clare.
In the meantime, the Financial Action Task Force, which the FIU is a part of, through the Caribbean Financial Action Task Force, has indicated that tax evasion is a predicate offense to money laundering. However, it is not enough to just assume the degree of the crime. In order to successfully eradicate it in Belize, it needs to be demonstrated and strongly enforced.
Follow The San Pedro Sun News on Twitter, become a fan on Facebook. Stay updated via RSS