Atlantic Bank updates customers on its services on Ambergris Caye
Thursday, July 20th, 2017
The Atlantic Bank Limited (ABL) San Pedro Town Branch, held a business mixer on Wednesday, July 12th at Caprice Bar and Grill. Members of the business community in attendance learned about the new and upcoming products and services the bank has to offer.
General Manager Karen Lopez welcomed everyone, briefing invited guests on ABL banking services. Lopez stated that due to the challenges and demands in the international arena, Atlantic Bank is making changes and upgrading their system in order to enhance their customers' daily banking services.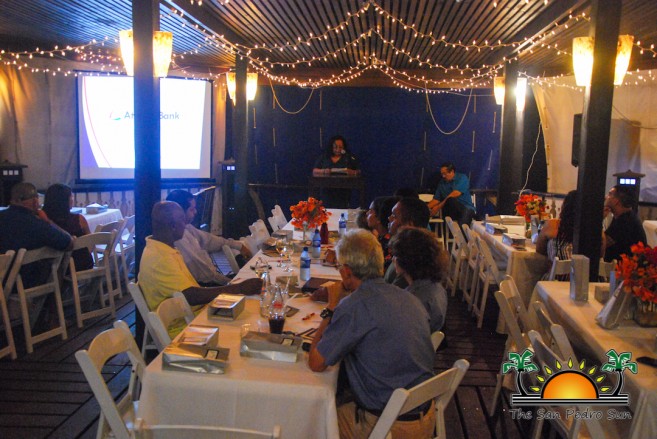 The event included a refresher on the bank's current products and services via a brief presentation. Some of the services offered include Business Checking Accounts, Merchant Services, Business Online Banking, and Credit Facilities. Regarding foreign exchange and international trade products, attendees were informed that Atlantic Bank will no longer accept Travelers Cheques or Money Orders. In the case of U.S dollar drafts, the bank is still accepting these, with some limitations on monthly amounts. However, wire transfers are highly recommended. In terms of international trade products, the bank offers close management of foreign currency, letters of credit and trade finance for imports and exports.
The new changes in the banking system include the addition of the Automated Payment and Securities Settlement also known as APS3. This new service allows customers of Atlantic Bank and other commercial banks to transfer their funds between banks and accounts by utilizing online banking services. According to personnel from Atlantic Bank, this new service will make transactions faster, and safer anywhere within Belize.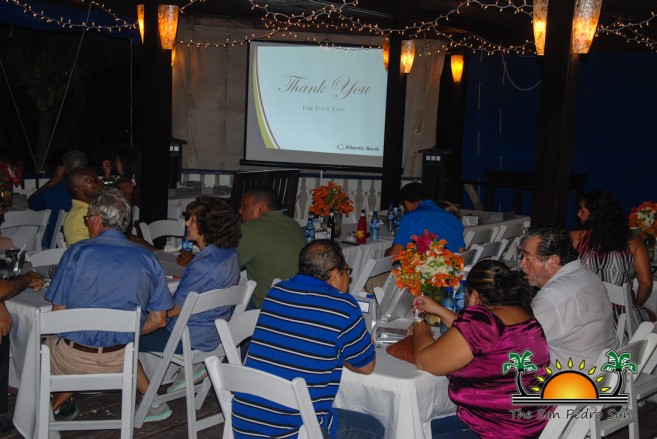 The presentation explained two components involving the use of the APS3 system for bank transfers. The first one is 'Real Time Gross Settlement,' (RTGS), and is intended for transfers above $50,000 BZ. These transfers are done individually and the same procedure can be used to purchase Treasury Notes from the Central Bank. A fee of $12BZ is charged for any RTGS transfers done via the bank's customer service, however, there is no charge if done online. The second option is the Automated Clearance House (ACH) intended for low value payments made by individuals or small businesses. The advantage of this second service is that it allows for multiple transactions and such, it serves well for payroll.
Under the ACH service, there is an option called 'instant fund transfer' available 24 hours and seven days a week. The service is available through online banking and it facilitates transfers up to $50,000. There is a fee of $15BZ if done via customer service and $3BZ if done online. There is also the option to have the transfer done on the same day. This service is only available during working business days and carries a fee of $12BZ if done through the bank's customer service, while if the transfer is done online the fee is $3BZ. The transaction must be done before the cut off time applied by the respective bank. This service facilitates transfers below and above $50, 000BZ. For any incoming transactions of $50,000 BZ and above, there is a fee of $8BZ.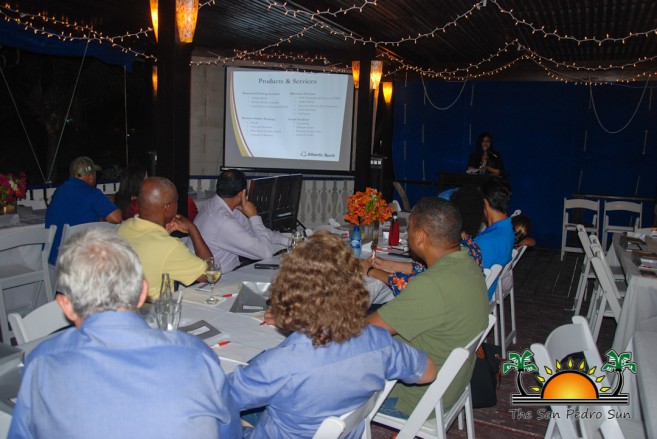 Additionally, commercial banks will no longer exchange physical cheques and will not differentiate Belize District Cheques with cheques from other districts. It was also explained that the time for a cheque to be processed by Atlantic Bank will be less compare to the seven days previously required. Cheques deposited before 2PM will go on hold for two business days, while cheques deposited after that time, will take just three business days to be processed. Furthermore, it was indicated that statements will now have the image of the cheque rather than the physical cheque. The cheque image will be stored electronically for seven years, and a copy can be obtained via Atlantic Online. Customers were also advised to maintain the integrity of the Magnetic Ink Character Recognition (MICR) located at the bottom right hand side of each cheque in order to avoid delays at the time of processing.
After the presentation ended, the Atlantic Bank team further discussed online transfers, with clients who questioned the procedure. For personal customers, an Atlantic Bank token is required and daily transfers are limited to $10, 000BZ to either accounts within Atlantic or to other commercial banks. On the other hand, corporate customers have no limit for transfers between Atlantic Bank accounts. The standard transfer limit is $50, 000BZ to other bank accounts, with the option to modify.
Afterwards, customers were invited to mingle and address any questions they may have had about the bank's services. Attendees were treated to hors d'oeuvres and refreshments.
For more information on the current and new services, Atlantic Bank in San Pedro Town can be reached at 226-2195. Its main office is located on Pescador Drive.
Follow The San Pedro Sun News on Twitter, become a fan on Facebook. Stay updated via RSS