Conch Season officially opens
Monday, October 2nd, 2017
On Sunday, October 1st, the 2017-2018 fishing season of the Queen Conch (Strombus Gigas) officially opened. The season had been closed for the past three months since June. Conch represents a significant source of revenue for traditional fishermen on Ambergris Caye and across the country, which generates millions of dollars to the Belizean economy. The season usually runs from the 1st October until June 30th of the following year, however the season can close earlier if the conch quota is met before the end date.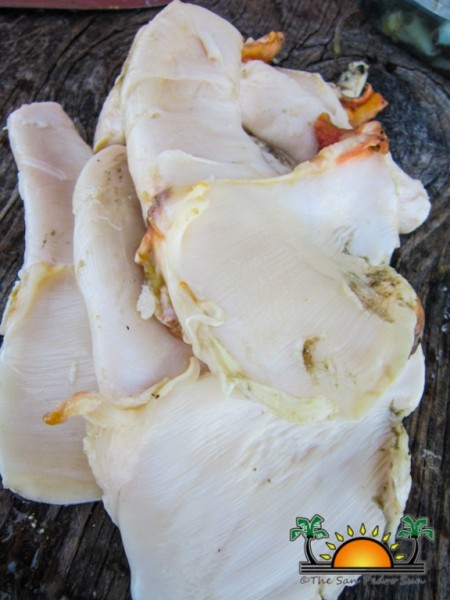 The Belize Fisheries Department (BFD) is still conducting assessments to provide the total production for the 2016-2017 conch season. According to Ramon Carcamo, Fisheries Officer, at this moment the Fisheries Department only counts with the calendar results of the amount of conch meat exported in 2016 alone. "We will have the complete report which includes the production for 2017 in mid -October," he said. "But for 2016, a total of 889,400 pounds of conch were produced, which generated $5.7 million US dollars." Carcamo also mentioned that the recent bust of almost nine thousand pounds of out of season conch fishing on September 18th might have an impact on this new season. "Incidents like those generally affect the fishing industry, but we will continue working hard and enforcing the law," he said.
The BFD takes this opportunity to advise the general public that the Queen Conch shell should exceed seven inches in length, and that establishments should not have diced conch meat in their possession. Also they remind that conch flesh that has been processed as market clean, the weight should exceed three ounces, while filleted flesh which is completely processed white meat, should exceed 2.75 ounces. According to the Fisheries Department, penalties will be levied against failure to follow these regulations.
According to the Fisheries Act 15(1), penalties should not exceed $500 or imprisonment not exceeding six months, or both such fine and imprisonment. Guilty persons of the offence may be processed by a judge to an individual charge per conch, which normally is around $50 per conch.
The BFD also encourage all responsible citizens to report any infractions by calling 224-4552 or Crime Stoppers Belize at 0-800-922-TIPS (8477). Reports can also be made via email to [email protected]. All information provided will be treated with strict confidentiality.
Conch is a common staple on Ambergris Caye. You can find it prepared in many styles at the different restaurants throughout the island during the open season. Some of the options in which the conch is used include ceviche, soups, conch fritters, among others.
Follow The San Pedro Sun News on Twitter, become a fan on Facebook. Stay updated via RSS