EU's €72 Million Accompanying Measures for Sugar comes to an end
Friday, June 22nd, 2018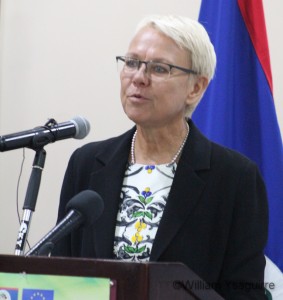 The European Union's €72 Million euros in Accompanying Measures for Sugar (AMS) programme is coming to an end, EU representative Malgorzata Wasilewska announced at a press conference at the Best Western Biltmore Plaza Hotel in Belize City on the morning of Friday, June 15th.
The EU has funded the AMS programme since 2008 to help Belize's sugar industry become competitive in global markets, even though the World Trade Organization (WTO) had pressured the EU to eliminate its preferential tariffs and quotas for sugar by 2017. Sugar from former European colonies in Africa, the Caribbean and Pacific (ACP) regions had previously enjoyed favorable quotas and prices, which ended last year.
But the EU's cooperation began long before AMS, in 1986, Wasilewska added, and to date has helped Belize to the tune of over €200 Million euros to Belize. This included the EU's Accompanying Measures for banana which will also come to an end since the WTO has also pressured the EU on banana imports. The EU has also funded the Belize Rural Development Projects I and II to alleviate poverty. The EU's assistance to Belize will continue in other areas after the AMS programme ends, Wasilewska assured her audience.
The AMS had identified a way to help cane farmers cut production costs, by reducing their transportation costs from the fields to the factory, Wasilewska explained, and the EU paid for 200 kilometres of sugar roads to be paved under the AMS, with asphalt to an all-weather standard. The better roads also opened up these areas to tourism and eased transportation costs for farmers to get their produce to market, and for their families who travel to health clinics in the district towns. The AMS also provided $1 Million to build two new markets in Corozal and Orange Walk Town to help farmers market their produce. The organization also funded the training of 256 teachers to the tune of Bze$3.6 Million in early childhood and secondary education, and 300 more children were able received early childhood education at pre-schools in Trial Farm, Orange Walk and in the San Jose and San Pedro Villages in the Corozal district, built at a cost of $1.1 Million.
People of the communities in the sugar belt were also taught alternative livelihoods and occupations, through AMS funded projects, which created 187 new jobs and benefitted 382 persons directly. AMS stimulated small enterprise development with small grants disbursed through the La Inmaculada Credit Union and St. Francis Xavier Credit Union, to help the sugar belt communities diversify into fish farming, sheep and goat herding, and arts and handicrafts for the tourist trade.
AMS also helped the communities diversify their incomes and reduce their dependency on sugar, by helping farmers venture into bee-keeping, sheep rearing, and vegetable cultivation. Cane farmers with small cattle herds also profited from the National Sanitary Cattle Plan implemented by the Belize Agricultural Health Authority (BAHA), funded partly by the EU. They could now export their cattle to the more lucrative Mexican and Guatemalan markets; after the national cattle sweeps verified that their cattle were free of brucellosis and tuberculosis.
The AMS programme also established the Sugar Industry Research and Development Institute (SIRDI), equipped with a laboratory, computers, and software to implement the Sugar Industry Management Information System (SIMIS) to help farmers learn new planting and cultivation practices to increase their sugarcane yield per acre up to par with world standards. SIRDI also collaborated with the Belize Sugar Cane Farmers Association and the Sugar Cane Production Committee to implement a Sugar Cane Replanting Program with better cane varieties for improved yield, all funded by AMS which provided a loan facility for small farmers, disbursed through the Development Finance Corporation (DFC) in partnership with the Caribbean Development Bank (CDB). Seasonal flooding of low-lying cane lands was also addressed by a Drainage Master Plan, using high-resolution laser mapping of land elevations and contours for 900 square miles of land under sugarcane cultivation. Near Infra-Red testing of sugar cane quality was also introduced to help farmers determine the maturity of their cane. SIRDI collected this data in the field and entered it into SIMIS, to advise farmers on the best time to harvest, at maximum ripeness for maximum sugar content in the cane, and maximum yield at the mill.
SIRDI's technical support included teaching the farmers better and safer use of fertilizers and pesticides, also introducing a biological, organic system of pest and disease control to minimize pesticide use. SIRDI also introduced healthy seed material for the replanting program. Wasilewska said the EU had commissioned a celebratory booklet to document the AMS' many achievements and highlight the milestones along these 10 years of successful cooperation.
Misty Michael of JSA Consulting introduced the booklet. McNab Visual Strategies was commissioned to create a series of public education videos highlighting AMS' achievements, and Tanya McNab introduced the video presentation
Sugar Industry Control Board chairman Gabriel Martinez thanked Wasilewska for the EU's continued support over the years, noting that the booklet and videos had already listed much of what he wanted to say, and looked forward to future cooperation with the EU.
AMS Project Execution director Jose Novelo of the Ministry of Agriculture and Fisheries noted that not all the roads originally targeted for the upgrade had been paved, but he thanked the EU that while they had originally asked for $45 Million, they received $75 Million in aid.
Follow The San Pedro Sun News on Twitter, become a fan on Facebook. Stay updated via RSS