National State of Emergency declared for Belize; Prime Minister addresses the nation
Tuesday, March 31st, 2020
On Tuesday, March 31st, Prime Minister Right Honourable Dean Barrow addressed the current COVID-19 (Coronavirus) situation affecting Belize and shared details of the planned National State of Emergency. The nationwide state of emergency, which begins at midnight on Wednesday, April 1st, was triggered after the country registered its third confirmed case on Sunday, March 29th. The conference also discussed financial aid for those without employment, and how those confined to Ambergris Caye can be assisted to return to their mainland homes.
According to Barrow, his government is aware of several persons who are stranded in San Pedro Town after the state of emergency was declared on Monday, March 23rd.
No one could leave the island, affecting those who were visiting or on business and those who work and reside on the island but live on the mainland. He said that arrangements are underway to get those persons off the island. "Their means of employment has disappeared, and they are not able to pay the rent for places they were inhabiting," he said. "It is far easier to get some support from your home community, and notwithstanding the nationwide state of emergency, we will arrange for an orderly exit of those persons to their places of origin," Barrow said that the transfer of these people off the island would take place following the expiration of 14 days [from when the first positive case was identified]. Thus, the transfer of persons off the island could start by Monday, April 6th.
The nation's financial plan to combat COVID-19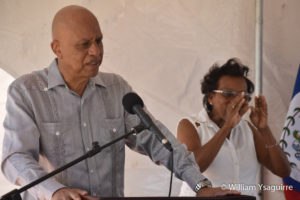 Barrow reassured the country of the abundance of financial aid to help the Belizean people. His report highlighted that $42 million from the climate Resilience Improvement Program would be diverted to the COVID-19 relief fund. In about three weeks, $24 million will be disbursed to boost the fund via the Inter-American Development Bank. There will also be $50 million from the Social Protection Program, along with $10 million that was for infrastructure that is currently being negotiated to make available to the Ministry of Human Development to expand the Food Pantry programs in rural areas.
Curfew regulations
During the National State of Emergency, a curfew will be in effect from 8PM to 5AM. No loitering is allowed and wandering and assembling at any public place will not be permitted. If police find anyone out and about without a justifiable reason, that person may be arrested and charged. Movement will be allowed during the day (5AM-8PM) to purchase essential needs (including medication) or if you are an essential worker. Essentials include security guards, agriculture or factory workers, bakeries, tortilla factories, sanitation workers, public transportation, fuel stations, port operators, along with governmental institutions that may need to remain open.
The media was not mentioned among these essential services, but it is under review if journalists can freely move throughout the daytime. Other institutions that can operate during the day include financial institutions, markets, wholesalers, retailers, mechanic shops, hardware stores, pharmacies, and even hotels. Anyone outside of these types of businesses cannot open during the state of emergency. All ports of entries to the country will remain closed, and any Belizean entering the country will be placed at a quarantine center for 14 days.
The Belize Government re-emphasizes that Belizeans remain calm; fear is the most dangerous contagion. The most effective action each Belizean can take to secure the safety of themselves, their families, and the country is to follow the hygiene rules. Washing hands with soap and water, using a sanitizer if necessary, covering a cough or sneeze, trying not to touch the eyes, nose or mouth, and immediately dispose of tissues if used to cover a cough or sneeze.
Remember to stay updated on official information concerning COVID-19. Visit the Government of Belize Press Office website at www.pressoffice.bz; or the Facebook pages for the Ministry of Health, the Director of Health Services, and the Government of Belize Press Office; or call the Ministry of Health's hotline at 0-800-MOH-CARE.
Follow The San Pedro Sun News on Twitter, become a fan on Facebook. Stay updated via RSS