Cruise port to be built in Port Loyola by Waterloo Holdings valued at US$200 Million
Wednesday, April 22nd, 2020
Waterloo Investment Holdings of the Ashcroft Alliance has announced plans to  build a USD$200 Million cruise ship port facility at Port Loyola, which would be able to berth 4 Oasis class cruise ships, with 5000 passengers each.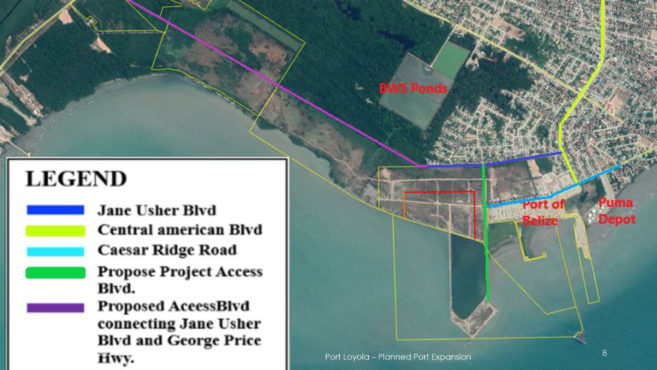 Prime Minister Rt. Hon. Dean Barrow first hinted at this development back in 2016. The project now awaits for the Environmental Impact Assessment (EIA) to be approved. This will happen whenever the State of Emergency is lifted; at which time Waterloo Holdings would also prepare an Environmental Compliance Plan (ECP), and obtain the mining and dredging licenses to dredge 1.5 Million cubic metres of sediment to deepen the channel. This sediment would be used to reclaim the land, where the tourist village would be built.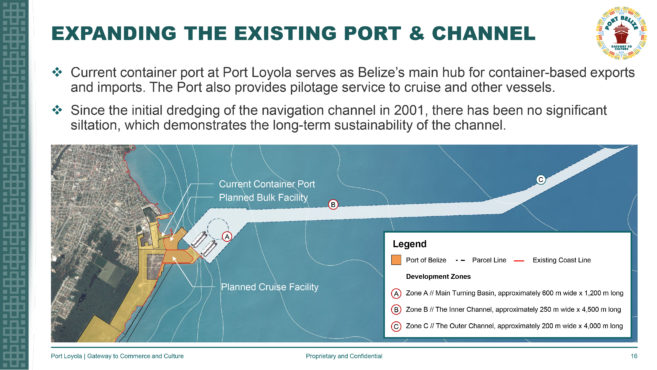 The Port of Belize will also be expanded to a bulk cargo handling facility, replacing the existing Port of Belize facility. The project would dredge 7.5 million cubic meters to deepen and widen the channel, of which 1.5 million would be used as landfill for the land reclamation, adjacent to Jane Usher Boulevard.
Dionne Chamberlain of the Chamberlain Consulting presented this project to the media in an online conference this morning.
She said that pending the approval of the EIA, ECP and the obtaining of the mining and dredging licenses, construction could begin, and be completed over a period of 4 years.
The project would provide 150 jobs in the construction phase, with 400 more jobs once the port begins operations.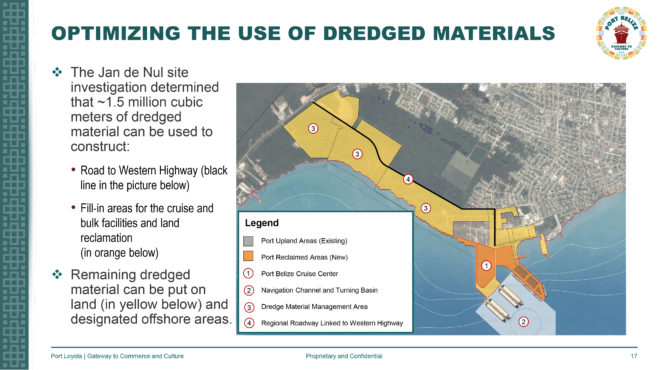 The project includes the extension of Jane Usher Boulevard to become the direct access road from the new cruise port to the George Price highway for tour operators, who could now take visitors to new sites further inland and previously inaccessible, as passengers would now have a longer time ashore.
Walking straight off the gangplank allows passengers 7-9 hours ashore, as compared to 5-6 hours under the present tender to shore process.
Being tied up directly to the dock would allow more passengers, up to 60%, to come ashore, where previously many passengers, such as the handicapped and people unable to travel in small craft, have been unable to come ashore by cruise tenders.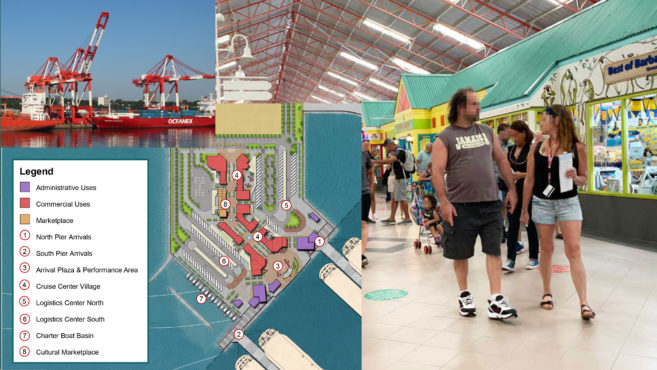 Waterloo projects to be landing 2.5 Million cruise visitors per year through this new facility, at an average of 20,570 visitors per day! They anticipate these visitors would spend as much as USD$500,000 to $750,000 per day, bringing much needed jobs and foreign exchange earnings to Belize. There would even be the possibility of the ships staying in port overnight, with additional revenues from the onshore entertainment.
The civil engineering firm, Jan de Nui, has been involved in the design and planning stages, and this firm would execute the construction phase, once approval is granted.
Follow The San Pedro Sun News on Twitter, become a fan on Facebook. Stay updated via RSS